The sales peak season is here! During this period that begins with Black Friday, as a prelude to Christmas shopping and concludes with the winter sales, marketers face great challenges to maximize profits.
Increasing sales is the goal of every online and physical store. However, an approach primarily focused on motivating impulse consumption might have a negative impact on the shopping experience and customer satisfaction.
Much is said about the significant increase in orders during this crucial selling season, and little about how to minimize the consequences that this consumption fever and the flood of orders can bring: purchase dissatisfaction, regret, remorse, and returns.
Although many reasons can lead to returning a product, in this post, we will focus on solutions to avoid customer dissatisfaction when the origin that motivates it is a wrong buying choice. Sometimes, time-limited promotional campaigns generate a feeling of urgency and stress in buyers that drive them to make a hasty decision. Let's see how a personal approach with AI across the comprehensive Customer Journey will help your customer quickly finding what they are looking for. Only thus, you will:
Help your customers to make the best purchase decision by showing a personal product selection based on their interests and behaviour in real-time;
Reduce your online shop's return rate;
Increase your sales and revenue
Build customer loyalty and retention;
Boost LTV and recurring sales
If you want to achieve these goals above, keep reading!
Returns: Facts and figures
According to the association of logistics companies, UNO, the average rate of product returns is 24.5%, being between 5% and 10% higher on special sales.
What is the impact of purchase returns?
The economic impact due to additional management, logistics and packaging costs, depreciation of returned items, etc., bearing in mind that in the process, 3 out of 10 products are "lost" according to market data.
The environmental impact due to transportation, and packaging waste generation.
The emotional impact on the shopping experience when receiving a product that does not meet expectations and needs.
According to Sendcloud's report on online consumer behaviour, more than half of buyers do not return a product even if they are not satisfied. Only 46% say they always return an item when there is a problem, compared to 35% who would consider doing so and 19% who would not. The study also reveals that returns are a big annoyance for 56% of online shoppers, leading them to keep products even if they are not satisfied with the purchase.
Although returns are an inevitable phenomenon that every seller deals with, it is possible to minimize this percentage of unhappy customers with the purchase, especially when the reason behind this dissatisfaction is a hasty buying decision.
On Black Friday, encouraging customers with irresistible offers to purchase products compulsively can be, in many cases, counterproductive. What starts with a tempting offer, where the discount prevails over the product, could result in a return and unhappy buyers.
Are you seeking to prevent this risk and reduce your online shop's return rate? Put the customer at the centre of your marketing strategy by following the following tips.
1 Use the power of data to provide every single user with a unique offer by using Artificial Intelligence
Store all the information in a unified customer profile to track user interests and behaviour to make the best offer at the optimal time and channel. Data Warehouse, one of the modules within the Retail Rocket platform, allows combining data from different sources, both online and offline, in one place to quickly build segments and automate all your marketing tasks. 

Thanks to the stored information about the customers' behaviour, the CSKA online shop sent a newsletter on Cyber Monday containing a recommendation block with products included in the promotion based on their interests and real-time behaviour.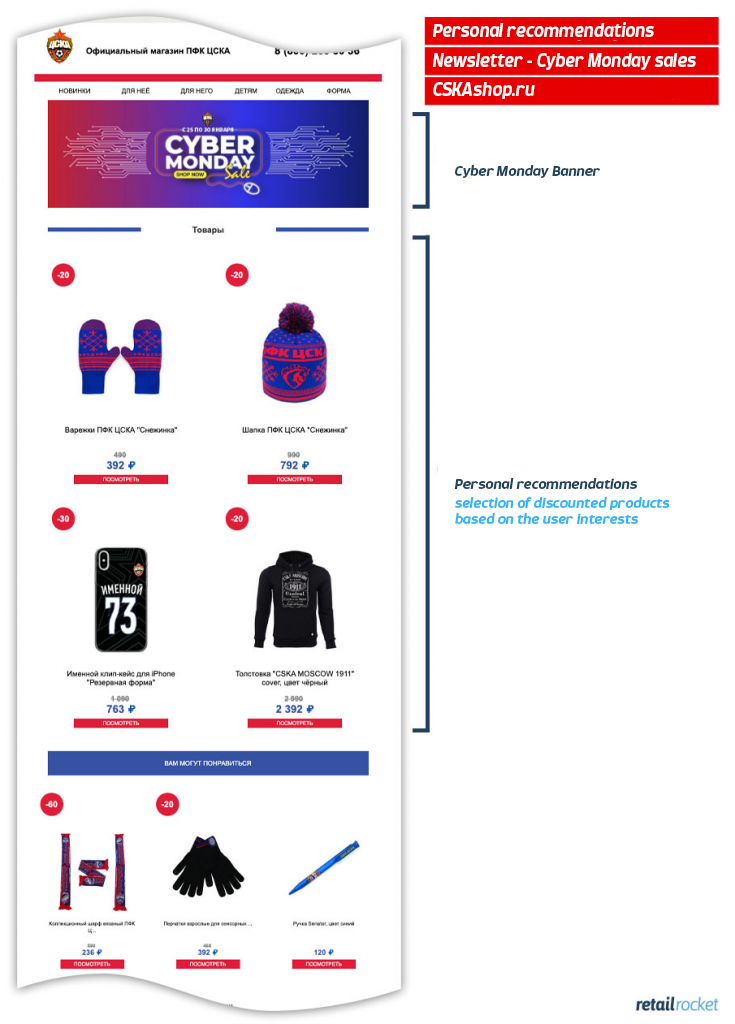 Showing a personalized offer in special sales helps the user make a decision based not only on the discount but also on their needs' satisfaction, standing out from the high competition and reducing the number of returns.
2. Personalize the time and channel to communicate with every single user
Since every single customer is unique, it is just as important to show a personal offer as it is to do it at the best time and channel. Retail Rocket's platform uses AI to do it automatically based on every user's stored information.
Choose the best channel to inform about your promotions and show a personalized offer on your website, email, push or, sms. Another option is to combine different channels. For example, send an email to inform customers about the event and then, use push notifications as an urgency trigger.
Online retailer Ralf Ringer uses a similar strategy in its newsletters with special sales: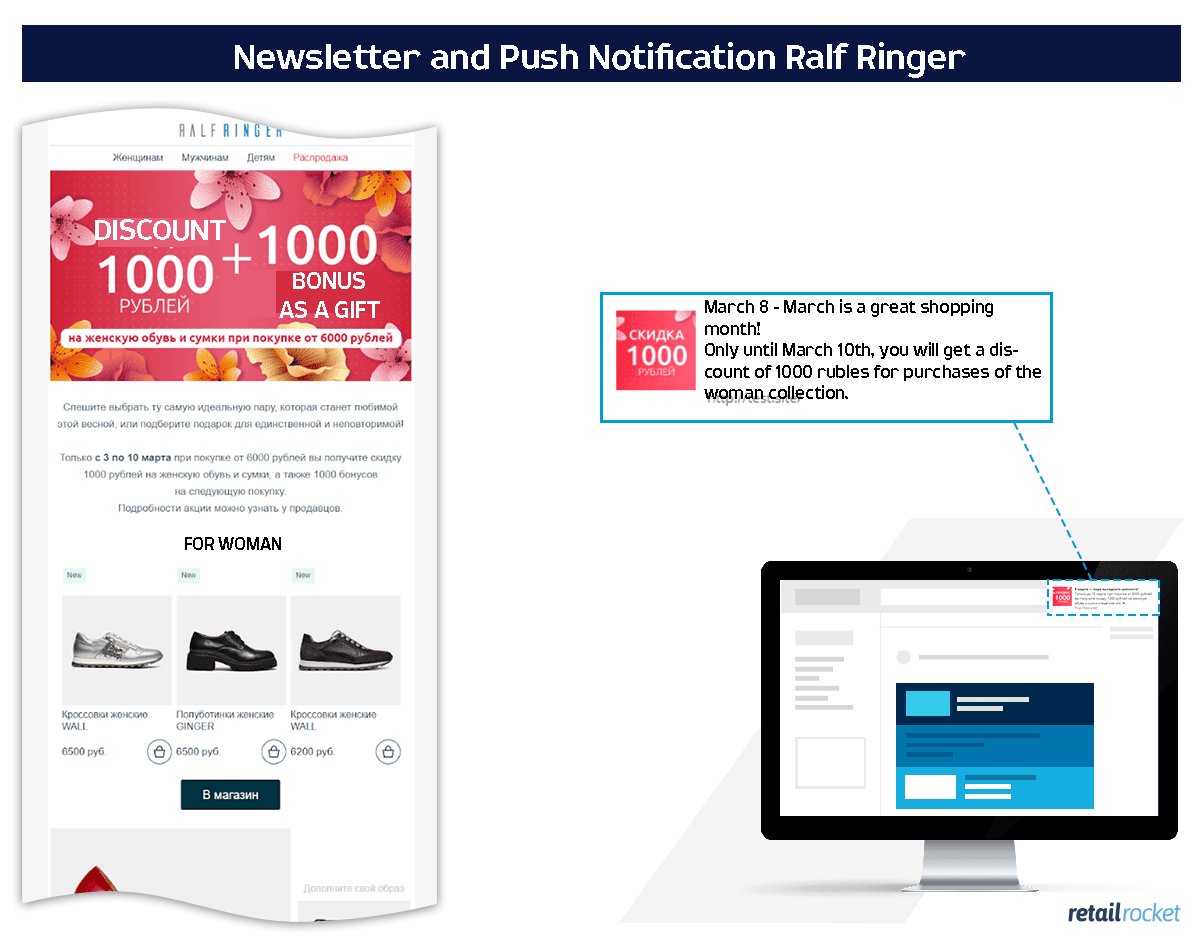 3. Use the power of Email Marketing to inform about your promotions and special sales days
Notifying your customers about global sales by sending an email newsletter is very effective. Still, it is even more effective when you do it with a chain of letters with different content that gradually arouses the buyer's interest.
An example would be:
A first email announces the promotion and invites customers to participate. You can inform about the categories and brands included in the campaign and show a personalized offer based on the subscriber's interest.
A second email will segment your subscribers according to different parameters such as gender, geographic location, interest in a category or brand, etc.
A third email, as an urgency trigger, reminds customers that the promotion will not last forever and prevents them from leaving it to the last minute.
The chain of messages can be longer if you want. The key is always to send relevant
information to every single subscriber that motivates them to buy.
The online shop, Girlfriend, used this technique during Black Friday. Their first newsletter's purpose was to invite customers to the event with personalized offers.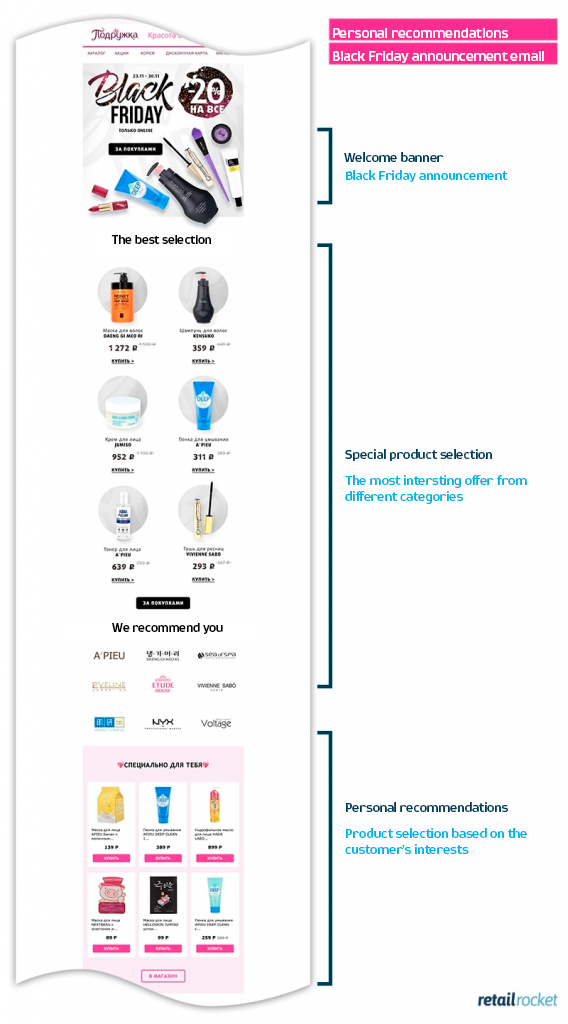 A segmentation based on skin type was carried out as a criterion to customize the offer for the following emails.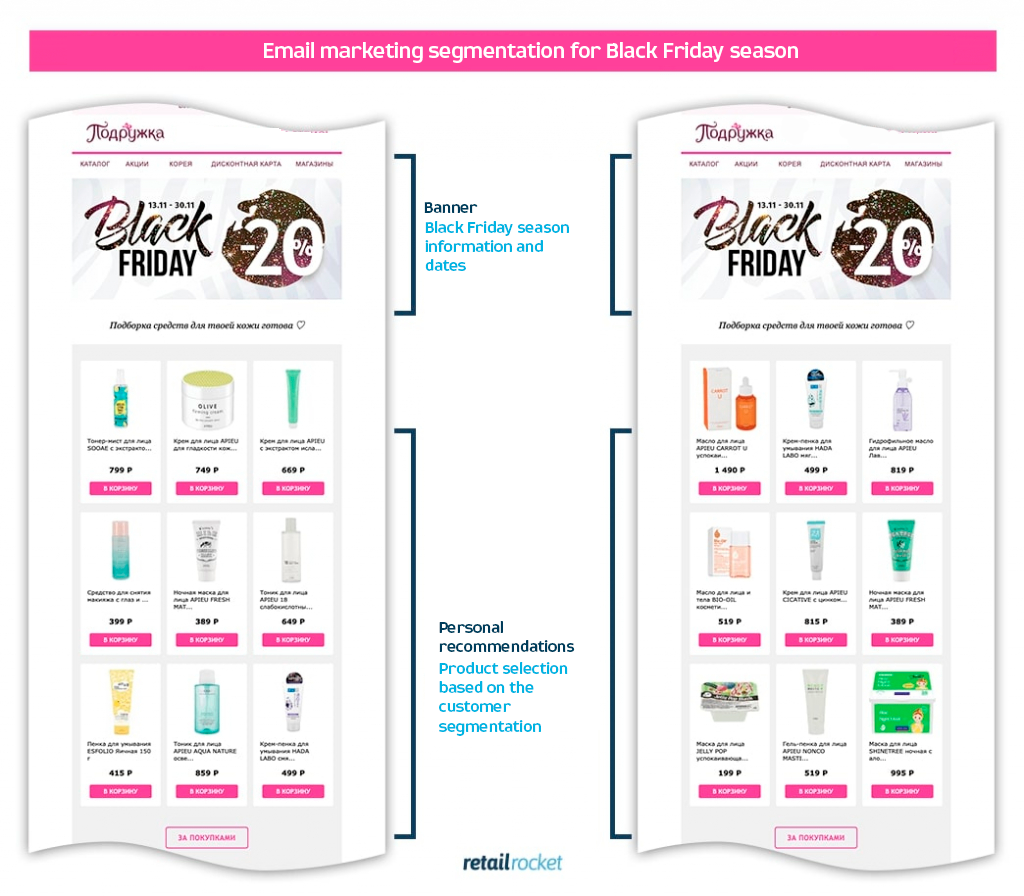 4 Extend your limited-time promotions' duration to reduce consumer stress
Generating a sense of urgency with time-limited promotions might increase consumer stress and lead to unconsidered purchasing decisions and compulsive behaviors that end in item returns for not meeting the customer's actual needs.
For example, Imperia Techno extended the promotional period of its campaign. It dedicated the entire month of November to Black Friday, sending an email every week with a dynamic selection of discounted products based on the user's interests in real-time.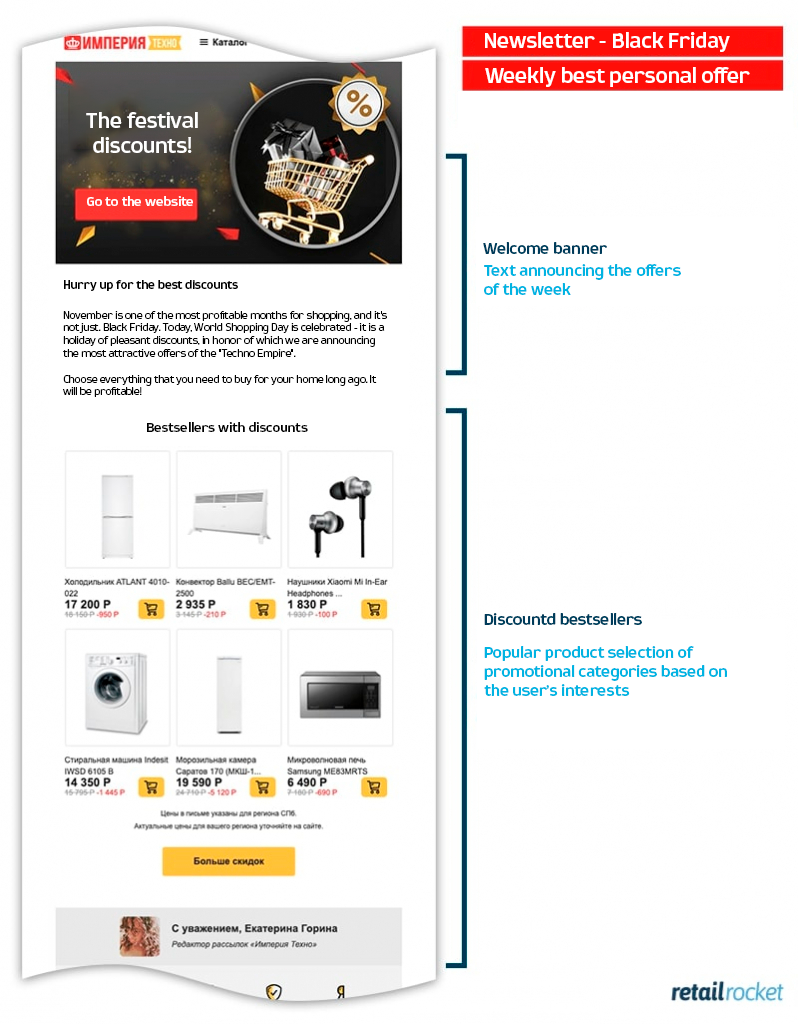 Extending the promotion also made it possible to increase the online store's interaction with the customer and store further behavioral information by sending a weekly product recommendation.
5 Personalize the offer for different devices to enhance the shopping experience
As user behavior differs between devices, we recommend also personalizing the offer for mobile and desktop versions.
Many market reports on consumption habits show the boom in mobile device usage. 2020 e-commerce stats report reveals that 65% of visits to e-commerce sites were from mobiles, but just 53% of sales were completed there. That suggests shoppers find it easier to complete purchases on the desktop version.
We recommend you implement small changes to help your customers in the purchase process from every version.
In the INTERTOP online store, the recommendation blocks displayed in the mobile and desktop versions are different. While the desktop version includes two recommendation blocks, one with Bestsellers and one with personal recommendations, the mobile version shows only one block with Bestsellers based on the customer's interests.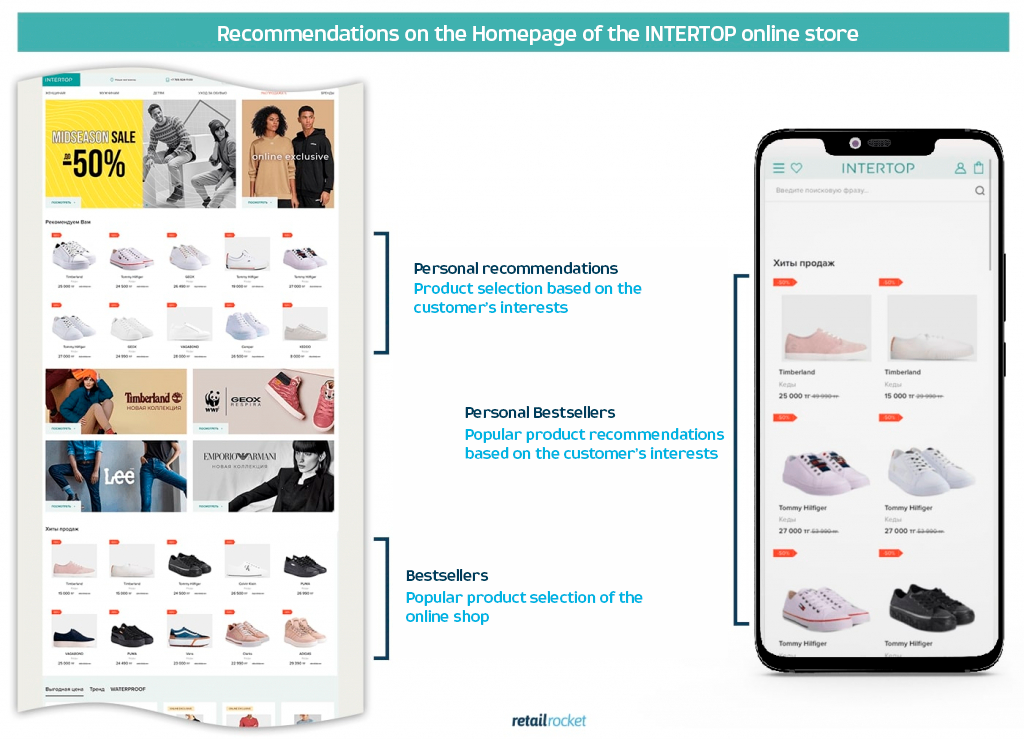 6. Reward loyal customers to increase satisfaction and retention
Segment your customer database and reward your most loyal shoppers. They are your main asset and who generate most of your sales, often becoming brand advocates. Proof of this is that 62% of buyers say that friends and family recommendations help them decide which products to buy while Christmas shopping. Give them special treatment on global promotions by arranging a private sale to show that you value their loyalty.
Tom Tailor sent a newsletter to its most loyal customers inviting them to participate in a private sale. It exceeded all expectations. As a result of this campaign, this segment's revenue was far higher than the one obtained from the general Black Friday mailing, although the number of subscribers in this group was much lower.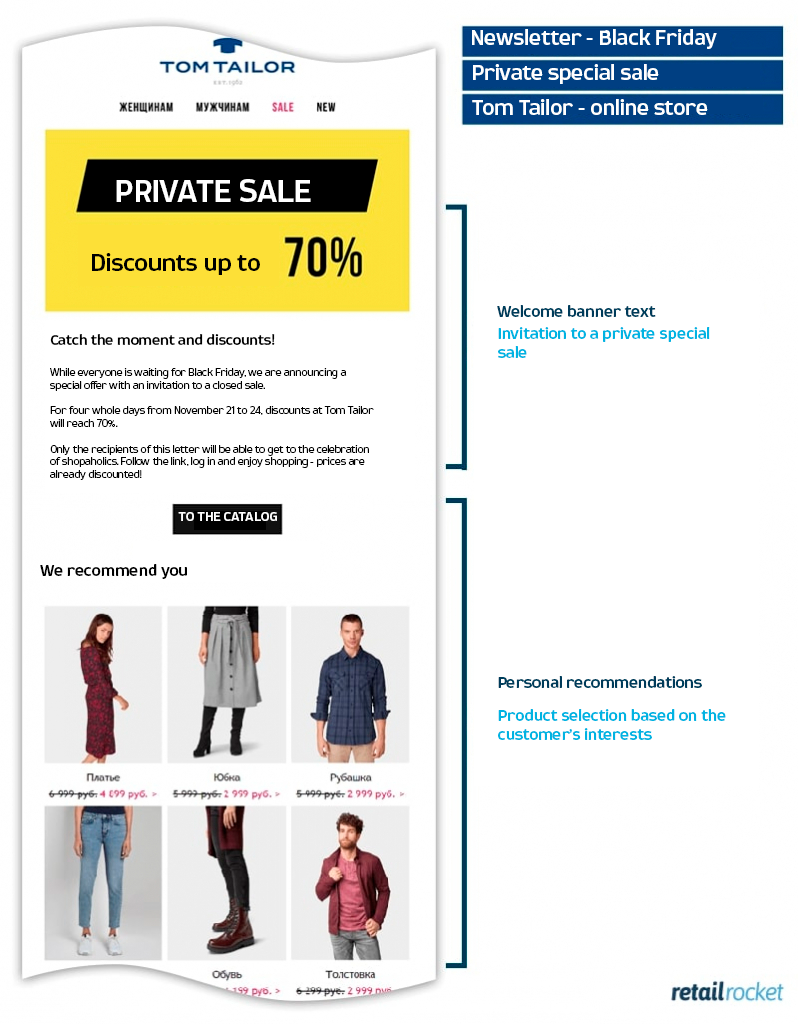 7 Activate the post-purchase scenario to know customer satisfaction
Showing that the customer's opinion counts is a highly valued aspect that increases satisfaction. In addition, according to this shopping survey on the most valued aspects at the time of making a Christmas purchase, 43% take into account other customers' product reviews, the benefits of this technique are more than evident.
Use trigger-based emails for the post-purchase scenario to motivate your customers to send the purchased products' reviews. That will bring benefits for both customers and the online shop:
Increase customer satisfaction
Help other buyers at the time of purchase, increasing the chances that they will complete an order.
Store your customer's information and use it to display a relevant offer for future purchases and to improve your service.
LG online shop uses this scenario to obtain product reviews and customer feedback in exchange for a discount on the next purchase.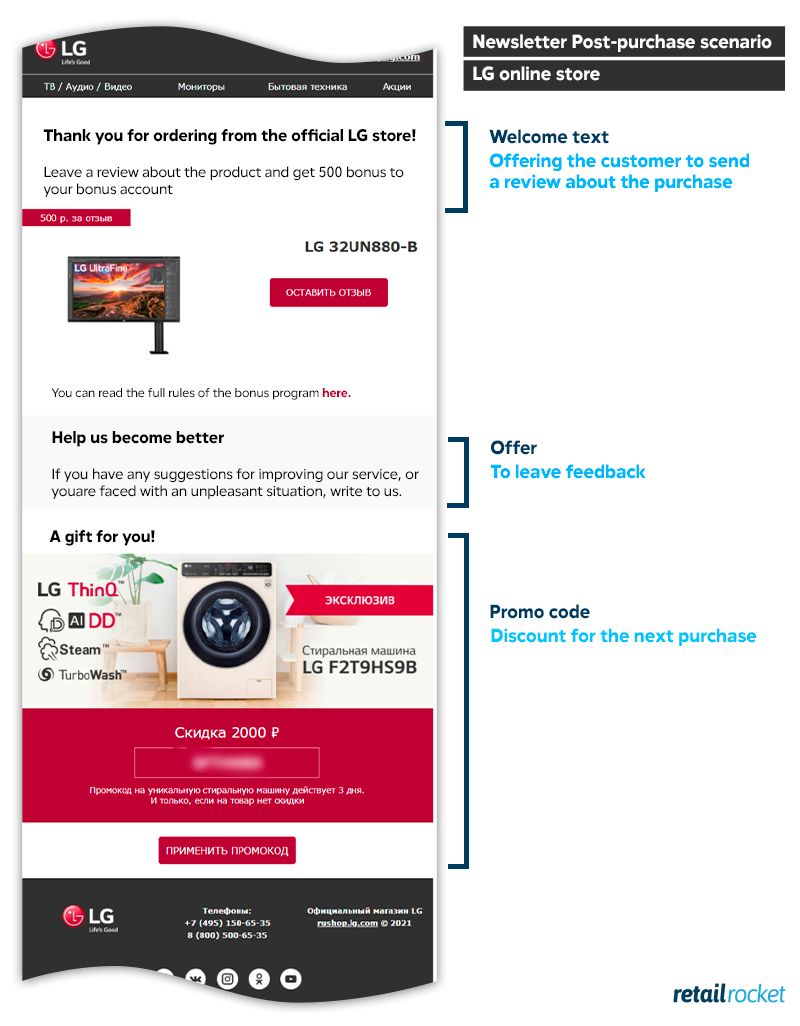 To sum up
​​Although boosting sales is always the challenge of every online store, do not stop there and limit yourself to it. Use artificial intelligence and apply these tips to optimize your strategy. This way, you will not only reduce your purchase returns, but you will also get the best results by automating and personalizing future sales campaigns. That will help you improve your business KPIs, build customer loyalty, retain regular shoppers and increase repeat sales.

Let's get started! Use data with the most advanced AI technology to help your customers to make buying decisions they won't regret.

[nshare]