How do you compete in today's highly competitive e-commerce landscape?
The barriers to entry in the e-commerce space are remarkably low.
This has led to a quick proliferation of businesses vying for a piece of the pie.
While this is great for buyers, who have more choices than ever, it can be challenging for quality businesses to stand out.
Here's one evergreen way to succeed—focus on providing an exceptional customer experience by being there for them when they need you.
But what do we even mean by exceptional customer experience?
Because making your online store immersive by increasing the right touch points is a never-ending pursuit. And with new tools and capabilities on the horizon, the rate of evolution has been tremendous. It can be overwhelming.
How do you create an exceptional customer experience at every touchpoint?
How to craft a "communication flywheel" to convert customers into fans?
And where to start?
This new ebook answers these questions. Additionally, you can find out how to…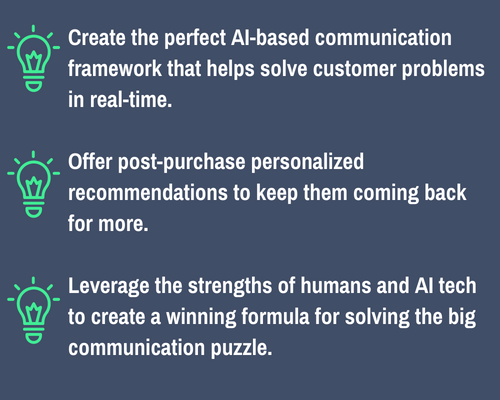 We hope these insights motivate you to try new ideas and watch your e-commerce business thrive.