Decathlon: 10,7% revenue increase through personalized product recommendations
Decathlon is the leading sports goods retailer with over 1.000 stores worldwide, from China to Lebanon, and from India to Brazil. In 2013, Decathlon opened its online shop in the Netherlands. Three years later, their highly-rated website won the "Best online sports store" award.
Decathlon's range of products covers 75 sports and many thousands of items. Visitors might find it difficult to navigate through such a large online store. Therefore, Decathlon.nl realized that by simplifying the customer journey, this could increase the number of orders and revenue. They enlisted Retail Rocket's expertise to optimize their visitors' shopping experience.
In this case study, we look at how to increase conversion by 5.2%, average order value by 5.2% and revenue by 10.7% after adding personalized product recommendations to the product page of Decathlon.nl.
Retail Rocket's personalized recommendations on product page
Retail Rocket provides more than 20 self-learning mechanisms to personalize the shopping experience. Using advanced technology, visitors' needs and interests on the online shop can be established by analyzing their behavior in real-time. At the right moment, a personalized product offer that the visitor is most likely to buy can be shown, which will increase the online shop's key performance indicators.
Different algorithms were implemented on Decathlon.nl's product pages. These were then compared in an A/B test to discover any statistically significant changes in the conversion rate and also to identify which mechanism would work best for the online shop. To be able to do this above, all Decathlon.nl's users were randomly divided into five groups:
1 – Similar Products, which are the products most similar to the one that a visitor is currently looking at. The similarity is based on product properties (price, brand, category, text description, etc.) and other customers behavior (what they also viewed, what they ultimately ended up buying, etc.).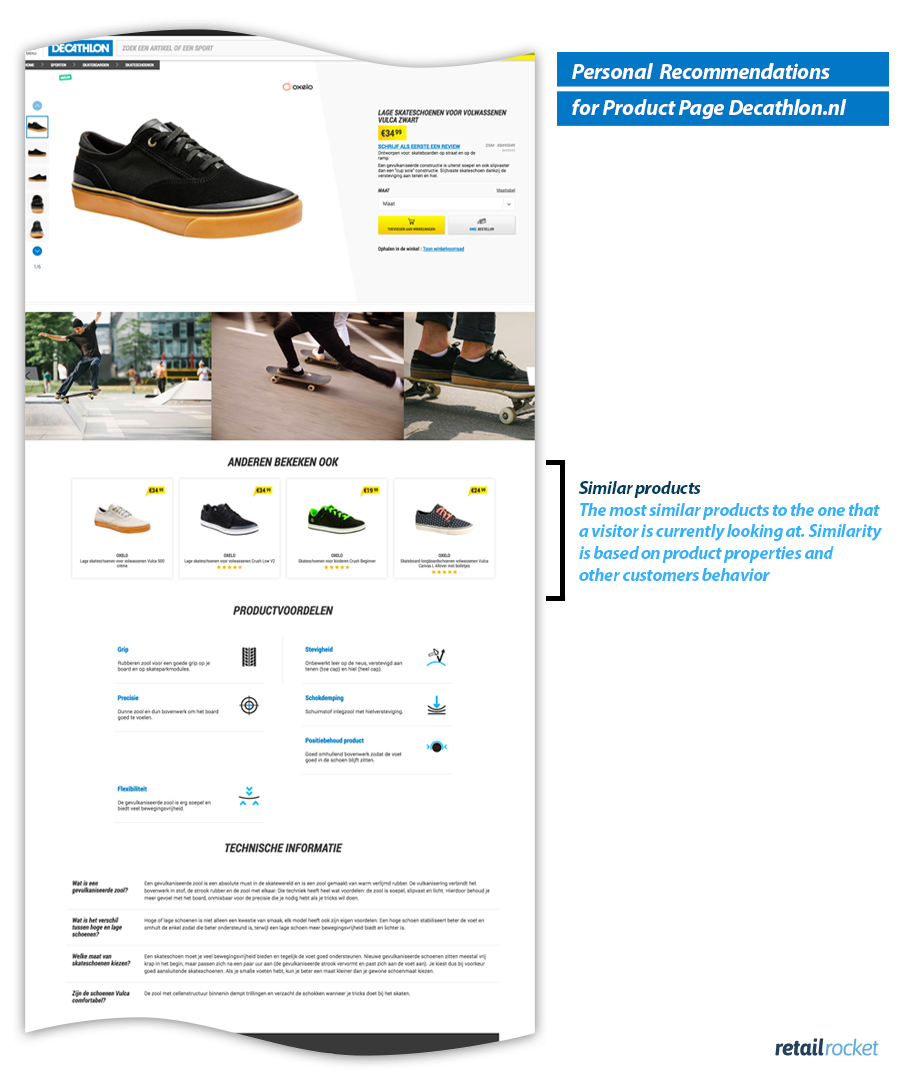 2 – Related Products, which are complementary products based on the visitor's profile and the content of the cart.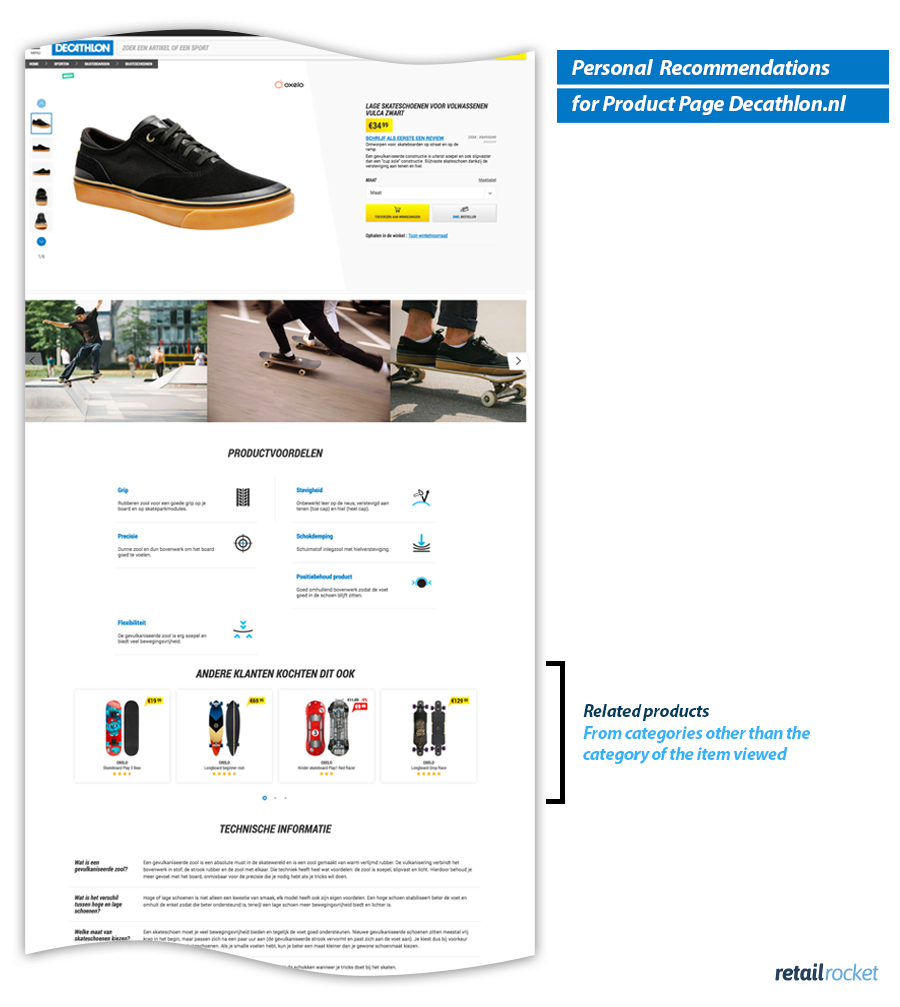 3 – Two blocks, with similar products displayed above and related products below.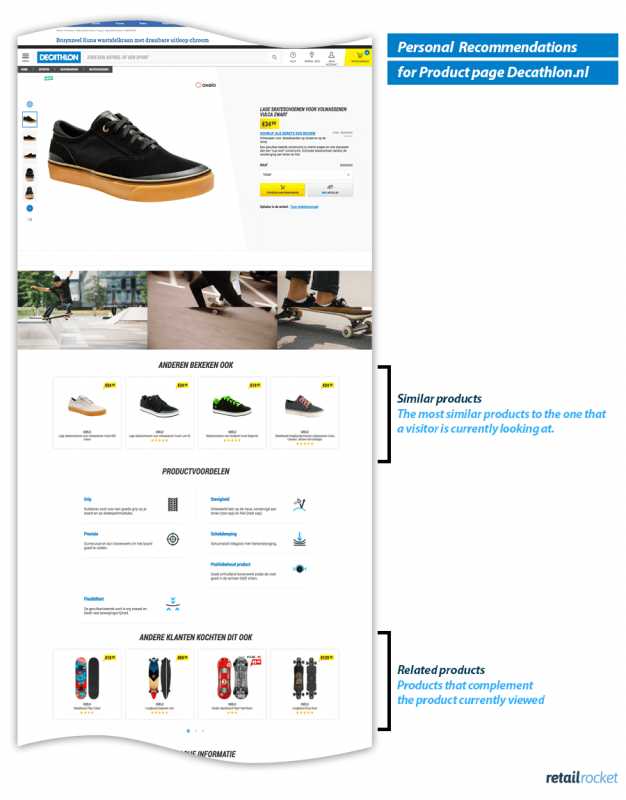 4 – Two blocks, with related products displayed above and similar products below.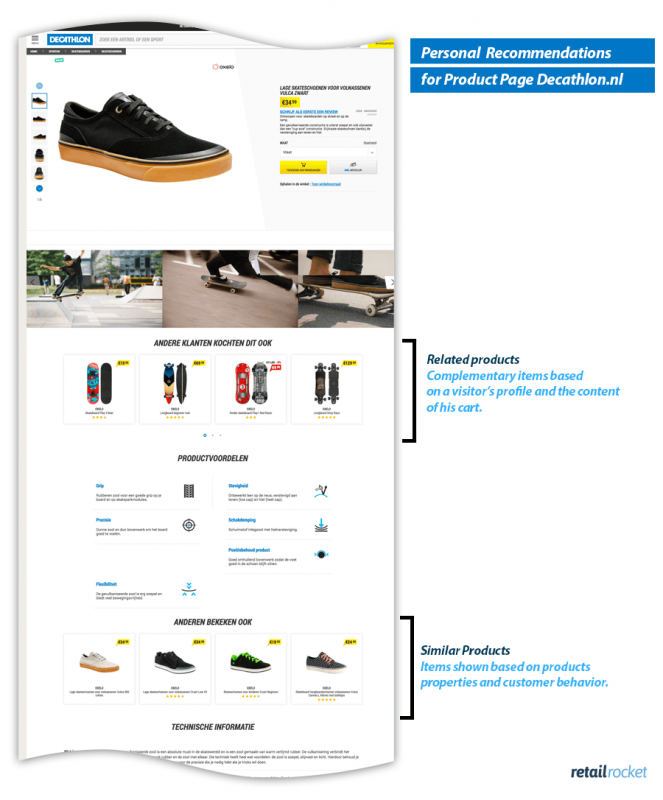 5 – Control group, who were not shown any personalized recommendations on the product page
The recommendation blocks were displayed and tested on all Decathlon's product pages for 18 days, accounting over 120,000 unique visitors.
Retail Rocket achieved 10.7% revenue increase at Decathlon.nl's
The A/B test showed the following results:
| | | | |
| --- | --- | --- | --- |
| | Conversion rate | Average order value | Revenues |
| Change in the performance of "Two blocks: related products and similar products" versus "Control group" |       +5.2% | +5.2% | +10.7% |
All algorithms tested had a positive effect on the generated revenues by Decathlon.nl compared to the control group. The most effective one was the two blocks combination with related and similar products. This mechanism increased conversion by 5.2%, with a statistical significance of 94.4%. It also led to a 5.2% increase in the average order value. The cumulative result of these increases boosted revenues by 10.7%.
The implementation of these algorithms is non-labor intensive and requires very little time, yet it results in a significant conversion increase. Due to the positive results, Decathlon and Retail Rocket will keep in collaborating to improve the usability of their online store and to reach new heights.
Comments from Decathlon:
"RetailRocket is really helping us by sport-users finding the most relevant sport articles for them and their sport. This adds to our goal: making sports accessible to the many. This was a missing piece in the puzzle and customer journey of our users. The first results proved very promising and the implementation was easy. The RetailRocket team is always available to help us and tackle problems that might occur. Their support is great and and it's never a problem to visit us when a face-to-face meeting is more desirable. After several A/B tests, RetailRocket has shown their tool really helps improving our results." 
Martijn Sprangers – Marketing
Questions?
Do you have any questions about this case? Please contact us.