How to Ensure a Seamless Experience and Increase Customer Retention: The Subtleties of Cross-Channel Communication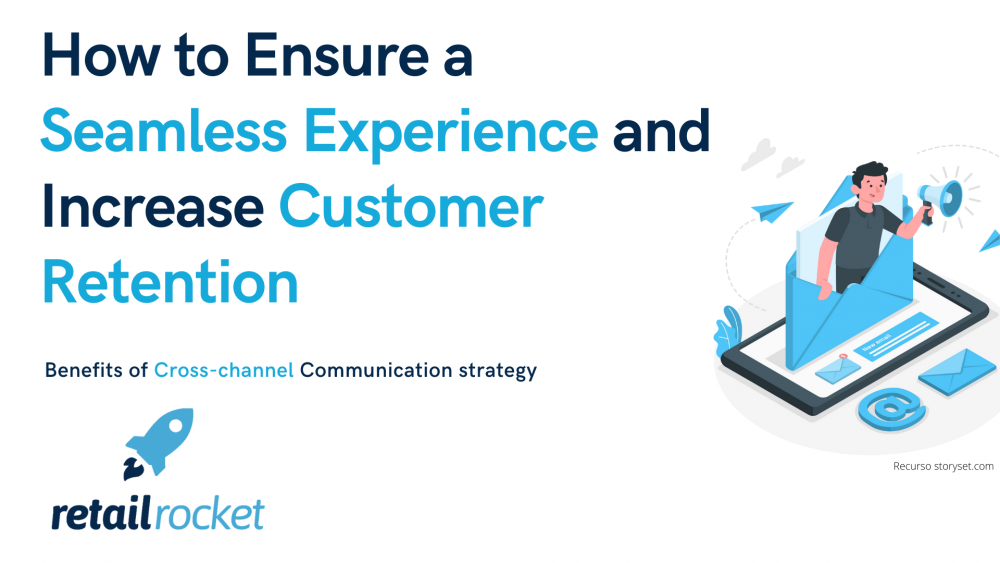 90% of users, on average, use three devices a day to complete a task. Therefore, ensuring a seamless shopping experience and a consistent communication strategy across all channels are the main challenges facing marketing today. Let's see below how to create cross-channel communications to achieve this and get the most out of your business.
What are the benefits of cross-channel communication?
The main objective of cross-channel communications is not to annoy the user, who is already tired of the noise of excessive information and the abundance of advertising offers, but to interact with the most subtly and efficiently possible. Thanks to this approach, companies will succeed in:
Increasing the reach of your marketing campaigns. When a customer does not respond to one channel, another channel can be used to send the message.
Avoiding customer base burnout with a cross-channel communication strategy, reducing the number of messages with the same content.
Increasing the efficiency of marketing actions and reduce costs. There is no need to send messages to all available channels, choose the most suitable one for every single user, where they better respond.
Principles for Building Successful Cross-Channel Communication
Unified customer database
First of all, it is essential to set up the collection and storage of data about customers and their actions in a single system. The basis of cross-channel communication is to have the most complete possible audience data. All information about customers, including their behavior in every channel, should be stored in a single database and underlie a personalized and more effective communication with them.
Do you have both a physical and online store? We recommend that you collect in a single data warehouse your customers' information about their behavior in all channels both online and offline: loyalty programs, physical store, website, apps, and other sources. This data can be used to segment customers according to various parameters and build marketing communications with each of them.
Flexible strategy for working with different communication channels
For example, suppose a user does not open an email campaign. In that case, an excellent option to increase your message reach is to send it in another channel such as SMS or push notification, or messenger message. On the other hand, if they open the email, there is no point in duplicating it somewhere else.
The Constellation of Beauty online store uses cascading communication chains. First, it sends an email to the selected audience segment, and days later, those users who have not opened the email will receive push notifications with the same content.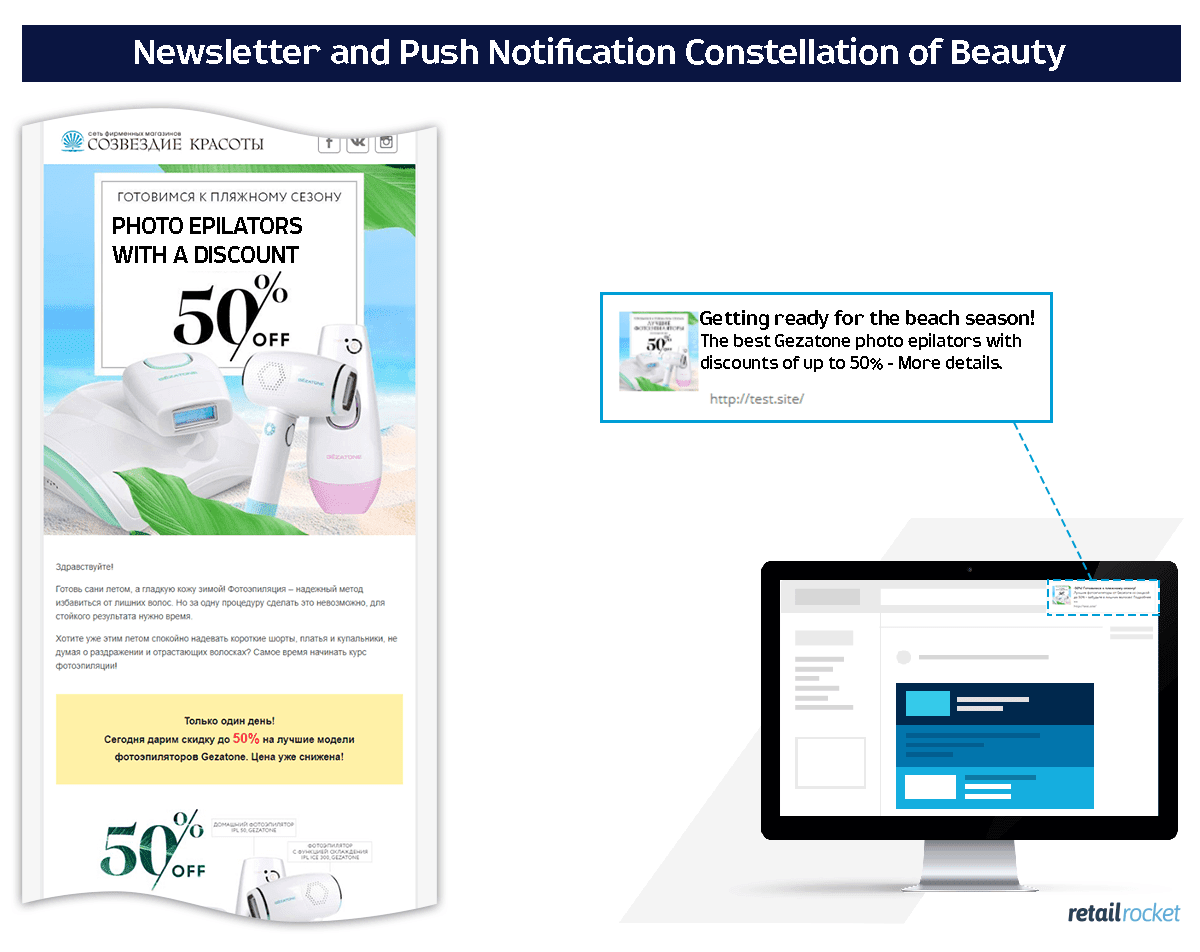 Adaptation of news content for every specific channel
Even if you are running a large-scale campaign and want to tell everyone about it, be careful when making offers for different communication channels. The ability to condense an idea into an SMS, choose a catchy subject line in an email and implement eye-catching banners are an essential part of a marketer's job these days. Each channel has its own peculiarities, and what works on Instagram may be utterly irrelevant in SMS. Therefore, it is essential to separate content types according to the channel. For example, news can be posted on Facebook, exclusive offers for loyal customers can be sent via email, and time-limited promotions can be notified via push notifications.
Audience segmentation
Marketers know how important it is to segment customers based on a variety of parameters: product preferences, behavior, demographics, and many other factors. At the same time, the approaches and messages when interacting with each segment will be different. For example, a loyal buyer can be driven to purchase with an exclusive offer, while sleeping customers can be reactivated with a discount or a promotional code.
The preferred communication channel can also be a segmentation factor. When you see that part of your audience has responded well to a particular advertising campaign in one specific channel, we recommend creating a separate segment of these users and offering them similar content in the same channel more often.
We recommend carrying out a segmentation strategy across all communication channels. Just as you do in newsletters by sending the right content, use segmentation capabilities in push notifications and other channels. For example, the Siberian Wellness online store sends push notifications to customer segments with interest in a particular brand or product category: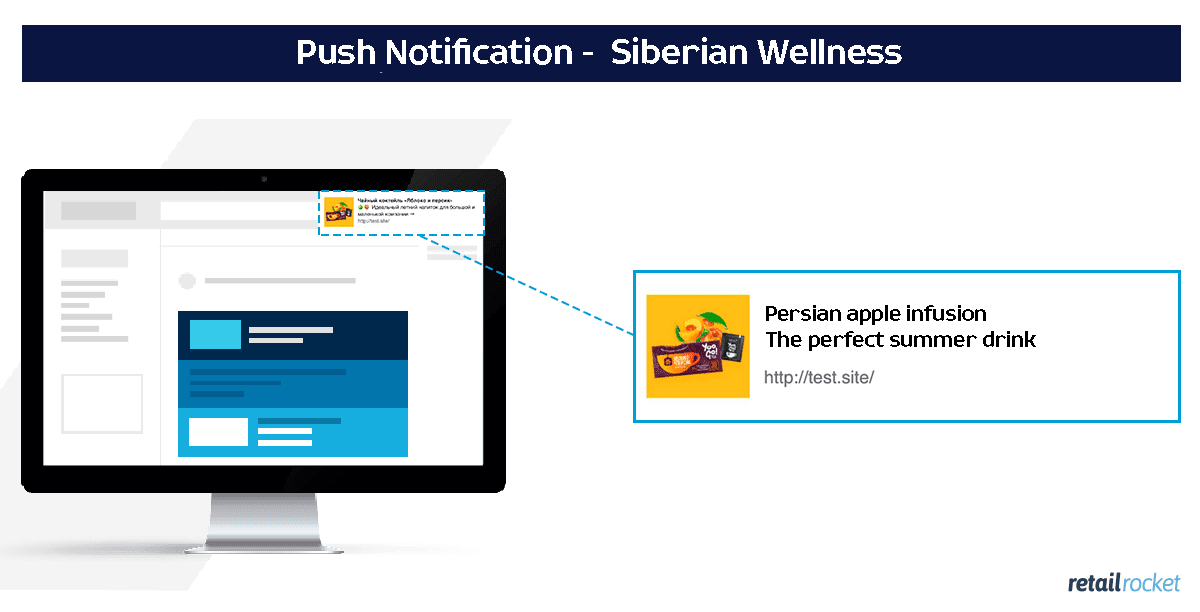 Personalization of communications
A personal approach to each customer has long since become a must-have for every marketer, and cross-channel communications are no exception. Regardless of the channel where you communicate with your customers, their interests and preferences must be considered.
Personalize content based on customer behavior across different channels. For example, retailers using an omnichannel strategy can send emails to customers thanking them for buying in the physical store while showing personal product recommendations based on that purchase. That's what DIY hypermarket Maxidom does: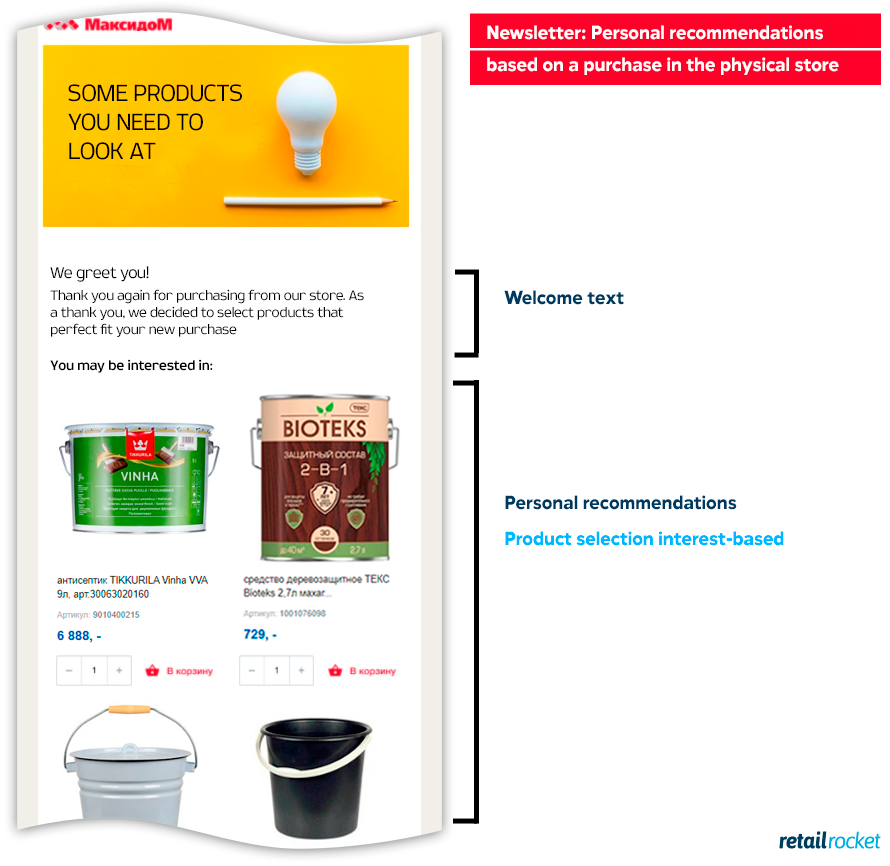 Using a consistent style
Regardless of the communication channel you use, the brand's corporate style must remain the same. The logo, design, and tone of voice should fix the image of your online store in the customer's memory and make your brand stand out from the list of other offers received. You need to ensure that every message a user gets on any of the channels is clearly associated with your company, thus increasing your visibility and brand awareness.
Conclusion
Using a cross-channel communication strategy will allow you to manage user data with maximum efficiency, protect your customer base from burnout and increase the reach of your campaigns. Every interaction with the user must be as effective as possible, never annoying, as this is the only way to increase customer engagement and loyalty. A well-tuned cross-channel communication will help you overcome this challenge by making the customer experience personalized and seamless and your marketing efforts and resources accurate and efficient.
---
Freepik resources used for the cover