Big Data in modern retail: predictive technologies for Retention and LTV uplift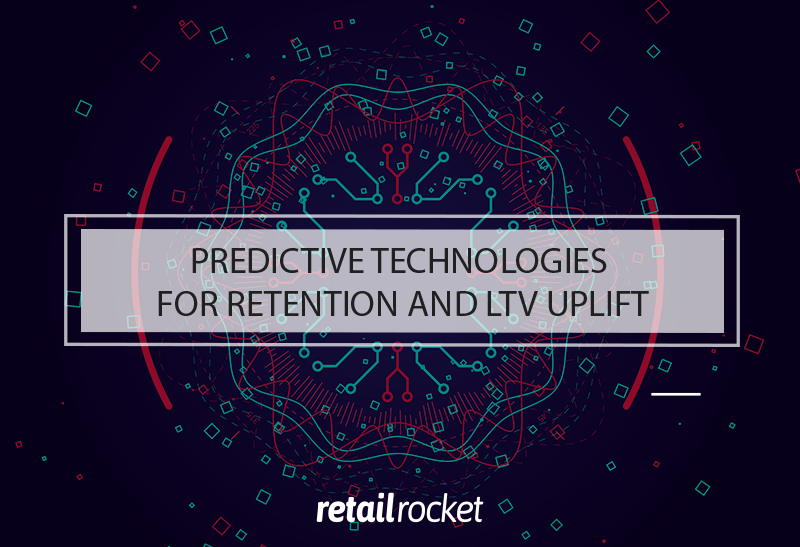 How has modern retail transformed and why online stores lack competitive power without implementing Big Data and smart algorithms opportunities?
They say implementing Big Data technologies is a must, but common understanding of Big Data application remains unclear. We have prepared a detailed article based on empirical research and the best case studies of the Russian and European markets.
Traditional retail and e-commerce changing paradigm
Marketing specialists used to define customer needs from surveys and sales analysis before personalization technologies were released. However, it turned out that such an approach produced results that did not match with reality.
H&M has been facing continuous revenue decrease for ten quarters in a row until 2018, which has become a threat to the company's demise. Smart algorithms were implemented to turn this around, so it allowed to clean out 40% of the store's product range without reducing sales. This test showed that retailers sometimes do not exactly know what their customers need are.
Retailers accumulate a huge amount of data that can be analyzed and used both for communication with customers and internal company processes optimizing.
Walmart used to employ about a thousand specialists to analyze 24 thousand requests per hour. Now Big Data technologies can do this and even more, and thus modern retail is moving from CRM-marketing to predictive technologies.
Facts & Figures:
The value of the Big Data industry will reach $77 bln by 2023
Companies using Big Data noted the 8% revenue increase along with 10% total costs decrease, becoming more profitable
About 50% of companies believe that implementing Big Data has radically changed their marketing and sales policy
79% of retailers believe that rejecting Big Data will bring loss of competitive power and business failure
2011-2027 Big Data market growth forecast in revenues ($ mln):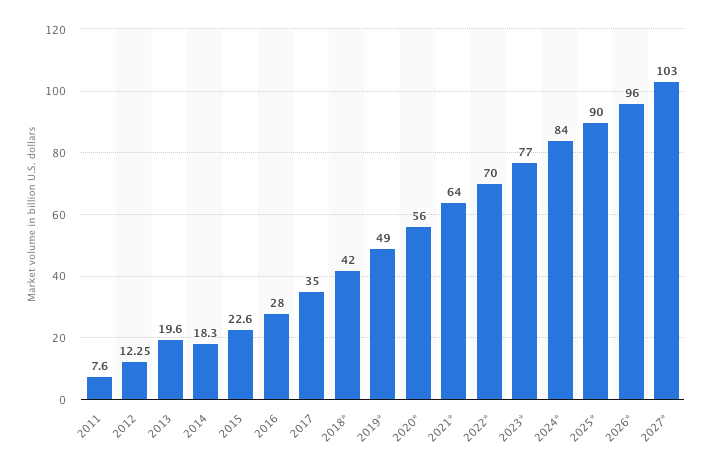 Key Big Data opportunities for retail
One of the most important Big Data implementation effects is the 1:1 communication renaissance. Merchants used to personally know their customers and could advise products fitting best to their customers' preferences long before the mass market and online stores flourished. Years later, personalized online services allow you to directly communicate with your customers. The more data you can collect, the more accurate product recommendations will be, which results in conversion and revenue uplift.
Areas of Big Data implementation in retail:
assortment planning and in-stock balance optimization
distribution and merchandising in shopping malls
demand planning
loyalty programs data analysis
pricing, including dynamic pricing
marketing and advertising campaigns optimization
Retention, LTV and loyalty increase by predictive technologies
Let's get into predictive technologies practice. Below we share successful case studies of some of our clients. You can adapt these strategies for your business or use them as a template to create your own ones.
Real-time personal recommendations
Modern predictive marketing systems teach us about user real-time behaviour, purchase history and interests without any direct involvement of technical specialists. This all opens up a wide range of service personalization opportunities for retailers.
You can personalize your service at any stage: website interaction, regular and trigger emails etc. It is a good practice to keep on testing new hypotheses to ensure they are effective.
We have been digging into the best recommendations blocks configuration for Hoff online hypermarket product page. Four hypotheses were tested, where two of them showed almost zero uplifts. Meanwhile, the winning segment showed a significant average order value increase and 5.8% incoming turnover uplift: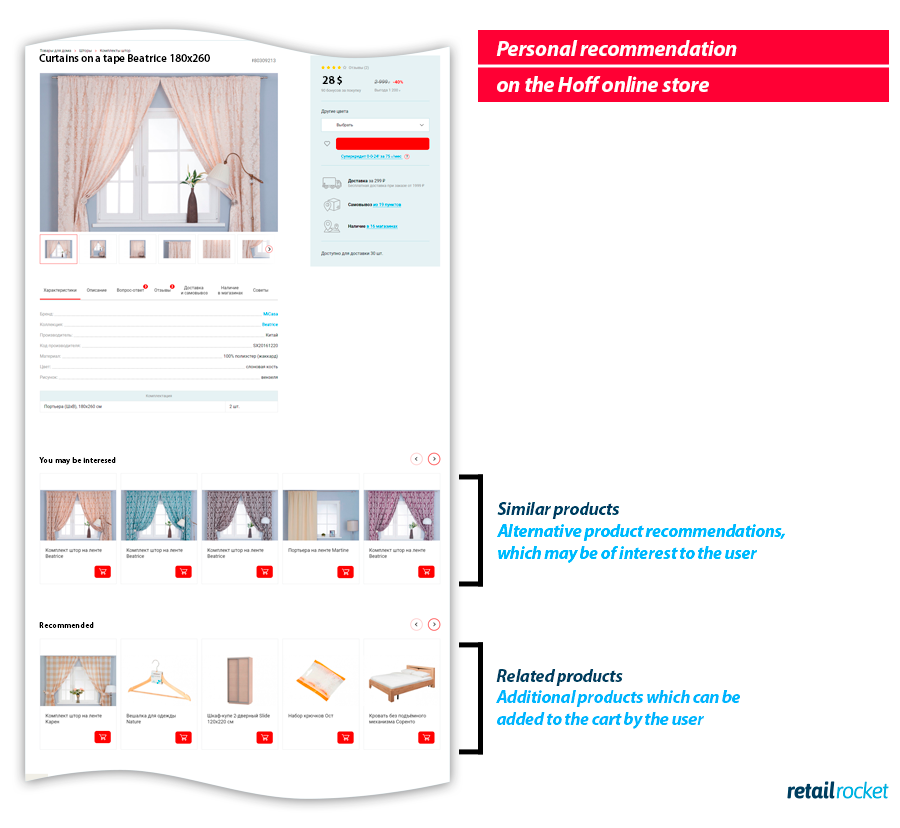 Predictive Trigger-based marketing communication
Online stores customers generate a huge range of data, which allows you to deeply explore a sales funnel. Each user's transaction generates various stages to purchase, so you can calculate the probability of what a customer will purchase next.
The purchase prediction algorithm consists of several stages:
Overall customers' purchase sequences analysis
Statistically identifying significant purchase sequences
Predicting the next purchase sequence "link" right after finishing the order
Sequences can be built for all product categories. Below you can find the purchase sequence of an online store selling goods for children: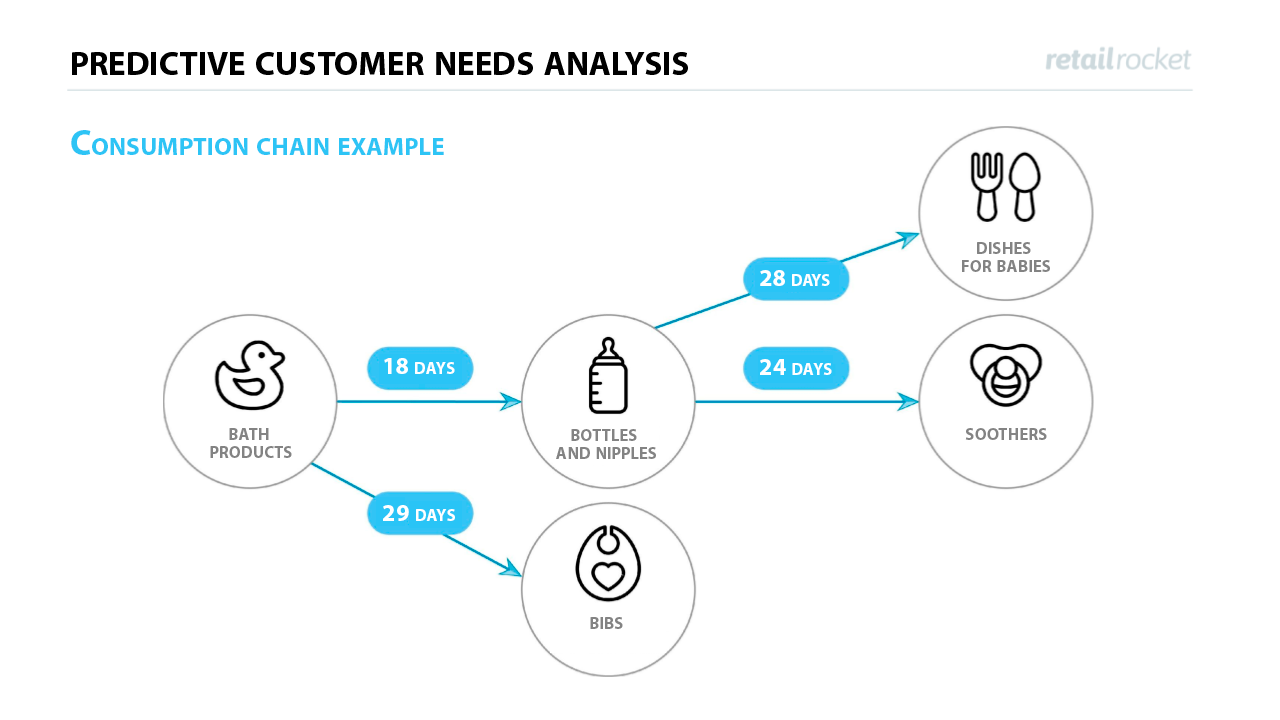 A user can simultaneously be engaged in several purchase sequences, and by using a complex grouping algorithm will reveal what a particular user needs. You can execute various campaigns using the same data. For example, a personalized selection in the "Next Best Offer" email scenario offers products based on customer's interests and purchase history: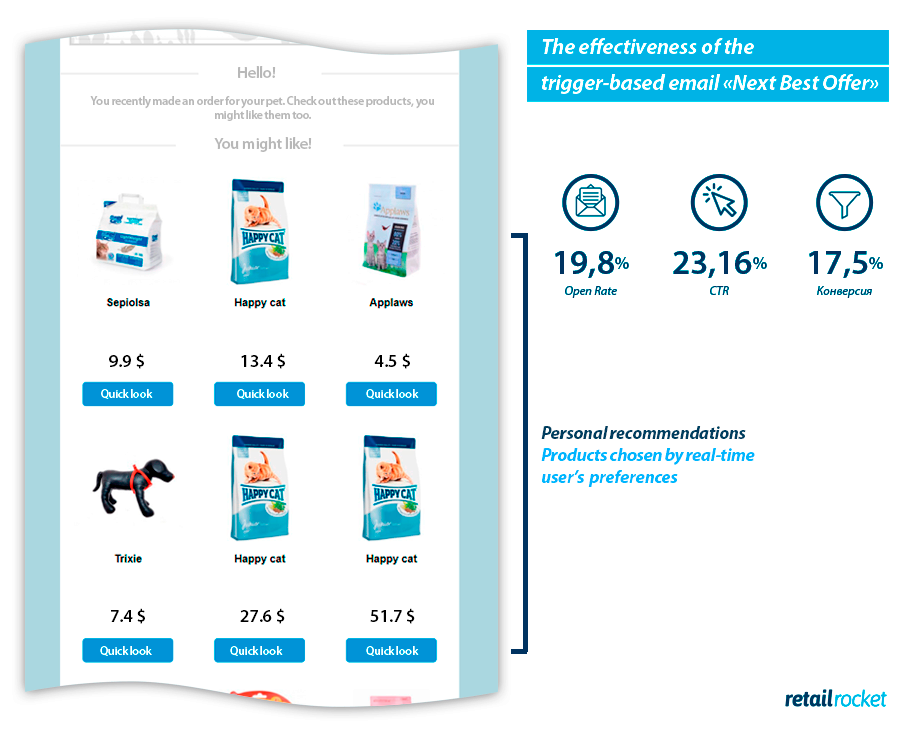 A similar algorithm is used in the "Re-demand goods supply" scenario. This algorithm takes into account the term of purchased goods consumption and sends an email to the client when he is likely to refill: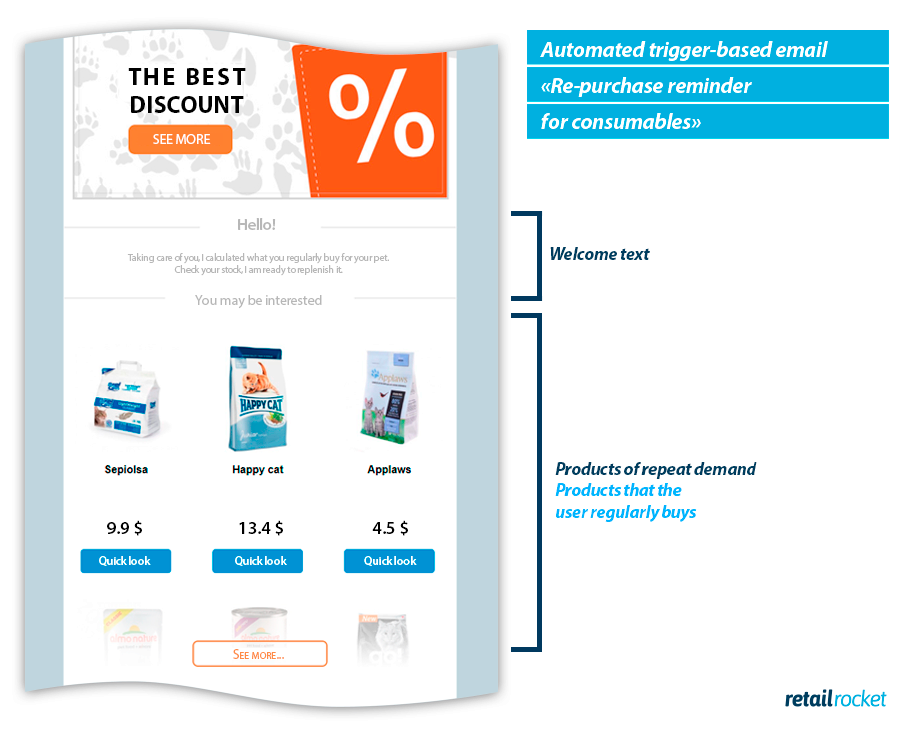 Interests-based emails and email process automation
Customers generate a wide range of data that can be used in the original campaigns. For example, if a customer has ever made a purchase of clothing, the store will now know his size. This can be used for the next product offering. By using emails, you can both offer the appropriate size and exclude products that are not available in the right size.
Therefore, you can highlight the appropriate size to emphasise a particular product, but you can also specify adjacent sizes (one size larger or smaller):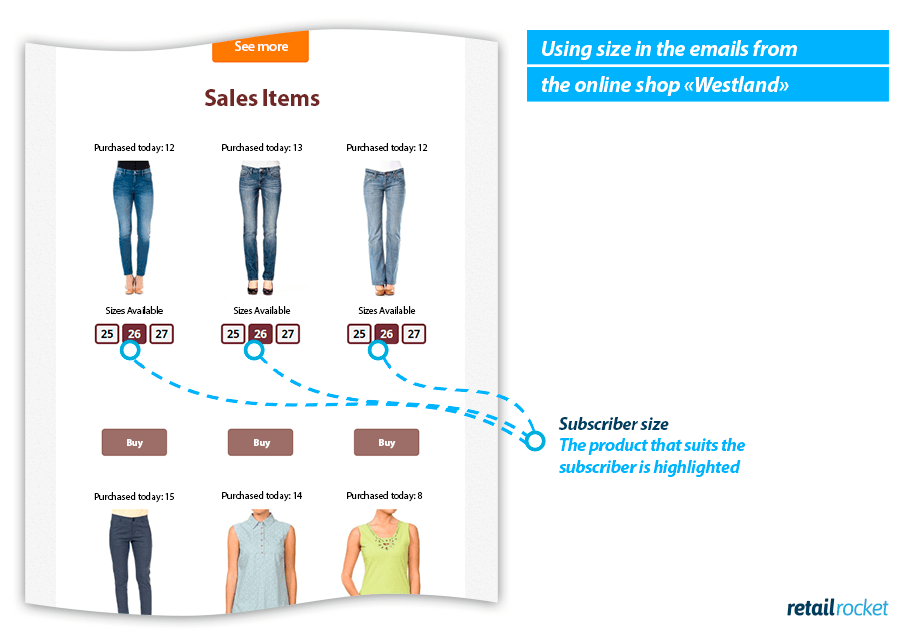 If you have no data for personalization, then we will at least specify the available sizes. Most users have standard sizes, so the information in the email is likely to be relevant in most cases.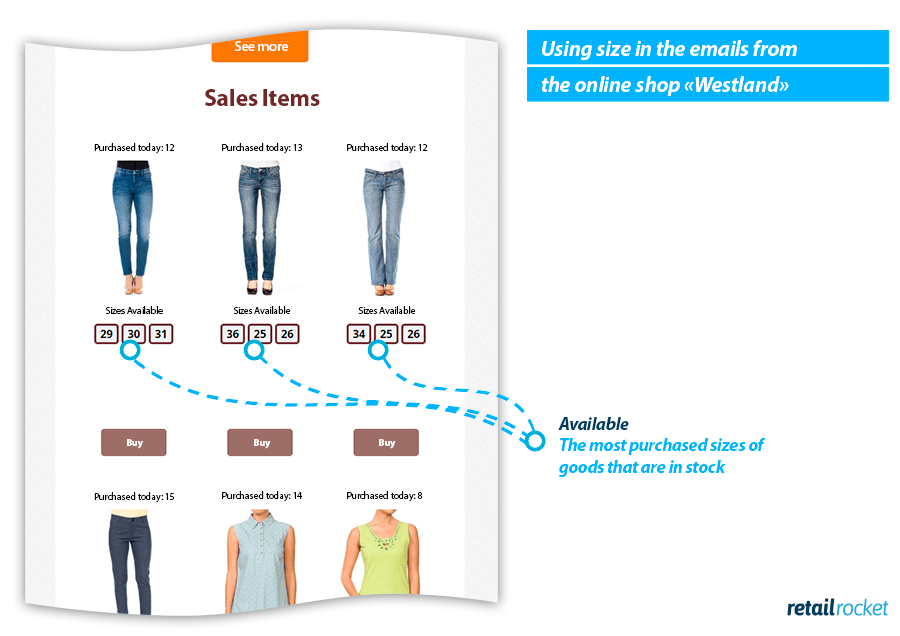 Conclusion
Now or never – the motto for companies that have not implemented Big Data technologies into service yet. You can rely much on product exclusivity and customers' loyalty, but, unfortunately, this may even fail for huge companies like H&M. Big Data works for you and emphasizes your store's uniqueness. So why not take the maximum out of it?