Retail Rocket platform update Q1 2020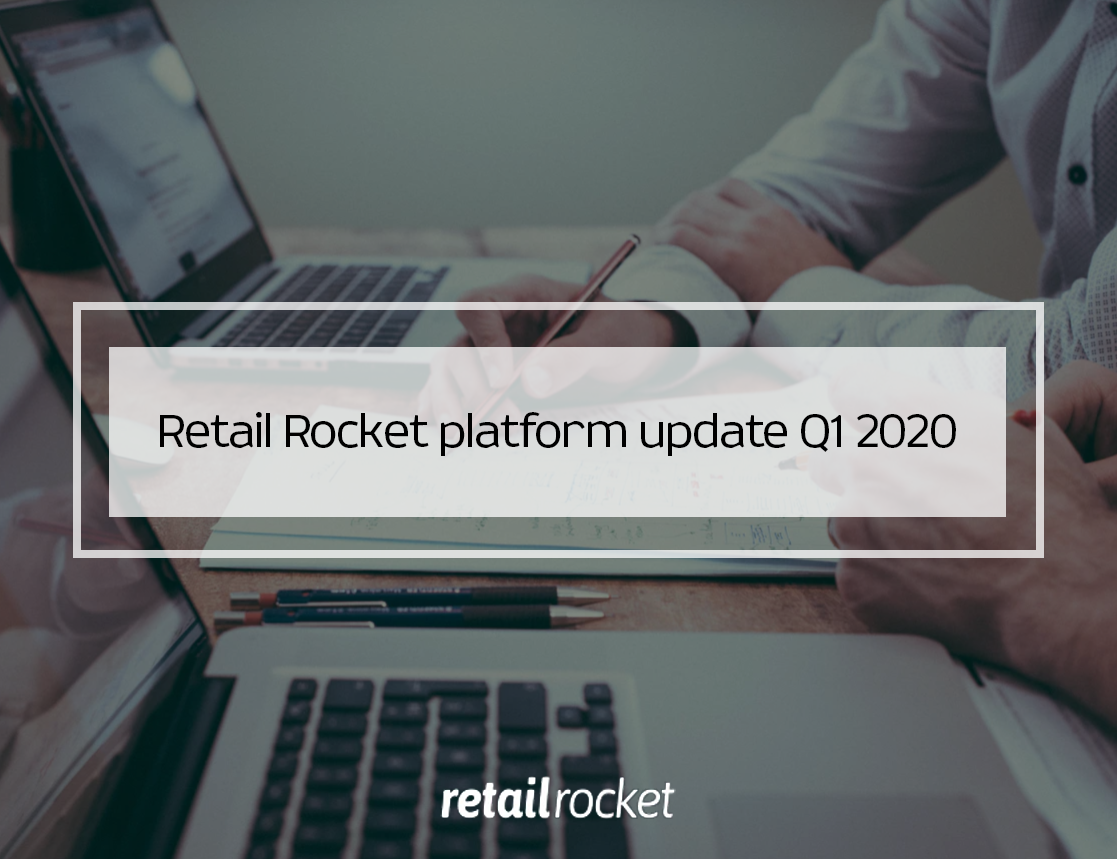 In this article, we will talk about the Retail Rocket platform's changes made during the first quarter of 2020. 
Neither confinement nor remoteness has limited us from updating our services and making improvements. Despite the situation, the Retail Rocket team released many interesting features:
Launch of new products:

SMS and browser push notifications;

Improvement of the

algorithm for alternative product recommendations;

Improvement of the

algorithm for popular products in the user's categories of interest;

Update of

search algorithms;

Update of the

algorithms for related product recommendations;

Implementation of

pop-ups shown with a re-subscription CTA;

 

Improvement of the

segmentation tool performance.
Let's take a closer look at these changes.
Cross-channel communications
A long-awaited launch in our campaign management system! We are pleased to present two new tools at once: SMS and browser push notifications.
Their implementation brings the marketing capabilities of online stores using the Retail Rocket platform to a qualitatively new level. Now you can create multichannel mailing chains using a single interface, sending messages through those communication channels that are more convenient for each customer.
But, how would it be in practice? For example, you can send a newsletter with a promotion, and two days later send a push notification or SMS only to those customers who have not opened the email. Or also you can show new products on the browser and smartphone to users who have not visited your store for a certain period. 
Retail Rocket's AI platform allows the design of a cross-channel strategy that allows you to work in a unified way with user data in different channels. That will lead to the creation of more accurate customer segments, as well as a more simple and more efficient data management optimization. All this will mean an improvement in the personalization of marketing campaigns and, therefore, an increase in the key metrics.
Since we have already carried out pilot projects with some clients using push and SMS notifications, you will soon be able to see the achieved results in new case studies.
Updates in personalization algorithms
We improved the algorithm for recommending alternative products
The most difficult stage in website personalization, as in many other cases, is the starting one. It is also called "cold start" due to the low coverage of products with recommendations. Earlier, at this stage, the algorithm of alternatives faced a problem: for some of the products, recommendations could be made based on the user behaviour and the sales history, but inevitably, there would be products with no alternative items to offer except for the same one of a different size or colour. As a result, similar products could be included in the recommendation block, which would limit the choice of the buyer. 
Before carrying out the updates, in cases that it was not available enough information, we did not show the recommendation widget. In order to solve this problem, our algorithm now displays available products for different groups, which guarantees more varied item recommendations. As a result, the impression share of widgets increased by 9.4% during the "cold start"
Improvement of the algorithm for popular products in the user's categories of interest
In the process of optimizing one of the essential algorithms, we tested different variants of displaying bestsellers in the recommendation block. One of the options showed an increase in metrics, so we fine-tuned the algorithm with this knowledge in mind. Now the users, of whom we don't have enough information, are shown not only the bestsellers in the viewed categories but also other popular products of the online store accurately selected. This update allows us to offer more diverse and relevant options to meet the user's needs and, consequently, increasing the online shop's orders.
Update of search algorithms 
At Retail Rocket, we strive for continuously improving our algorithms, and of course, search recommendation is one of them. Gathering search query statistics is essential to achieving this. A new approach for generating statistics makes the algorithm to ensure more relevant search results. Thanks to this change, one of our customers obtained a 13% decrease in the number of empty search results. 
Upgrade of algorithms for related product recommendations
Our mission is to help online stores increase their orders using Big Data technology. Therefore, we are continually improving the proven method to increase the average order value by offering related products.
This time, we decided to modify the "cold start" stage, the moment of the first visit to the site, when the system has not yet managed to acquire enough data of the user behaviour. Our challenge at this stage is to answer the following question: How can we offer suitable products without knowing anything about the users and their interests? 
To find the best recommendation options, it is enough to identify the starting point that is the product that initially interested the user. The updated algorithm for related products lets you instantly analyze the product matrix, evaluating the communication chains between different options, and recommending the best ones for this particular product.
Based on the test results, our upgraded algorithm proved to be the most effective in the product card.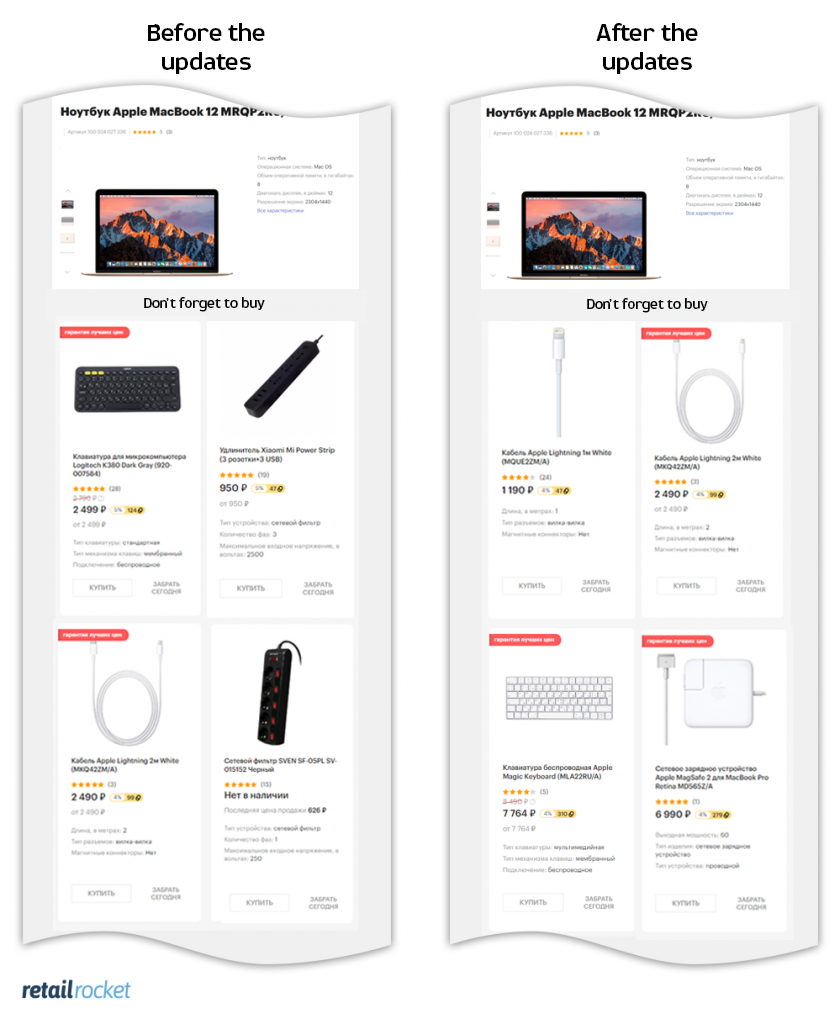 Update of email marketing platform 
Implementation of pop-ups which are shown with a re-subscription CTA
A common concern for email marketers is the loss of database subscribers. That is why we have created a suitable tool to make it easier. It works as follows: if a customer has unsubscribed from the newsletters, the Retail Rocket platform will recognize them when they visit the website to show them a pop-up window with a CTA button to subscribe again to get a bonus in return. In the case of consent, the user will receive an email with a promotional code. We have already tested this feature in several projects with good results.
Improvement of the segmentation tool performance
Our subscriber segmentation tool has become faster and more productive. We have managed to significantly improve its performance, limiting the number of conditions for creating segments to 50. Do not hesitate to contact Retail Rocket if you want to create an accurate segmentation of your customers to improve your metrics.
Conclusion
Life in e-commerce does not stop for a second. As you are reading this text, users are shopping online, couriers are delivering orders, and Retail Rocket specialists are working on building the most advanced services for online stores.
Thanks for following our news! We continue creating solutions for your eCommerce! If you want to be aware of all the new features of our platform that are coming soon, follow us!