How Personal Recommendations for Mass E-Newsletters Have Made Conversion 37.43% Higher: ELC Russia's case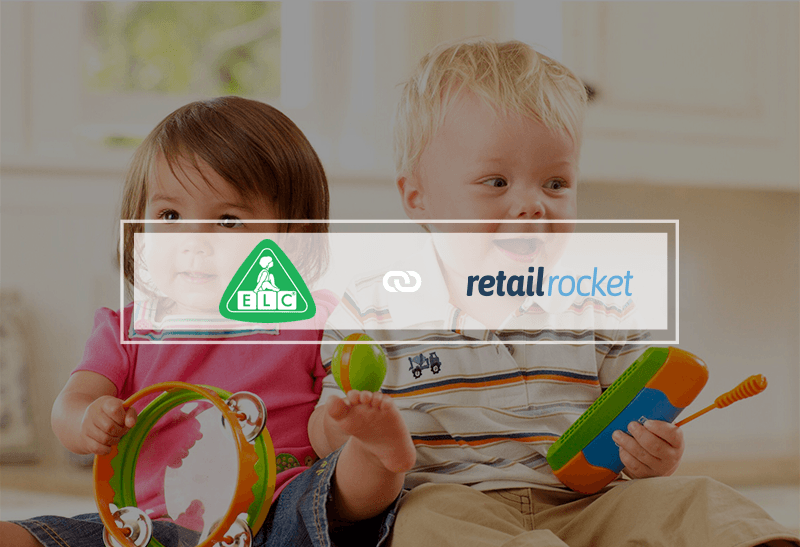 Nowadays, users receive dozens of emails daily. To invoke a subscriber not only open a letter, but also follow the link proposed, newsletters should have a content to meet subscriber's relevant interests.
The user will be most inclined towards making a purchase from an online store if he is proposed those products that he currently needs via the e-newsletters he receives. In this case, the buyer also saves time on searching for goods amidst a wide range of online store offers, because those items that suit him most are all available in one newsletter.
We have already told you about the website personalization of the ELC Russia online store of learning toys. Today we will talk about increasing revenue by personalizing mass e-newsletters of the brand.
ELC is a brand of learning products and toys for children. The brand has existed for more than 30 years, and its name stands for "Early Learning Center". In order to create high-quality products tailored to the needs of children of different ages, the company cooperates with designers and certified child psychologists, and also takes into account its direct target audience's opinions.
The effectiveness study case of personal recommendations in mass e-newsletters
A wide range of products in the online store makes it as easy and versatile for the buyer as possible, because he can buy all things from one place. But the more products are presented on the site, the more difficult it is to find the right one among them. The same relates to e-newsletters: a retailer always wants to cover the widest product range in letters and tell about all the promotions currently valid. But the user's attention cannot cover all products and promotions, so it is important to monitor the relevance of the offers in the letters for each client.
Personal recommendations in e-newsletters allow showing the suitable items for the subscriber according to his current interests, whereby he will make a purchase choice much easier.
The effectiveness study of personal recommendations in Elc-Russia.ru mass e-newsletters was carried out with the use of A/B-testing mechanisms.
All mail recipients were randomly divided into two segments in real time:
1. Standard emails were sent to Segment A.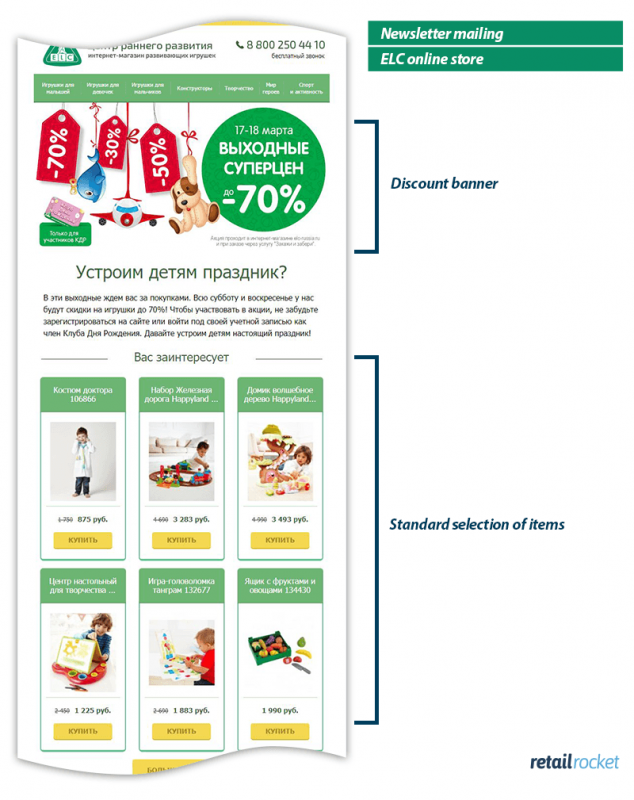 2. Emails with an additional block of personal recommendations were sent to Segment B. A user with no browsing history was sent recommendations of store's best sellers.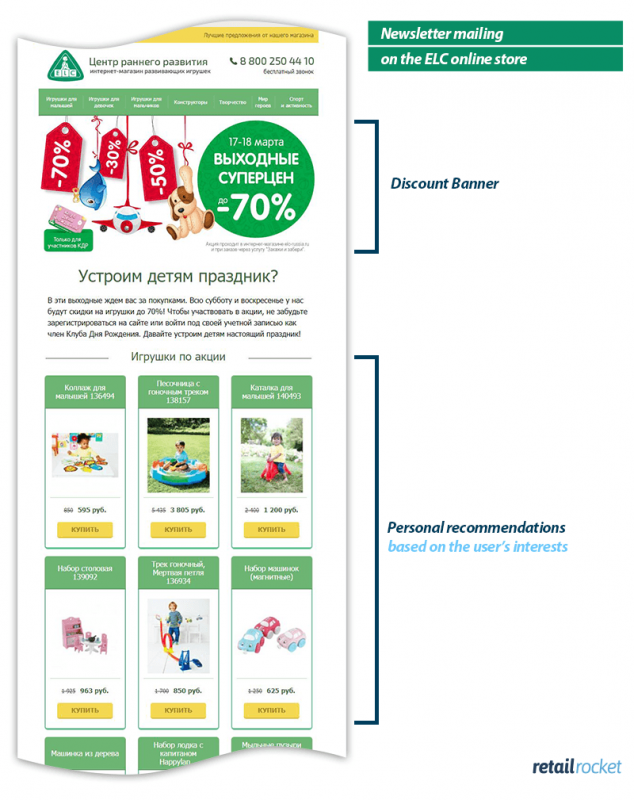 Results
Based on the testing deliverables the following results were obtained:
| | | | | |
| --- | --- | --- | --- | --- |
| | CTR growth (%) | Conversion growth (%) | Increased orders (%) | Revenue growth (%) |
| Segment A | — | — | — | — |
| Segment B | +4,54% | +37,43% | +44,07% | +27,21% |
Statistical reliability 97.2%
Conclusion
Personal product recommendations in e-newsletters allow to significantly increase conversion rates and revenue of online stores. Adding the personal recommendations block to ELC-Russia.ru online store e-newsletters allowed to achieve growth of all key metrics:
CTR grew by 4.54%;

Conversion grew by 37.43%;

Orders grew by 44.07%;

Revenue growth was 27.21%.
Thus, personal recommendations help the online store to make the email channel more efficient and e-newsletters more interesting for subscribers.
ELC Russia's comment:
Our main goal is to care for the comfort and harmonious development of your children. That is why in creating our learning toys we are guided not only by leading designers and psychologists' opinions, but also children – our most important clients. We strive to be maximum useful for our customers and are convinced that an individual approach to each user and detailed consideration of his interests and needs is a keystone to customer's satisfaction and retailer's success. We entrusted the e-newsletters' personalization to the Retail Rocket team and we are highly pleased with the result.  Adding personal recommendations to emails helped significantly increase conversion and revenue of email campaigns.

Mikhail Burkov, Head of ELC-Russia.ru Online Store