How to easily automate trigger-based emails and quickly increase your revenue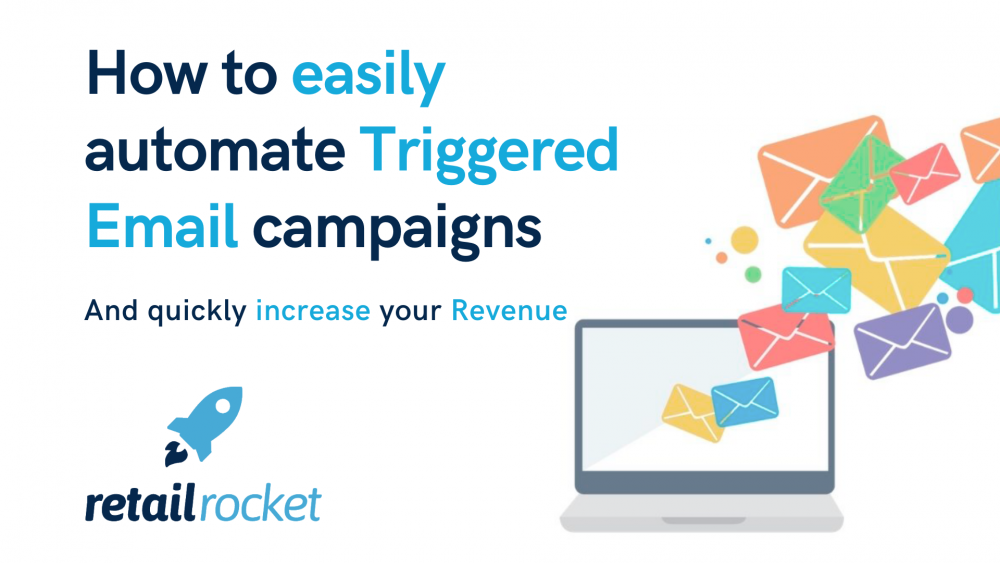 In any business and task, the hardest part is always taking the first step. Email marketing automation seems like a complicated and confusing process for those who have never done it before. However, after reading this post, you will see that this is a mistaken belief. By following our tips and implementing Retail Rocket's AI technology, you will be able to easily launch your email marketing campaigns, quickly increasing your KPIs and revenue.
What are trigger-based emails?
Trigger-based emails are emails sent based on the user's actions or interactions on the website. If an online shop analyses in real-time the behaviour of its customers and stores this information in a single source, it will know all the opportunities to succeed in selling a product. Then, you can design a personalised sales funnel that will allow you to increase the KPIs. But, how to quickly and effectively fine-tune your email campaign if you are new to this field?
To quickly launch an email campaign and start making profits, you need three essential things:
To Know your target audience: creating a buyer persona.
To understand the email's usefulness: what will bring to the customers.
To choose an email design: a simple and user-friendly template, relevant text and a CTA button.
This is just enough to start! The main goal is to shorten the customer journey, from when a product is displayed to when the buyer receives the order. Be aware that dozens of designs and texts options would increase the time to implement an idea not always meeting the ROI expectations.
Select scenarios and launch the trigger-based email campaign
It is a must to know which scenarios to run first
At Retail Rocket, we create a trigger-based mailing map, a list of behavioural scenarios that in real-time run as a user moves through the sales funnel. Smart triggers automatically generate personalised messages and cover every customer journey's stage to achieve higher ROI.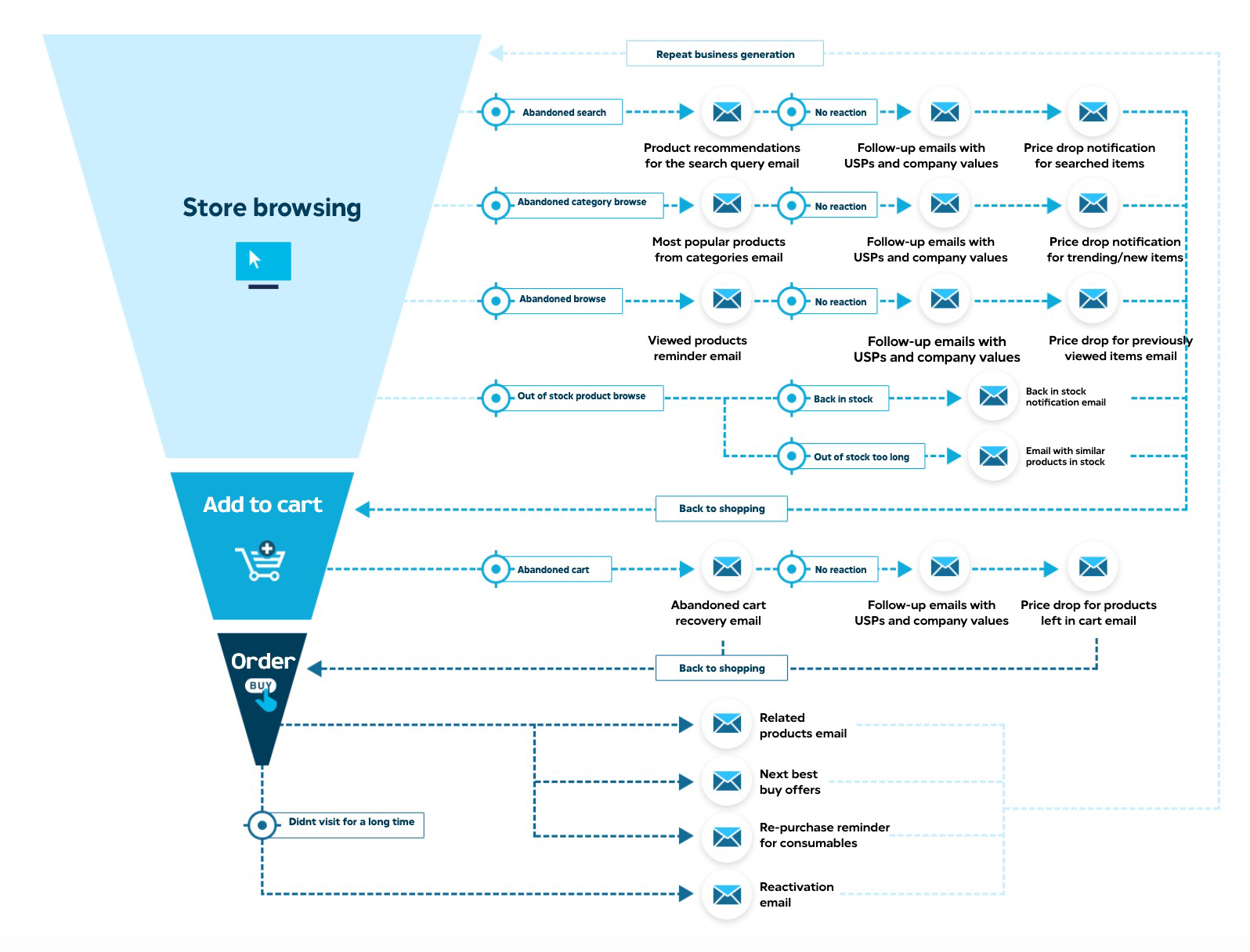 We analyse the current site performance and the path a user follows from the first online shop contact to once they finish the purchase. Based on the analysis results, we decide what scenarios should be activated first and those ones that can be implemented a little later.
When you first add the recommendations, the base map to follow consists of the scenarios below:
Abandoned cart";
"Abandoned browser";
"Abandoned out of stock product view";
"Abandoned category";
"Abandoned product search";
"Newsletter with related products base on an order.";
"Reactivation of sleeping users".
These scenarios are suitable for almost all stores and are excellent for creating a 360 email marketing strategy.
You can launch behavioural trigger-based emails in the blink of an eye. With personalised integration and a selection of standard layouts (which have already been designed and tested by Retail Rocket), emails can be sent within one working day once the texts have been selected.
A key feature of all Retail Rocket activation scenarios is using personalised recommendations in addition to the traditional email content. They are based on every single user's interests and preferences in real-time so that the customers will receive the convenient products. Thanks to that, even if a user's motivation to buy the products already viewed or selected has decreased, other product recommendations will increase the chances of finishing an order.
To expand the audience reach by building a personalised trigger-based communication map
An activation map can include an unlimited number of scenarios. You can create a communication map of any complexity by complementing time-tested mailings with personalised mechanics designed for a particular shop's target audience.
For example, the main communication map of Retail Rocket includes more than 40 preconfigured scenarios with different delivery mechanics, amongst which the most relevant one is selected for a particular shop. This map is complemented by an unlimited number of personalised scenarios developed for a specific store according to its target audience's characteristics. All mailings use the Real-Time system to analyse the user behaviour, which allows the online shop to react to customers' actions and anticipate their expectations and needs by using predictive analytics.
In addition to trigger-based emails activated on the customer behaviour, the basic scenarios also include the personalisation of informative newsletters such as:
Website registration confirmation;
Email subscription confirmation;
Order confirmation;
Invoice or payment information;
Order cancellation by the customer;
Order cancellation due to out-of-stock product;
Delivery status update;
Request for a product review;
Change Password;
Etc.
Let's see an example of how to inform your customers about the loyalty programme, the card's bonus points and the products or collections to spend them, based on their personal interests: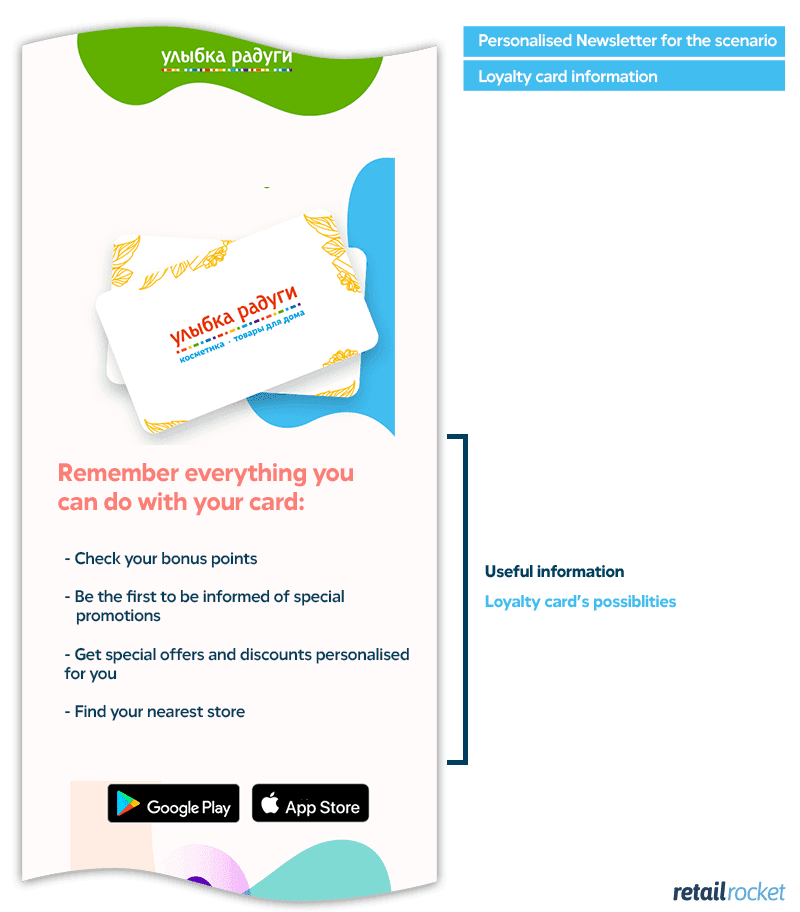 The trigger-based emails set to be sent with a regular frequency are also very effective. That is, emails sent on specific dates to the entire subscriber base or a particular segment. These include scenarios such as:
Store's Bestseller offering
Store's novelties notifications
Discounted product offering
Etc.
According to the company's marketing strategy, these emails can be personal, i.e. individual to every customer, targeted to a specific category of users (e.g. only to cat owners or customers with children of a certain age), or they can be sent to the entire subscribers database.
By using the Retail Rocket platform's potential, you will have just to select a subscriber segment for a specific parameter (demographic or behavioural data) and set the sending frequency. For example, segment subscribers by pet type, as the online shop Mir Korma did to send product recommendations in the relevant category to every segment regularly.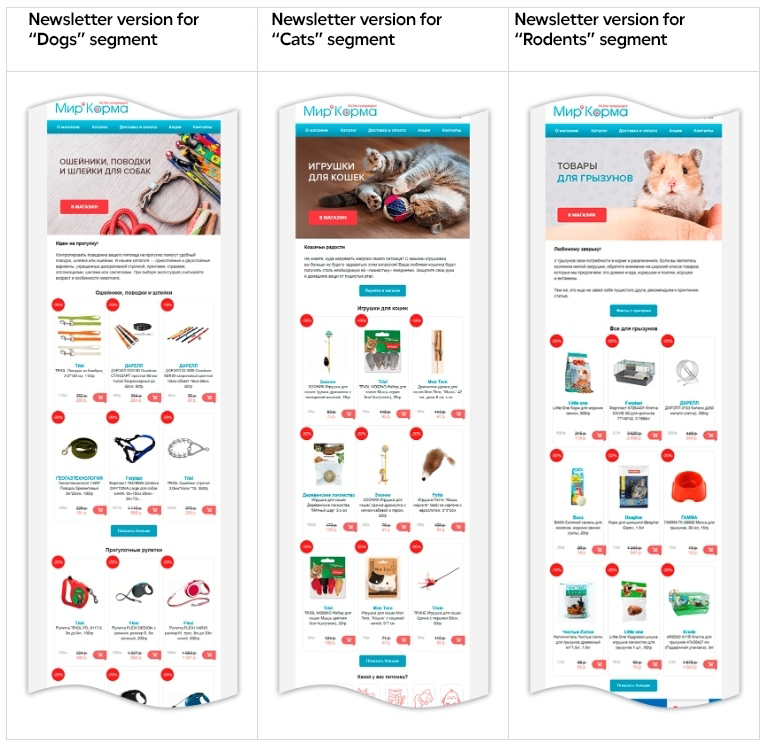 One of the traditional scenarios is to send birthday greetings to your customers. However, we recommend not limiting yourself to send a simple birthday card by email but also offering special discount codes to increase customer loyalty and revenue for your online shop.
The design of scenarios for your trigger-based email campaigns can be as complex as your business strategy requires, and your imagination allows. Thanks to Retail Rocket's technology, real-time behavioural analysis and personalise segmenter settings, the implementation will be fast and easy.
The selection of additional scenarios will depend on the site's functionality, user behaviour and many other factors: such as the store's pricing policy and the products' specifications. Even if you do not know the email configuration you need, the Retail Rocket team will analyse your website and suggest the scenarios that will work best for your business.
The time you need to launch your email campaign will depend on your speed in approving texts and layouts. If there are ready-to-use texts and scenarios already running on the Retail Rocket platform, the adaptation of new ones will take one or two days.
In which cases do we recommend starting the trigger-based email campaign to activate all the scenarios?
Sometimes it makes sense to activate many scenarios at the same time. For example, when changing the email platform provider.
We faced such a case when launching the first email marketing campaign for a client. The reason was that the previous email service provider had ignored both the massive unsubscribes and declining revenue.
Retail Rocket proposed a new strategy for this channel by designing a roadmap for automating triggered emails, including offline scenarios. Within a few months, they managed to return a stable growth of the subscriber base with a 12% monthly increase in revenue from email marketing.
Features' configuration: email marketing campaign fine-tuning
Trigger-based emails must be useful and relevant, only thus will they generate revenue. A sales funnel with flexible and personalised settings for every scenario will help avoid intrusive or annoying emails.
In the Retail Rocket platform, every email campaign has a configurable inactivity time: a silent period during which the user does not receive any email.
If a user performs different actions on the site that may activate different trigger-based email scenarios, they will receive the highest priority email. Our AI technology automatically determines the most suitable scenario.
You can also personalise the conditions for generating recommendations: the newsletter can include bestsellers, discounted products or be filtered by a specific category, either automatically selected by the algorithm or manually by the retailer.
A large number of mailing scenarios and configurations will allow you to fine-tune every single trigger-based email campaign.
Analysis and efficiency improvement
After launching the first campaign with a specific scenario setup, Retail Rocket specialists will analyze the KPIs over time to see what other scenarios can be activated or how to improve the existing ones.
When the number of orders for specific scenarios is sufficient for reliable analysis, the Growth Hackers team will draw up a list of hypotheses to improve the email marketing campaign. These results will be verified by using A/B tests. In Mamsy's case study, you will see an example of an A/B test carried out for the online children store.
KPIs average
When comparing different stores' metrics, you should be aware that it only makes sense to do it by looking at the KPIs of those with similar characteristics or the online shop at hand's previous values. As a general rule, the higher the average order value is, the lower the number of values you can compare to stores in similar categories with cheaper products. Key metrics are also affected by seasonality, holidays and exchange rates.
Conclusion
Activating an email sales funnel is very easy. You just need to know your target audience thoroughly, understand what benefits the newsletter will bring to the buyer and decide on the template design.
Speed in decision-making is vital, so at Retail Rocket, we start quickly using a sales funnel's basic version and adapt it individually to every single online store. We do it by accurately and rapidly monitoring, fine-tuning and analysing the whole process and the channel's effectiveness.