KANZLER case study: how to create an Individual Approach and achieve an increase of 1.5 times in Orders by using AI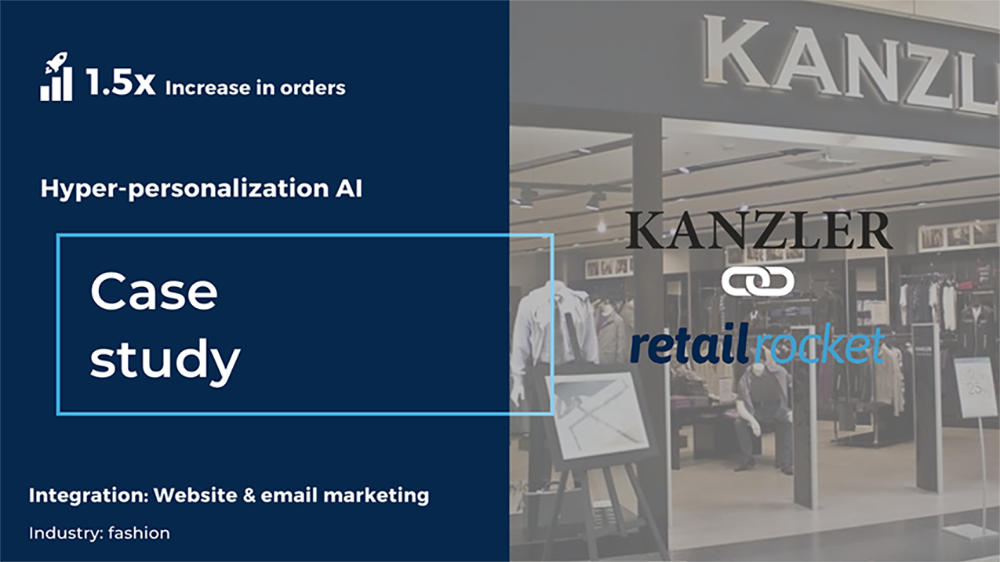 Every customer is unique, and that is also how they like to feel, expecting to see their favorite products in the online store or in personal email newsletters. Increasing key metrics is the online stores' main goal, being a challenge to connect the wishes of increasingly demanding customers with business' goals. That is possible with the capabilities provided by Artificial intelligence's integration. The following case study of KANZLER serves as an example of how this could be achieved.
Summary
KANZLER is a company with 25 years of history, 100 physical stores, and an online shop with more than 150 thousand visitors per month.
The main task is to provide an individual approach to every single customer in the online store and the email channel with the maximum ROI and minimum effort: increasing conversion, number of orders, and therefore; revenue.
Solution:
To create a unique version of the site for every single visitor by using personalized smart merchandising;

To personalize and build automated email communications for the entire customer journey.
Results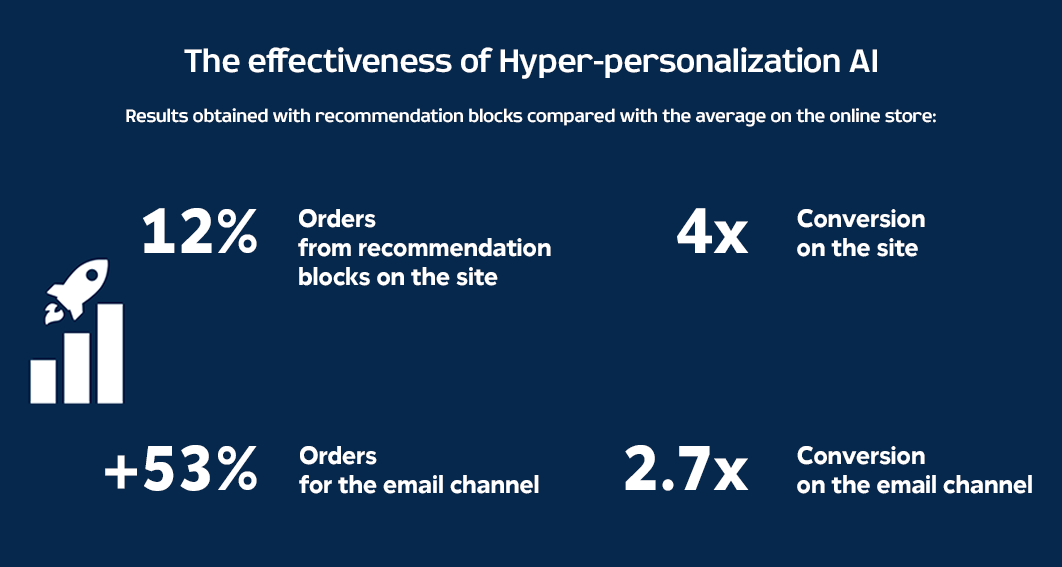 Now let's take in more detail a look at how the KANZLER online store achieved these results.
About KANZLER
KANZLER is a men's fashion store whose mission is to design clothes with quality and comfort standards typical of tailored clothing, always according to the latest fashion trends. It has been 25 years since the company entered the market, and now, in 2021, it has more than 100 stores. The monthly audience of the online store reaches 150 thousand monthly visitors.
KANZLER's customers have first-hand knowledge of what an individual approach is. Thanks to a personalized service, the brand helps every buyer to create their own personal and unique style. The clothing production is based on high technologies and the continuous products' quality check at every stage.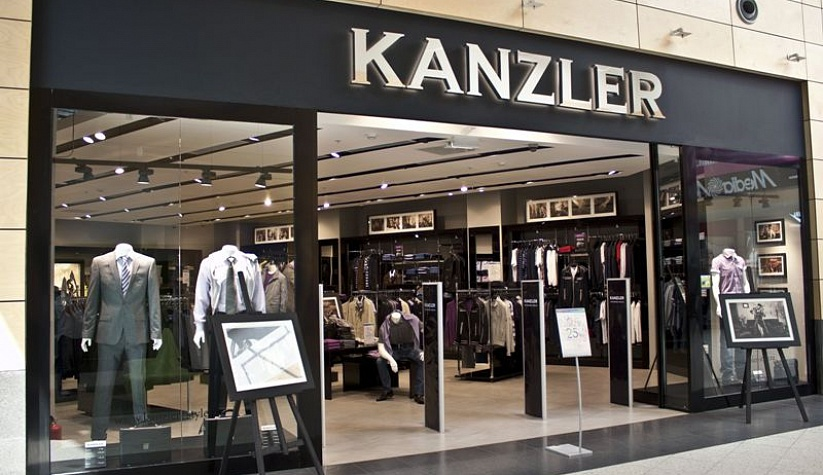 KANZLER Goals and objectives
As they describe on their website, "KANZLER always strives to create and offer customers the best both in physical and online stores." To this end, the company provides an individual approach in every customer communication. While in physical stores, this is achieved through polite employees, their online channels rely on advanced technologies to offer a significantly personalized experience.
Being the improvement of online customer service such a key task for the brand, this led KANZLER to implement Retail Rocket's platform in their online store. The expected outcomes were the following:
To provide a personal approach to every single online buyer;

To develop personalized customer communication channels;

To increase conversion, orders, revenue, and average order value.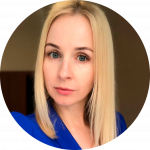 "During a quarter-century, KANZLER has gained the recognition of its customers by providing them with an individual approach to help them design their unique and personal style. Transferring this approach to the online channel is a crucial task that must be solved by those companies that offer solutions based on the latest technologies. "- Violetta Yurieva, Marketing director at KANZLER.
Retail Rocket Solution
Just as there is no standard man, there is no single ideal product to offer that suits all customers. Every single user must receive unique and relevant messages based on their interests, and in KANZLER they are aware of it, hence they provide an individual approach that their customers highly appreciate. For this task, Retail Rocket's work plays an essential role by implementing technologies based on personalization in digital communication channels. Thanks to Artificial Intelligence, the online store will facilitate the customer's purchase journey, creating a unique experience while building customer loyalty and increasing the key metrics.
To achieve the set goals, our specialists suggested the following:
To create a unique version of the store for every individual customer, based on their behavior and interests;

To use the capabilities of hyper-segmentation and personalization to develop a communication strategy in different channels;

To automate email communications for the entire customer journey.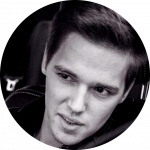 " Our platform allows us to track users' behavior data and use this information to communicate with them in real-time. It means that we can personalize to the maximum every customer interaction through the entire customer journey: website, email newsletter, and other communication channels. Besides that, we can forecast what products and when they will be of interest to each customer "- Kirill, Retail Rocket manager.
Product Personalization: how to create a unique version of the site for every single customer
Many buyers are already accustomed to the fact that their favorite online store shows them offers that always fit their interests and preferences once they enter the webshop. Artificial intelligence makes it possible by changing, based on customer behavior in real-time, recommendation blocks shown such as products, categories, brands, and price ranges, among others. Smart algorithms can analyze all available customer data and personalize the online showcase for every single user. The more behavioral information is stored, the more accurate the product recommendations will be.
To make the shopping experience as convenient and easy as possible for the user, KANZLER online store uses recommendation blocks on all the site's key pages (15 in total). Also, depending on the sales funnel's stage where the user is, the algorithms that determine which recommendation blocks are displayed will change. Let's take a look at the personalization for some of the website's pages.
Homepage personalization
The homepage is usually the most visited page within a webshop and should, therefore, be personalized. When new users visit the online store for the first time, the platform has not yet stored enough information about their behavior and interests. That hinders the personalization with accurate recommendations, so in this case, the best solution is to offer the online store's bestsellers. However, once a user reviews the product assortment and shows their interests, an additional personal block will be displayed when they return to the home page.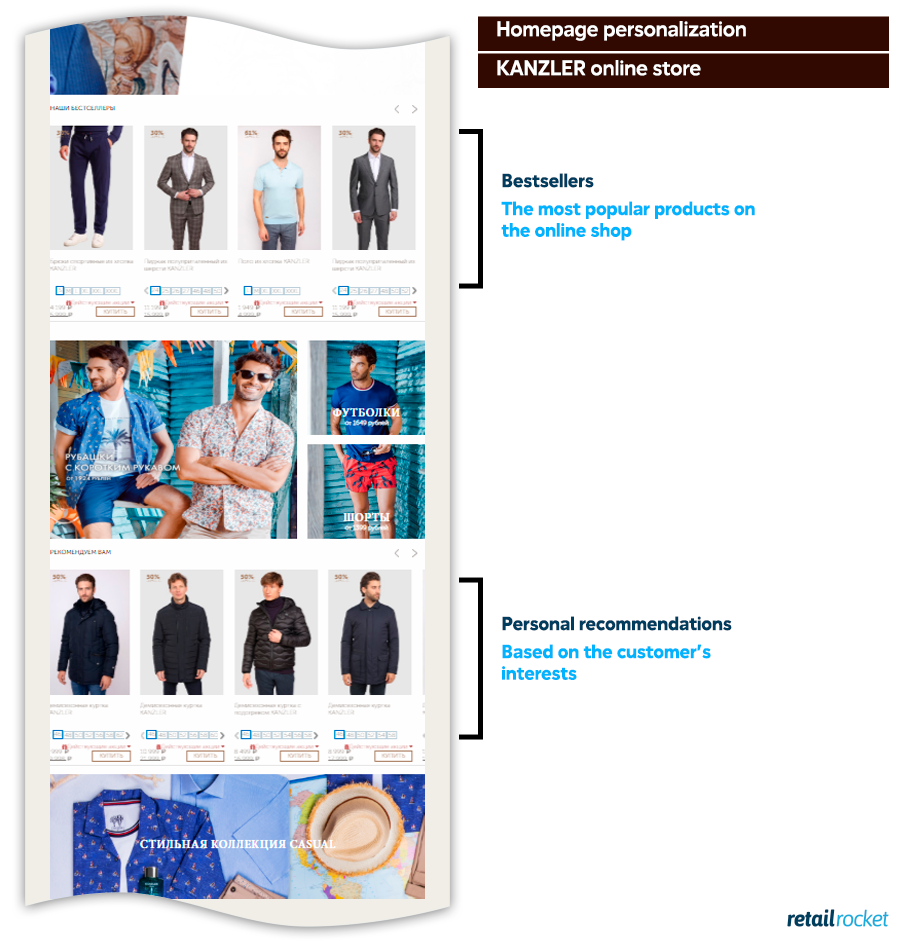 We help the user with their purchase decision on the product page
A visitor that has chosen a specific product from the wide assortment and clicked on its card is unlikely to have done it by accident. Once on the product page, the user sees all product's features, other users' reviews, and purchase conditions. But what to do if a user scrolls through the page without adding the product to the cart?. It could happen that the user might not be longer interested in that product any more yet has shown a specific interest in it. Therefore, immediately following other customer reviews, KANZLER displays a block with similar products. Did not they like them either? In this case, cross-selling recommendations and personalized products based on the user's behavior and interests play an important role into retaining them. It is key, at this stage, to ensure that users do not bounce from the site and find the product they are seeking for in the shortest click circuit as possible.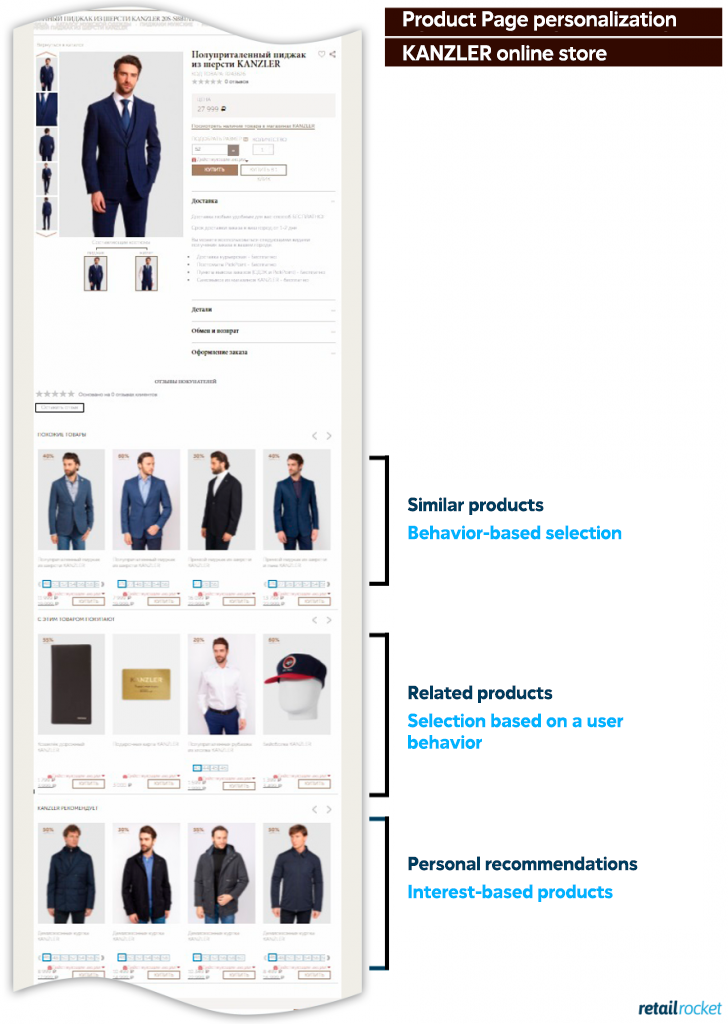 Increasing the average order value on the Cart Page
According to the laws of logic, there are only two possible scenarios on the cart page: one that already includes some products and the empty basket. Therefore, two are also the algorithms used for displaying recommendation blocks. A scenario will offer a block with products frequently bought together with the one already included in the basket. And the second algorithm for an empty cart, in which scenario, we will show personal product recommendations based on the user's interests.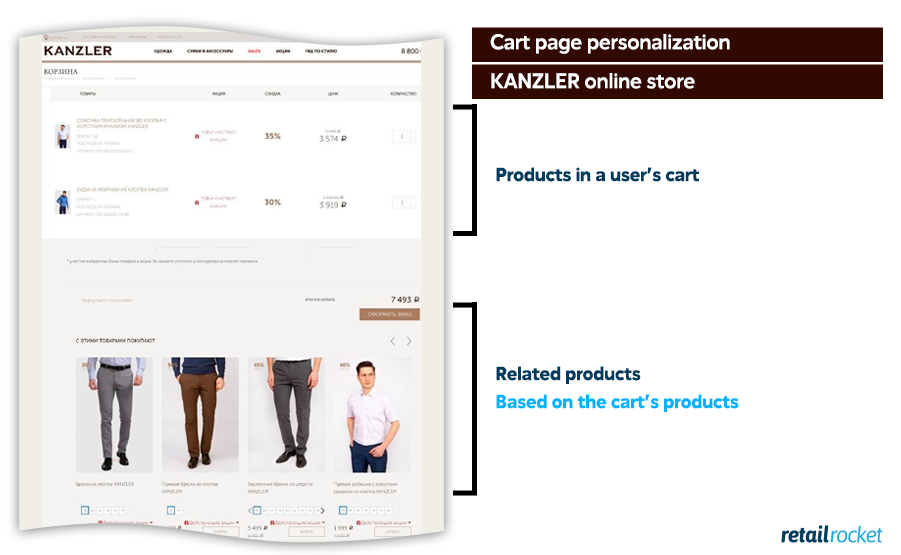 Motivating customers to buy on the news page
On the news page, KANZLER includes announcements about the opening of new points of sale, as well as special offers. Since we must not forget that we are on a webshop, this kind of information can harmoniously coexist with the personal product blocks. And given that loyal customers are usually interested in the company news, they are more likely to pay attention to those recommendations.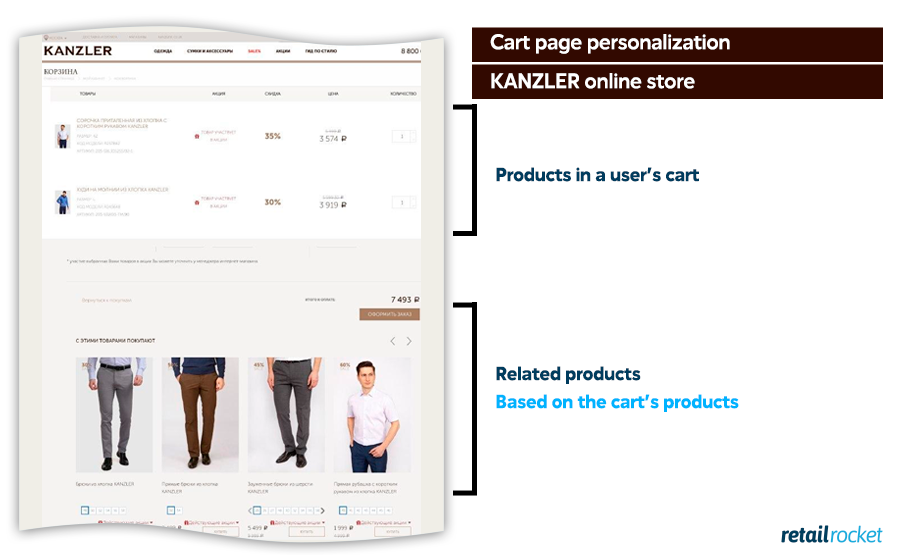 Motivating customers to buy on the news page
On the news page, KANZLER includes announcements about the opening of new points of sale, as well as special offers. Since we must not forget that we are on a webshop, this kind of information can harmoniously coexist with the personal product blocks. And given that loyal customers are usually interested in the company news, they are more likely to pay attention to those recommendations.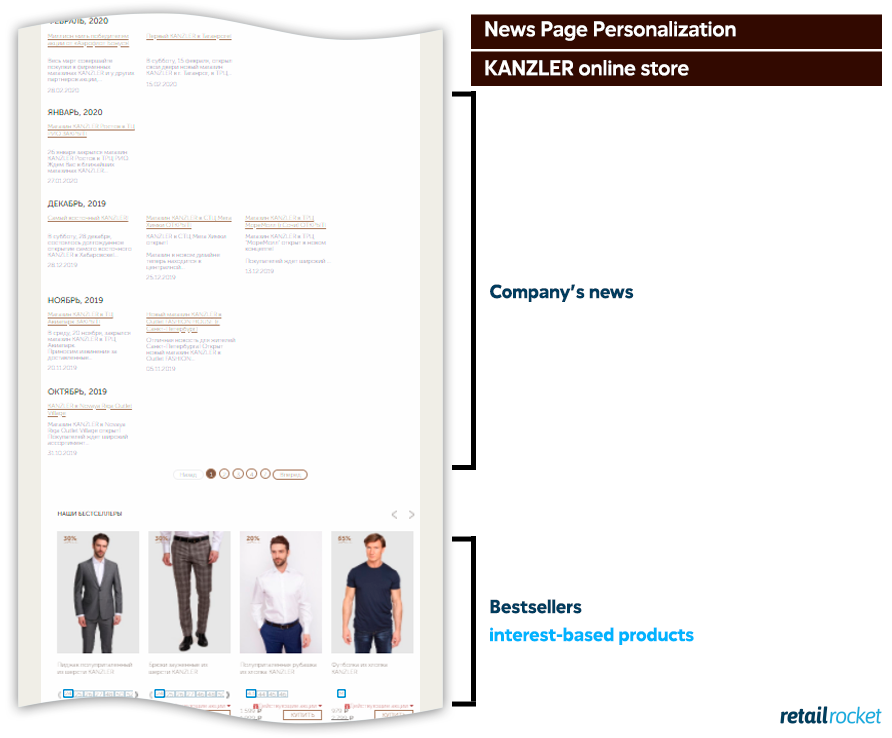 Building a communication strategy for the email channel
A customer who has entrusted their email address to a store is much more loyal than a new customer who just made an order. Therefore, it is important to pay special attention to the communication strategy: what to send, how to send, and when to send it to each client.
Collecting a subscriber base
The costs of acquiring new customers begin to pay off far from just the first purchase. Therefore, turning new customers into regular ones is one of the main tasks of every business. The first step is to convert a user into a subscriber, and KANZLER uses a smart opt-in form to invite new users to subscribe to their email newsletter.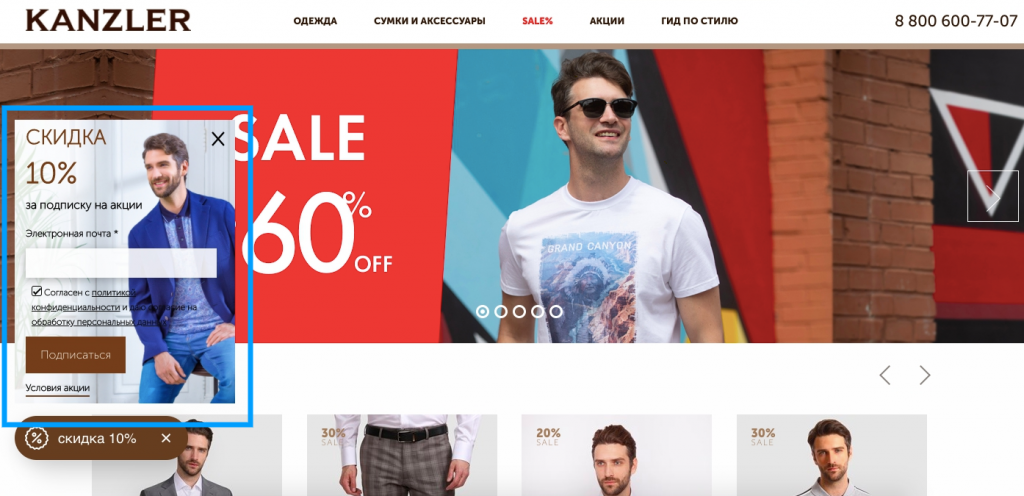 Those users leaving their email addresses will receive a welcome email with a promotional code of a 10% discount.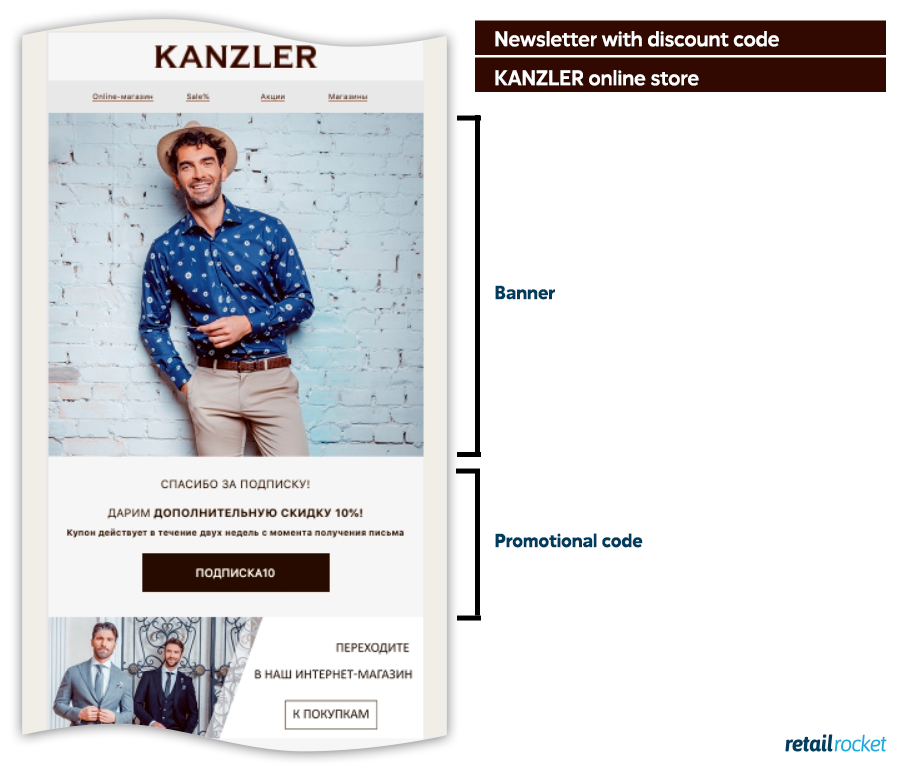 Segmenting subscribers by interests
Segmentation by interests in product categories, brands, and other parameters allows you to make offers of interest to a specific segment of customers. KANZLER actively uses subscribers' interests in the product category and sends segmented mailings based on this data.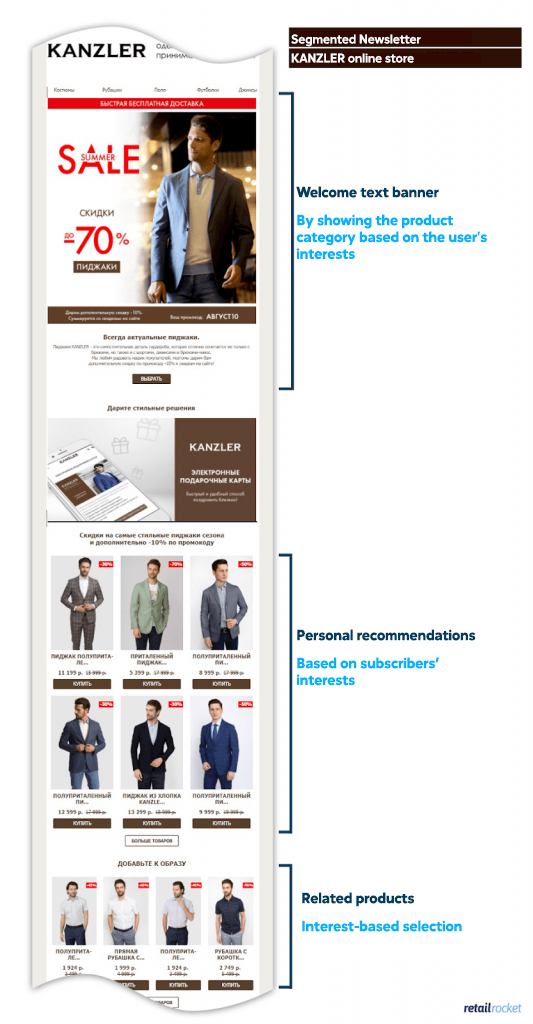 We encourage the customer to make purchases during the Sale period
The company regularly holds promotions, which are notified in mass mailings across the entire subscriber base. Thanks to personal recommendations, each subscriber receives a selection of discounted products based on their individual interests and preferences. One of the primary newsletter campaigns KANZLER launches is seasonal sales. Here is an example of an email about the summer sale of the online store.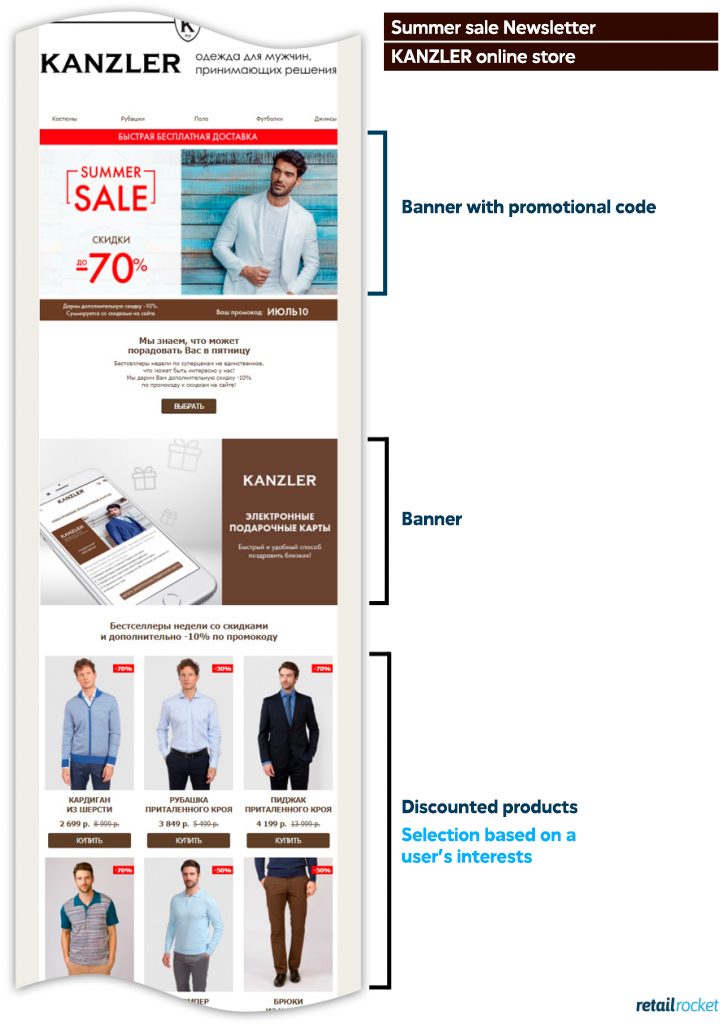 An indicative pattern: after each mass mailing, there is a surge in the sending of trigger letters. This fact suggests that users actively move to the online store, where they show their interests and cause a reaction for further communication.
We automate the email marketing
One of the essential ingredients for successful business development is freeing the marketer from routine tasks to focus on more important and strategic activities. That is why we are working hard to ensure that regular mailings are sent automatically at a specific frequency while keeping a personal feel to each communication.
Typically, this approach is essential in email campaigns such as submitting bestsellers, new product offerings, or discounted product offers. Each campaign requires a one-time setup, and then it is sent at the scheduled frequency. Each newsletter's content automatically considers the user's interests, the availability of products in stock, and other parameters.
KANZLER uses several types of automated email campaigns, including announcements of new products and bestsellers. Each of the emails is sent every two weeks in different versions:
subscribers, whose interests and preferences are known by the system, receive a product selection based on this information: personal recommendations for new products and bestsellers;

other users are sent a mailing list with a broad selection of products.
Here is below an example of a newsletter with a selection of personal bestsellers: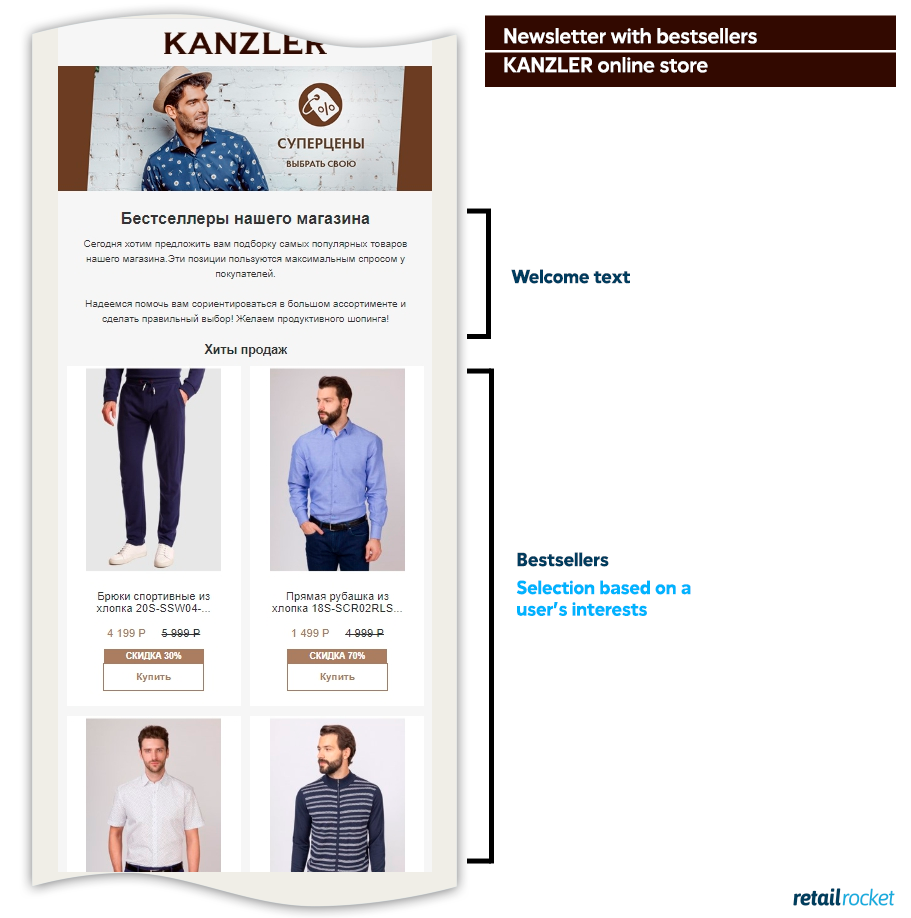 We use behavioral triggered emails at all the customer journey stages
Triggered communication is designed to bring the customer back to shopping, and it varies depending on their behavior on the site. A user's action or inaction activates one of the scenarios.
Based on the user's behavior in real-time, these triggered emails accompany the customer throughout the entire purchase process, not only until the order is completed but also after it. Using personal recommendations will allow the online shop to significantly increase the effectiveness of mailings, drawing attention to products that may interest the customer after the first purchase.
KANZLER's behavioral Trigger Map consists of 14 scenarios covering the entire buyer's journey through the sales funnel. Among them, there are such popular triggers as abandoned cart and abandoned view, and reactivation emails, subscription to out-of-stock products, email after ordering, and other scenarios.
We remind the user about the abandoned products in the cart
Abandoned carts are a classic in all webshops. It does not matter what halted them and influenced their decision to not make a purchase. The dry figures of statistics must read: some users consistently buy the same product after receiving an email reminding them of an abandoned cart. As practice shows, in newsletters, you can not limit yourself to mentioning only the products in the basket but also similar and related products that the user might like.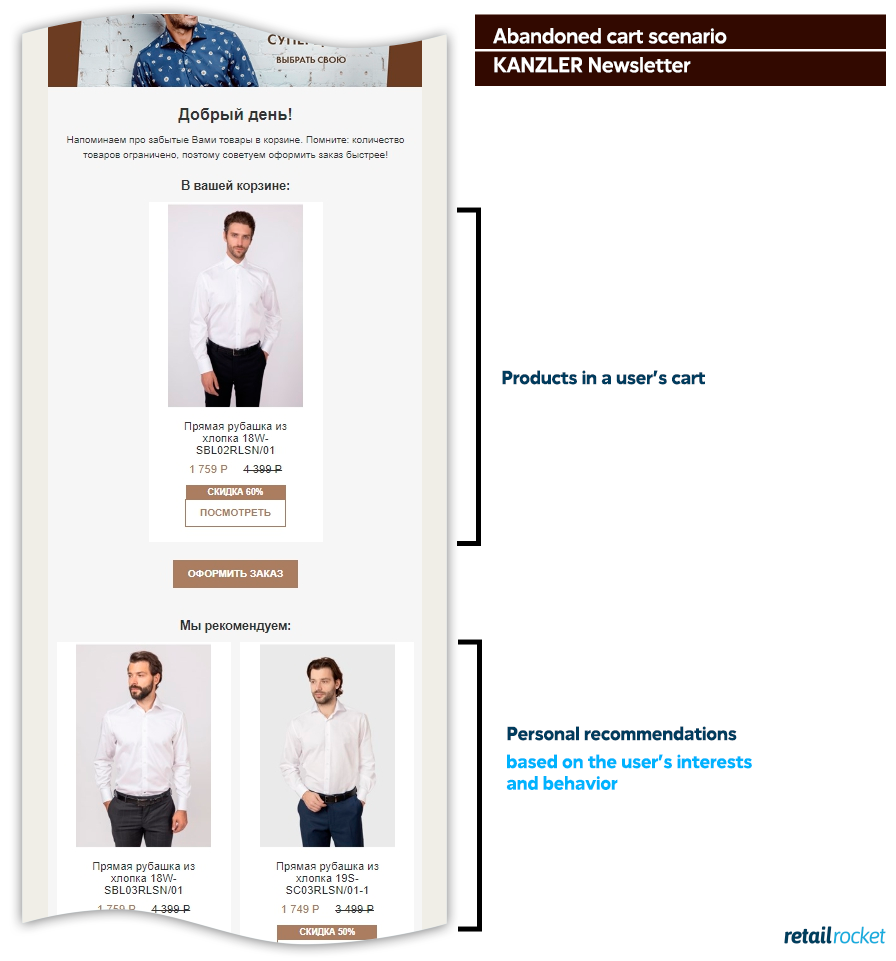 Alert for not available products' restocking
Products in the online stores' warehouses tend to run out. It makes sense to remove their cards from the site only if they no longer appear in the assortment. When a customer is interested in a temporarily out-of-stock product, you need to keep it. First, offer to subscribe to the restocking notification, and secondly, while the products are out of stock, you can offer him other shopping options based on their interests. KANZLER's online store uses a newsletter to confirm the subscription to the restocking product alert and offers personalized recommendations.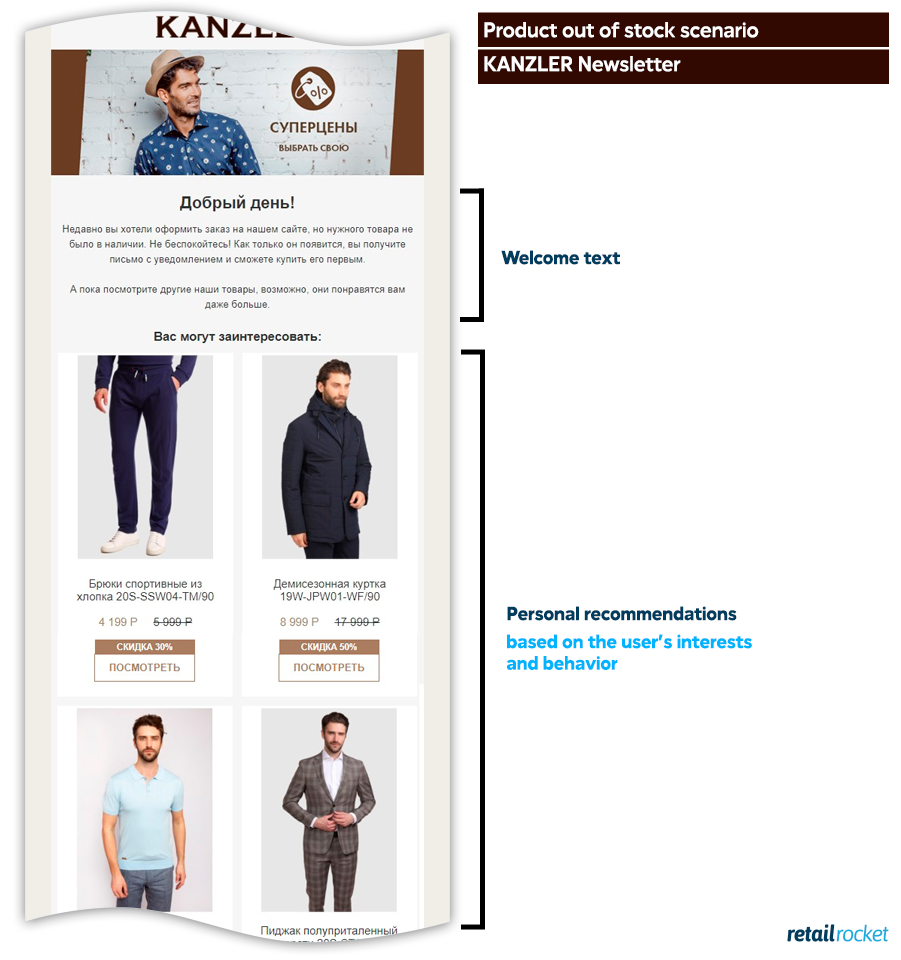 We return buyers by reactivation newsletter
Unfortunately, not 100% of online store buyers become loyal and continue making purchases on the site. As a rule, there will undoubtedly be those who will cease their activity for a long time after completing one or several orders. But that does not mean that they are lost forever. You can always try to get them back by making a seductive offer. For example, by talking about discounts on products from those categories that they were previously interested in. In the KANZLER online store, the reactivation newsletter looks like this: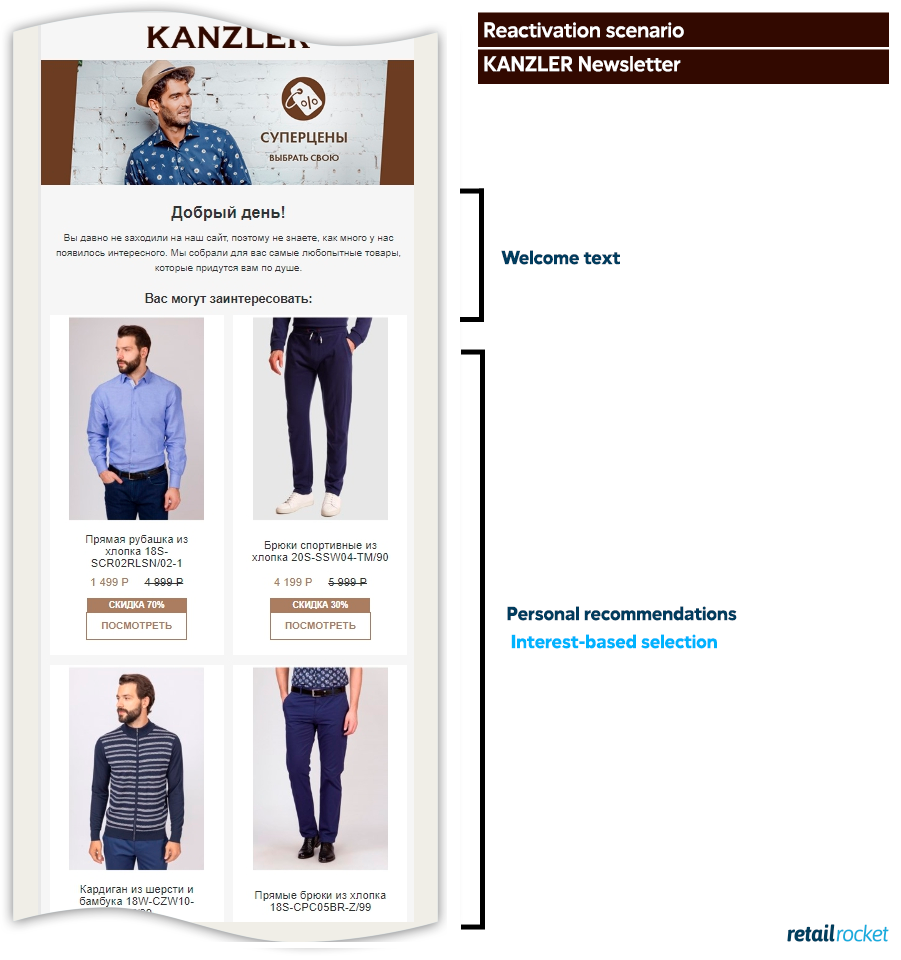 We encourage customers to make repeat purchases
Each user's purchase in an online store may be the last, or maybe the next of more. The email marketer's job is to make the second option happen as often as possible. One of the tools they can use to achieve it is reminding them of positive experiences, expressing gratitude for placing an order and inviting them to return to the online store to see new products. Here is an example of a post-purchase KANZLER's email newsletter: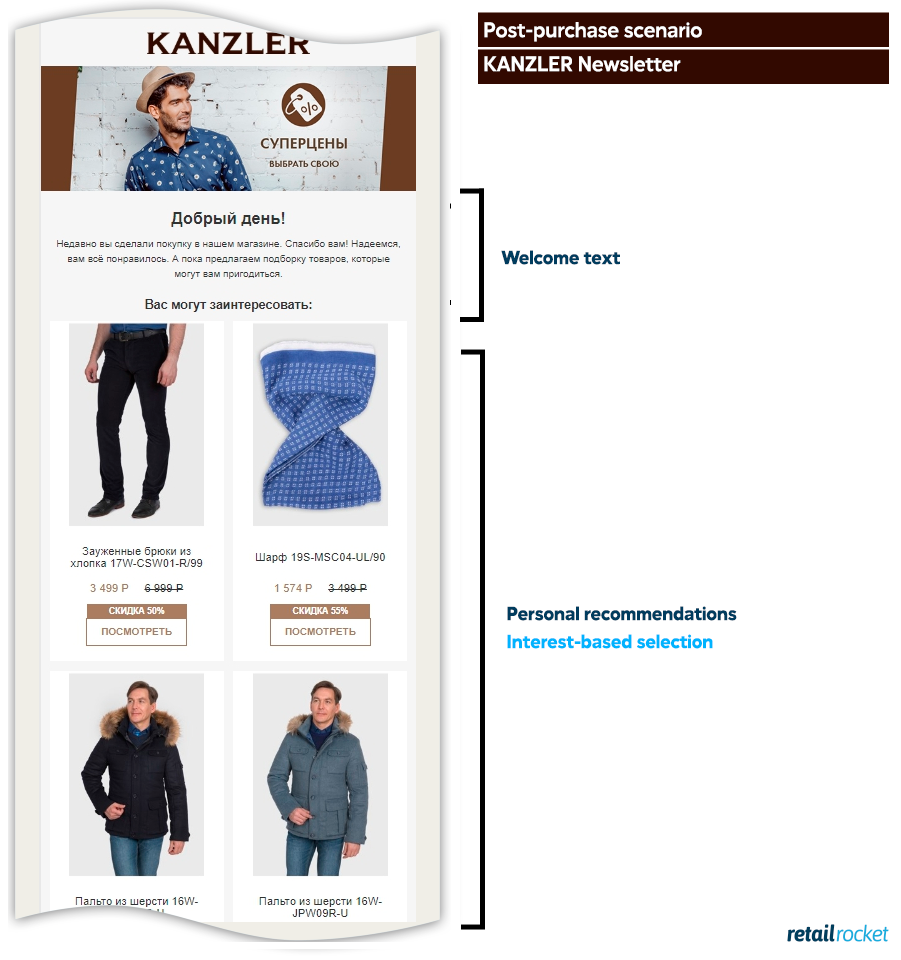 Results
Here are below the results that KANZLER obtained thanks to an integrated approach to building communication with customers in different channels:
Recommendation blocks provide more than

12%

of online store orders

;

Conversion in recommendation blocks is more than

4 times higher

than of the site's average;

The email channel conversion is more than

2.7 times

higher than of site's average;

Email traffic grew by

16%

, conversion

by

20%

, the number of orders by

53%

, and the average order value by

17%

;
Testimonials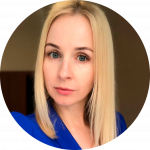 "We are used to offering our customers the highest possible level of quality in both products and service. Thanks to Retail Rocket technologies, we are confident that with online service in our store, each customer will receive an individual approach that suits their tastes and needs, "- Violetta Yurieva, KANZLER Marketing and Advertising Director.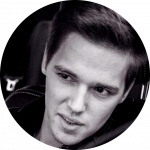 "Our platform's implementation is always visible in the growth of metrics. We can compare the indicators that were before the introduction of personalization with the current ones and conclude that our work was not in vain ", – Kirill, Retail Rocket manager