How to include product recommendations in your newsletter emails. Tips to achieve the best results by using AI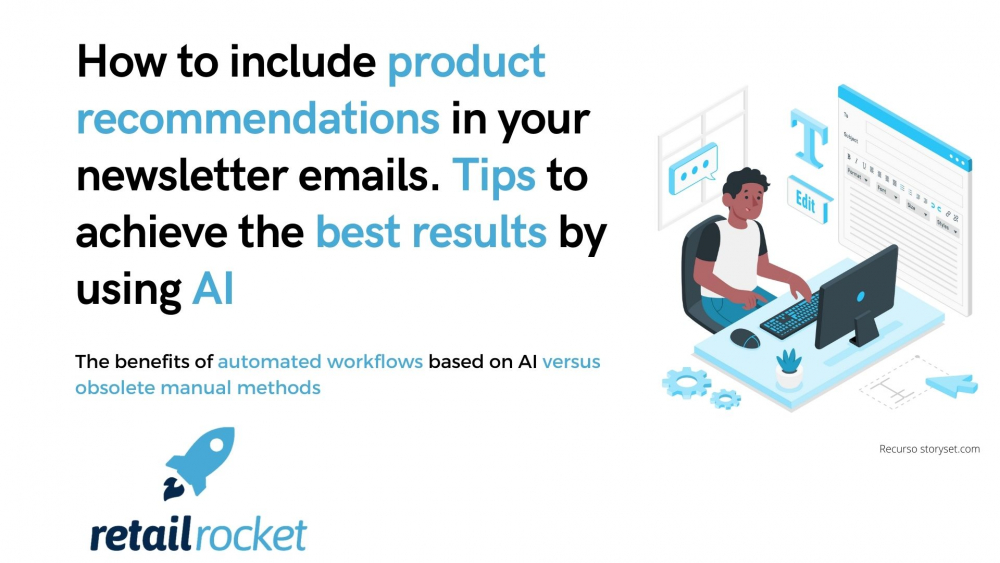 Email marketing is one of the most powerful tools to increase sales in e-commerce. However, many online stores still send their newsletters manually, entailing a tedious and time-consuming process with a high margin of error. Do you want to know how to reduce time and labor costs by automating your email campaigns? Let's see below! And we will also show the potential of Artificial Intelligence, with a case as an example, and how using it to display product recommendations will significantly affect your business metrics.
Three ways to insert product recommendations in your email newsletters
Recommending products in newsletters is very effective, however, how you do it will be decisive and the results obtained will depend on it. Let's see three ways to do it and our recommendation to achieve the maximum benefit.
1. Manual
Launching email newsletters with personalized product recommendations requires including different elements such as links, prices, sizes, discounts, images, and others. Performing this process manually usually takes one or two hours of careful work by the retailer and the designer. In addition, achieving a correct visualization of the images in all devices is not easy, being common to have problems in this aspect since the email design is quite specific and it is not enough to take the pictures from the website.
​​Sending the same product selection to a large database is ineffective, and retailers aware of it know the importance of sending a different offer for men and women, for example. Besides this basic segmentation based on gender, other parameters, such as different prices and availability by regions, should be taken into account. So if an online shop takes the time necessary to send each segment a personal selection manually, the workload grows exponentially. Therefore, it is common to see how even big retailers avoid including product blocks in newsletters to save resources.
Are you one of those who still send campaigns manually? Read on to see how to solve this obsolete method's disadvantages and difficulties by using the new techniques we recommend below for your email marketing.
2. Automation
The most advanced marketing tools allow you to automate email campaigns thanks to the storage of the product database and a template engine that builds each block. You can easily send your newsletters by simply inserting the SKUs in the email code. So all the information about the products, from images, prices, and availability by region, will be inserted directly into the message. The automation of the process considerably reduces both the preparation time of your email campaigns and the possibility of making common mistakes such as confusing the reference of products from the catalog.
A master template designed and previously tested by an experienced Retail Rocket team will save you many hours of work and will allow you to automate the sending of emails to inform your customers about novelties or special offers. The preparation is entirely on us, and we guarantee a perfect display of your newsletters on all devices.
If you want to get the best results with a higher degree of personalization, we recommend that you implement Artificial intelligence and entrust it with the product selection personalized for every single user.
3. Artificial intelligence
Retail Rocket engineers have invested the equivalent of almost 100 years of work in developing an intelligent marketing system that collects all the necessary customer information and automatically generates personalized emails based on that information in real-time. Once the AI is implemented, you will not require the involvement of the IT department or the additional effort to launch your online store email campaigns. You will be able to send unique offers in just a few clicks.
By automating your email marketing campaigns with Artificial Intelligence, you will show every customer what they are looking for based on their interests and needs in real-time. You will not only save effort and time but also increase customer loyalty and retention, and other KPIs.
Let's look at the case of the 220 Volt online store as an example of using automated personal recommendations versus manual product selection.
The 220-volt online store case
220 Volt is a large chain for the sale of power tools and equipment for repair and construction. The online store's traffic exceeds 5 million unique visitors monthly.
After several years working with Retail Rocket, we already could see in a previous case how Growth Hacking increased the conversion of triggered emails by 73.9%. Now we will focus on showing the effectiveness of product recommendations in mass mailings to the subscriber database.
Retail Rocket specialists were assigned the following tasks:
To increase mass mailing CTR ;
To increase revenue per sent newsletter;
To achieve an increase in conversion.
Retail Rocket Solution
The Retail Rocket platform is a marketing automation service that allows working with the different key communication channels, for any triggered scenario and with a powerful segmentation and analysis system. It is designed taking into account the particularities of the e-commerce sector and covering the needs of online stores. And it includes all the advanced personalization tools, providing excellent results superior to other platforms on the market that still perform the workflows manually.
Integrate Artificial Intelligence into your campaigns and shift from sending random and ineffective emails to smart and personalized email marketing in real-time. This system of unique, data-driven recommendations in mass mailings will allow you to establish personal communications and long-term relationships with your customers.
Implementing personal recommendations in mass mailing
To analyze the effect of introducing personal recommendations in the 220 Volts online store newsletters, we used the A/B testing method. All subscribers were randomly divided into two segments.
An email was sent to segment A with two blocks of products carefully selected manually.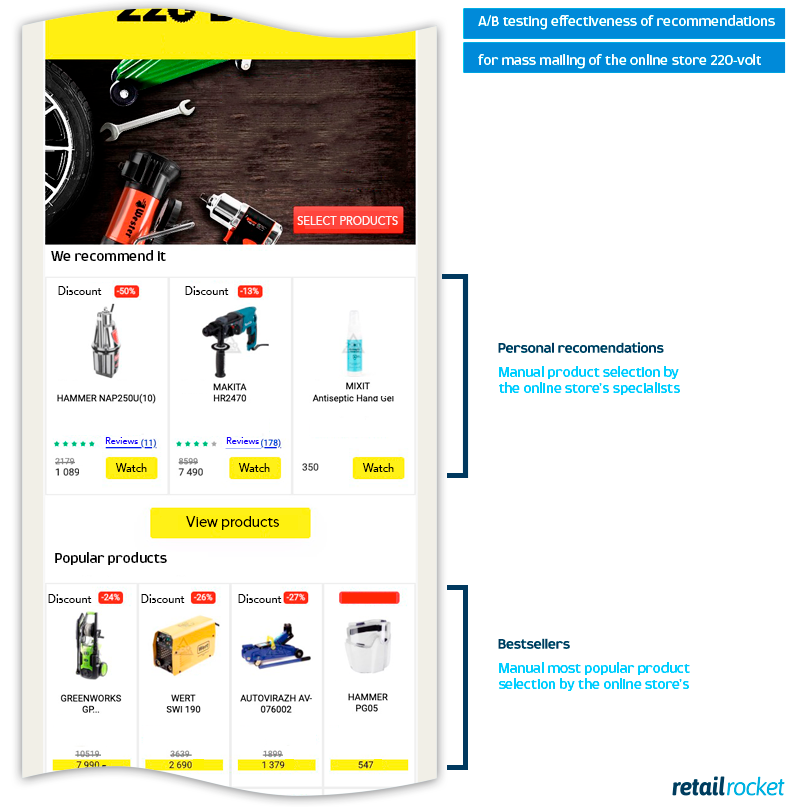 Segment B received an email with two blocks of products. The first one displayed Retail Rocket personal recommendations based on real-time AI technology, and the second one was a carefully manual-picked selection by the 220-volt team.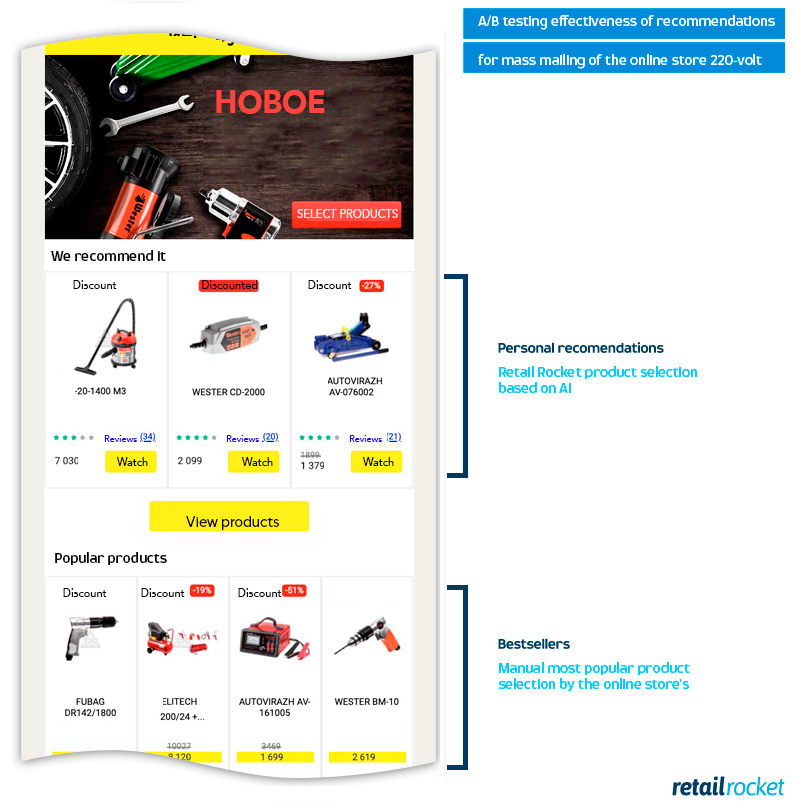 How will implementing at least one block with the Retail Rocket recommendation system affect the final figures? Let's take a look at the results.
Results
As a result of testing, the following results were obtained:
| | | | | | |
| --- | --- | --- | --- | --- | --- |
| | CTR | Conversion | Revenue | Average order value | RPE |
| Segment A | – | – | – | – | – |
| Segment B | +11.07% | +40.21% | +106.48% | +32.46% | +105.68% |
Summing-up
The use of personal recommendations in email newsletters made it possible to achieve the following results:
Increase in CTR by more than 11%,
Increase in order conversion by 40.2%.
Mailing revenue increased by 106.5%
Average order value growth by 32.5%
105.7% increase in revenue per email sent
Testing has shown once again that an automated and personalized approach based on each subscriber's interests when displaying recommendation blocks guarantees growth in KPIs. Another benefit is that not having to spend time on tedious and routine processes involved in regular mass mailing launches will allow marketers to spend time on more important strategic tasks.
Comments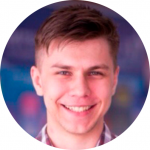 "Personal product blocks in newsletters are a great tool to increase sales. Since the assortment of the 220-volt online store is quite wide, it is challenging to please every specific user, and Retail Rocket's recommendations do an excellent job, as can be seen in the results of the A/B tests."
Vlad Savchinsky, email marketing specialist "220 Volt"

"220-volts is a true leader in its segment. We are facing a trendsetting online store that, aware of our service's benefits, is constantly striving to increase the performance of its email marketing. "
Alexander, Retail Rocket Manager