How to increase audience reach while reducing customer base burnout: four cases that show the effectiveness of using push notifications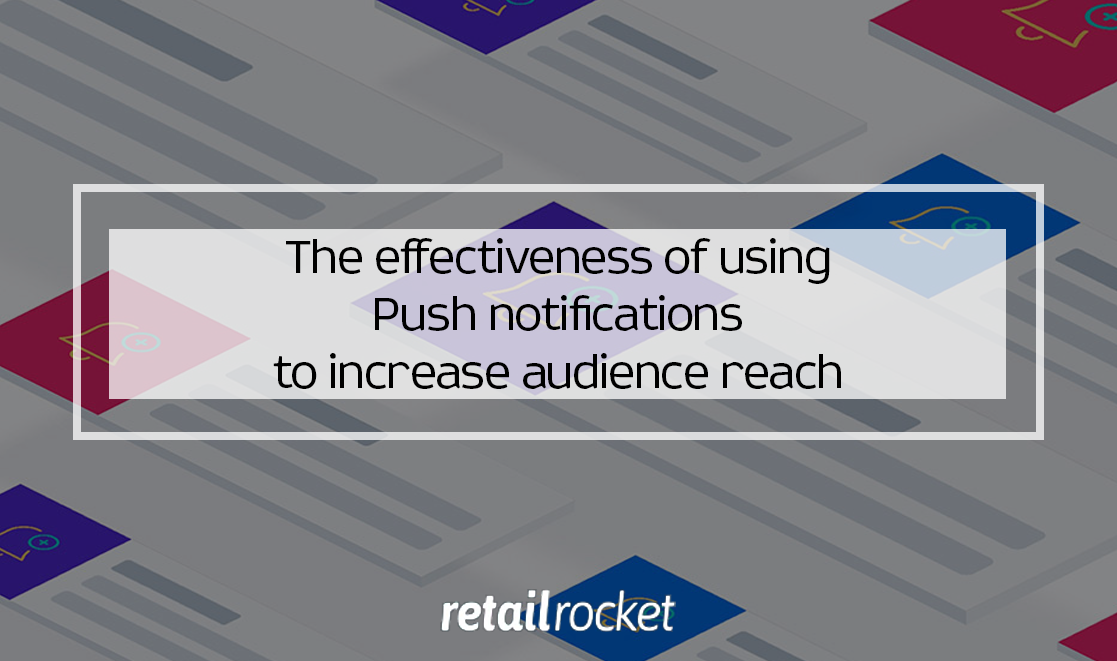 There is often a tendency to think of satisfaction and loyalty as two well-linked concepts. Although, indeed, a loyal customer is typically a happy customer, not everyone who is satisfied results in new recurring purchases. Therefore, and given the high level of competition, satisfying client's needs will not be enough, but it will also be necessary to create unique shopping experiences. To carry out a comprehensive personalization of both the purchase process and customer communication is essential to achieve these unique experiences. The implementation of personalized push notifications, as we will see below with four Retail Rocket success cases, is nowadays one of the most powerful personalization tools.
How and why to use push notifications
Push notifications are very useful to solve the following issues:
To expand the reach of marketing campaigns through an additional communication channel. Thus, for instance, a part of the audience that does not want to receive emails may want to subscribe to push notifications.

To personalize customer communication through the most convenient and effective channel, reducing the flow of news feeds. This helps to reduce the customer base burnout while maintaining and increasing revenues.
In addition, the combination of different communication channels will allow you to design different chains of interaction with customers. For example, if a user received a newsletter, but did not open the email, they can be sent either a push notification or an SMS.
Retail Rocket push notifications provide all of the platform's capabilities for real-time segmentation and personalization. This implies the following advantages:
All the relevant communication channels are available from a single interface, without needing to waste time shifting the context and working on different personal accounts;

User's data obtained is very helpful for building more accurate customer segments, including cross-channel communications;

By using Retail Rocket's segmentation and personalization technology will allow you to improve the news reach and maximize its conversion on your email campaigns workflows.
Features of browser's push notifications
In this article, we will discuss web push notifications, which are those notifications that the customers subscribe to through a pop-up window on the web browser. The delivery is also through a small pop-up message in the upper corner of the screen. In some cases, this technology also works for mobile browsers like Chrome or Android. iOS does, unfortunately, not support this technology.
Web Push notifications include header, icon, and text:

These automated notifications are very powerful and are used to sell a product, inform about news, promotions, and discounts, among others. This helps to retain customers and acquire new ones while increasing sales at the same time.
Like in email marketing, push notifications can also be segmented according to:
The subscriber's data (for example: by gender, age, city, etc.);

The date of birth;

The purpose of the actual campaign, based on how subscribers have previously interacted with the email campaigns and push notifications;

The products of interest within a certain category of the online store;

The RFM (Recency, Frequency, Monetary), based on how recently, how often, and how much did they buy.
The three principles for powerful push notifications are:
Relevance
It is essential to combine several factors at once: timely notification, relevance audience, and a suitable offer. If, for example, a car dealer notifies a customer who bought a car a month ago about discounts on a similar model, this will generate a negative effect. In this case, a relevant notification would be to invite the said customer to a scheduled inspection in the official service and offer a welcome discount.
Personalized appeal
The more accurately tailored to the user interests is the notification, the more active response it will receive. For example, a user who visited a website as a result of an email campaign, but never completed the order. A good practice to get their attention back is to send a push reminder after one or two days: "You still have time to enjoy the special offer to place your order!"
Motivation to act
Abstract texts are ineffective. To get a user to follow the link, they must know exactly what is required from him and what result is expected on the site. "Food is getting cold in the cart! Complete your order for Delivery Club "- a simple, clear, and highly effective example of a food delivery service.
And now let's move on to practice with real success cases about Retail Rocket customers that have implemented Push Notifications in their AI personalization campaign.
Cross-channel email + push cases
A complex communication strategy across a combination of marketing channels may use many different scenarios. Taking as examples four online stores, we will show the fundamental mechanics of cross-channel communication:
Sending campaigns through different channels to non-overlapping audiences;

Sending push notifications and SMS to users that have not opened the email;

Push notifications as an independent communication tool;

Notification of urgent promotions.
Burdastyle case. How to increase audience reach by sending a campaign to non-overlapping subscribers
Each client has his preferences in terms of communication channels. Therefore, we must take advantage of all the potential offered by our AI platform to make an offer to the user in the most effective channel according to his priorities.
The audience of Burdastyle's online store is no exception: some customers want to receive a newsletter, while others prefer automatic notifications. Thus, the retailer will send emails to either the whole subscriber base or specific segments. Those who have not received a newsletter will get a push notification. This strategy provides the online store with a significant increase in the customer base.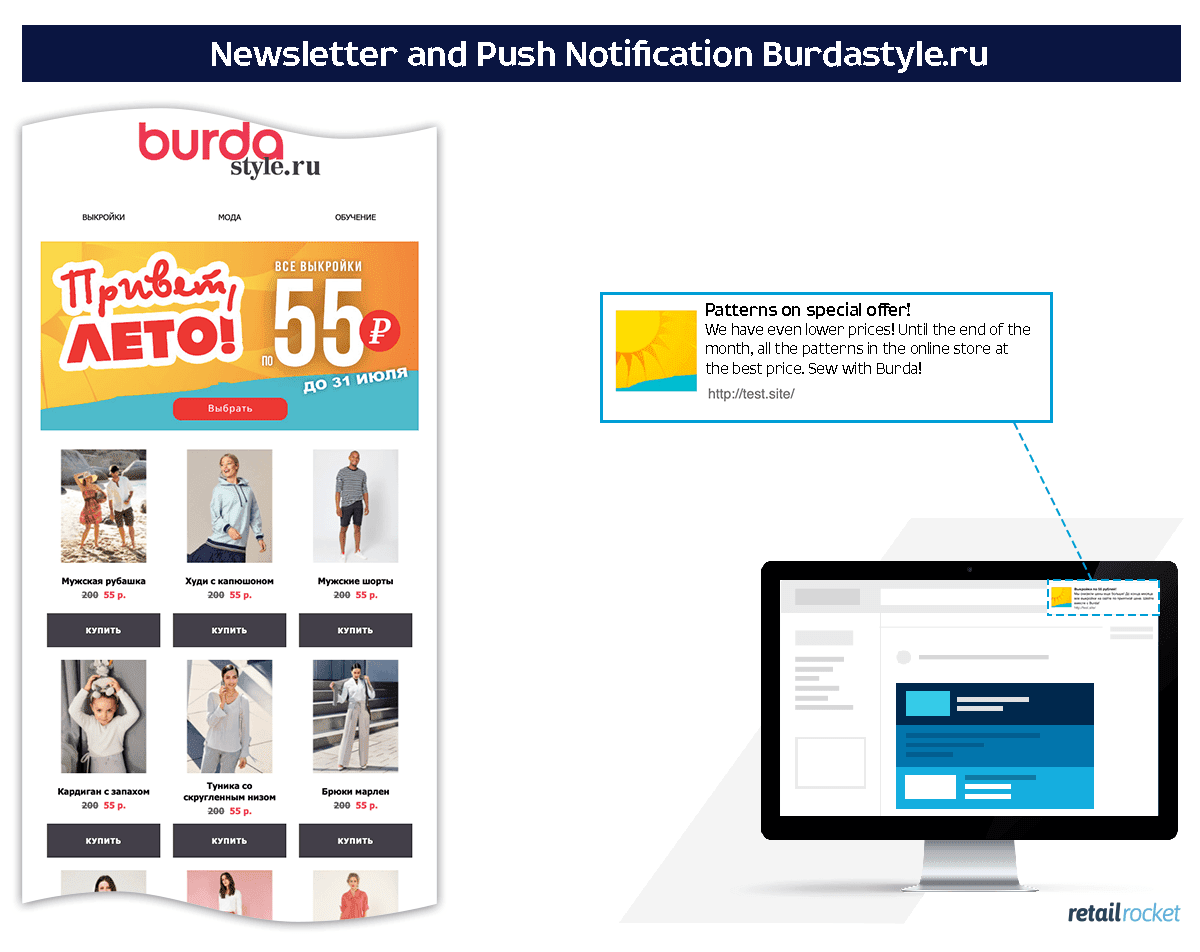 By choosing a convenient communication channel for each customer, Burdastyle online store significantly expands the coverage of its marketing campaigns. On average, these campaigns allow a retailer to increase the audience reach by 30% to 40%.
Constellation of Beauty case. How to increase communication efficiency by sending a push notification to subscribers who have not opened the mailing list
In this case, the push notifications were used as an additional reminder and motivation to complete an order.
The Constellation of Beauty online shop sends push notifications to those subscribers that have not opened the newsletter. That is, as part of a communication workflow between channels. The retailer creates different audience segments to ensure that every news is as relevant as possible to each single customer.
For example, subscribers segmented by gender that had opened newsletters for the last five months received an email marketing campaign. After twelve days, those who are subscribed to both channels and did not open the email got a push notification with the same content.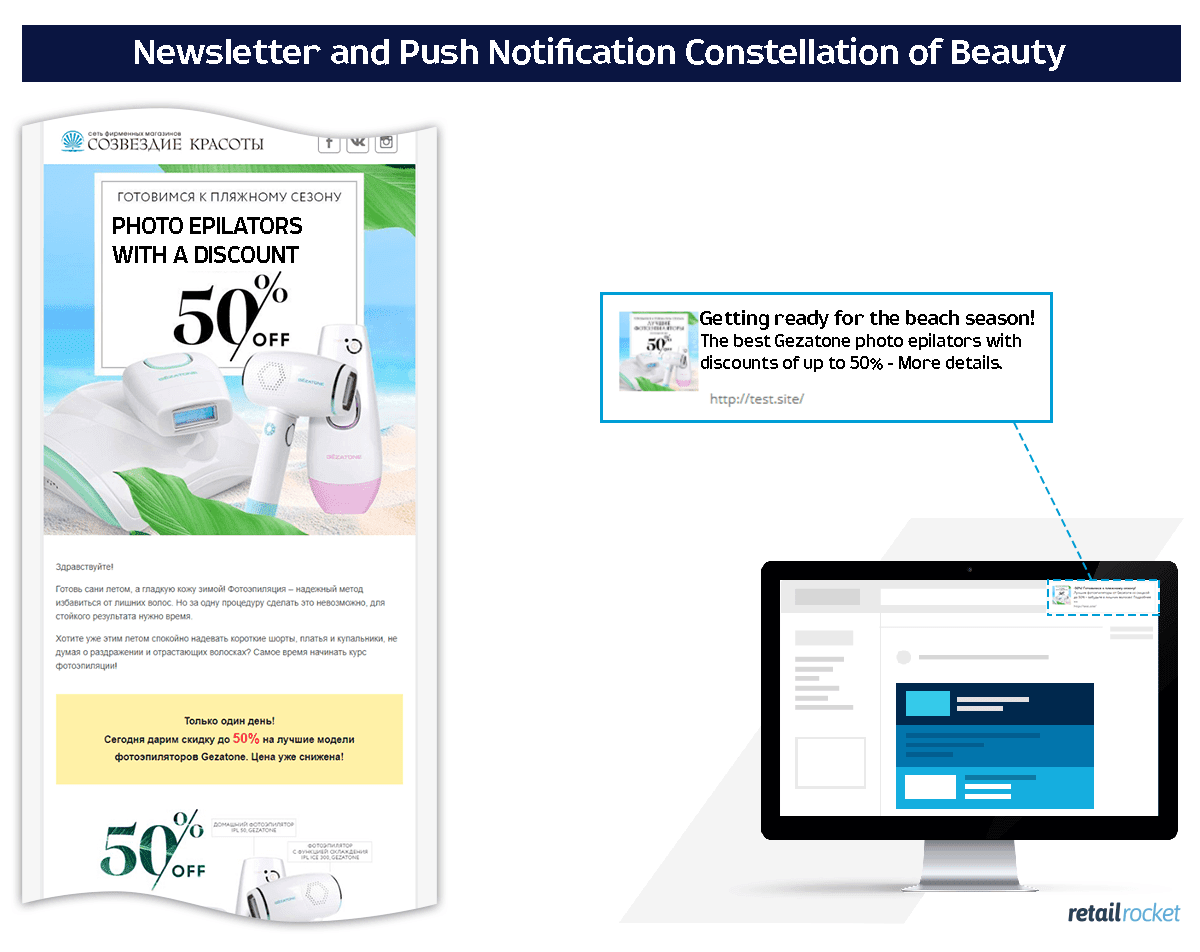 The use of communications workflows allows you to reduce the number of news feeds on different channels, helping to regulate customer "burnout." Users that open and read the newsletters will not receive unnecessary notifications. Just to those who do not open the email, it will be sent a reminder through a push notification.
Siberian Wellness case. How to use push notifications as an independent communication channel
Push notifications can be used not only as part of the cross-channel communication workflow but also as a standalone tool. For example, when you need to remind customers about a seasonal product category or a promotion.
The Siberian Wellness online store sends automatic notifications to the entire subscriber base or to a particular segment several times a week to carry out a campaign on specific categories or products, announcing promotions and subtly reminding customers that they are still there.
In the beauty industry, impulse purchases make up a large part of orders, therefore, push notifications seem to be an excellent reminder trigger in this market. The average conversion rate of Siberian Wellness push notifications is between 5% to 7%, and for some promotions, it reaches 15% to 20%.
This method is also highly effective in increasing the email subscriber base, inviting users to do so through these small windows pop-ups.
Ralf Ringer case. Using the push notifications as an emergency trigger
It is also worth highlighting the principle of urgency as a reason for communication, such as news about limited-time promotions or important events. For that, push notifications can be used both through email campaigns with newsletter and push notifications, or separately.
Emails are often a more effective long-term tool since subscribers don't always make a purchase decision when they receive an email. Therefore, the newsletters should be sent while in advance. However, the push notification acts more like an instant last-minute reminder on the eve of the event or promotion.
Following this method, for example, the active subscriber segment of the online store Ralf Ringer received a newsletter with gift offers before March 8th. So we send a last-minute reminder with the same content to push notification recipients not previously subscribed to newsletters, as well as customers who did not open the email for several days. With that, the online shop achieves to increase the promotion's audience reach by almost 10%.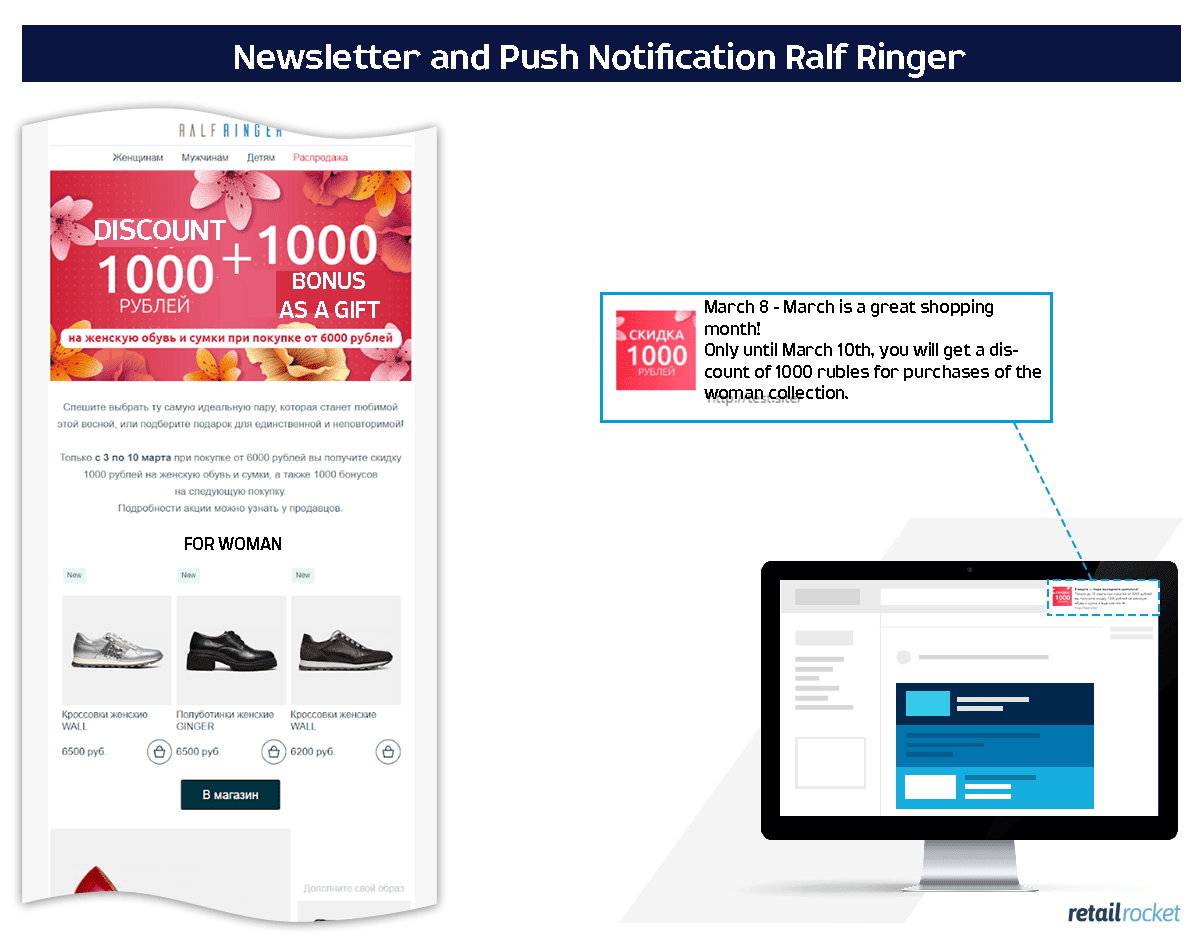 Conclusion
In summary, do not forget to put into practice the following tips for an effective communication strategy:
Exploit the full potential of cross-channel communications to increase brand loyalty and boost your revenues;

Communicate with every single customer through the most effective channel: email, web or mobile push notifications, or SMS;

Reduce the number of similar news on different channels by consciously selecting the most suitable channel and option to combine them;

Do not forget to use segmentation and personalization in your communication strategy. That will benefit both the online shop and the customer: this one receiving information based on their needs and the retailer achieving efficient results.