How to increase revenue by using AI technology in transactional emails: generating additional sales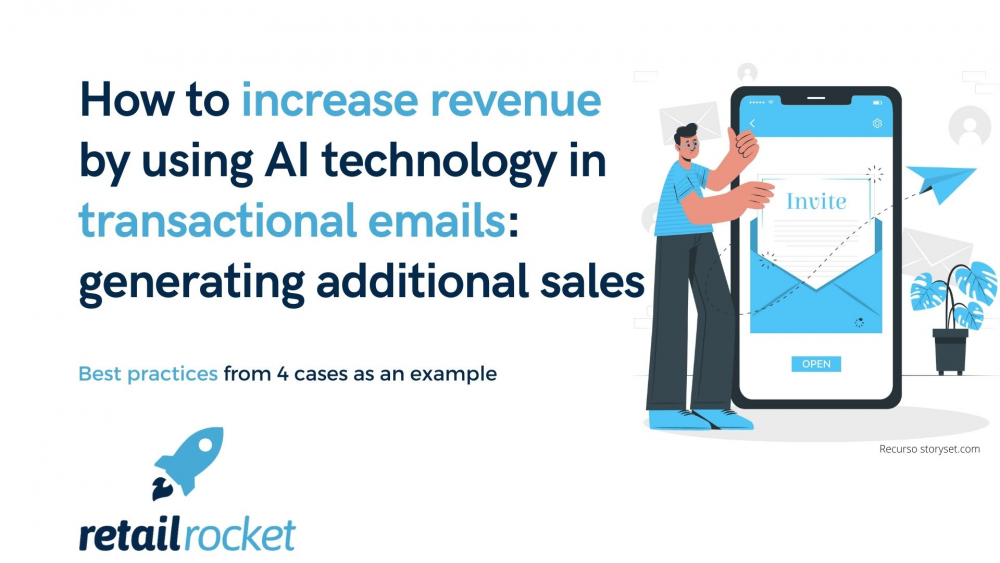 Transactional emails are emails or chains of newsletters that a user receives in response to their actions on the website: placing an order, registering in an online shop, subscribing to a newsletter, updating personal data, etc. Their primary purpose is to inform the user about aspects concerning the online shop's account or an order, such as confirmation of payment receipt, the bonus account status, a change of password, etc.
Although these emails are part of the Customer service management, they are not given enough attention by the sellers in most cases.
These kinds of newsletters are a great email marketing opportunity that retailers usually underestimate. However, you will significantly increase the efficiency of this channel as long as you take care of its design and content.
Let's see below, with a couple of examples, how you can make transactional emails a powerful marketing tool that will generate additional revenue for your online shop.
How transactional emails help upselling
In addition to the primary function of informing the customers, correctly using the transactional letters, will allow you to gain additional revenue for your online shop. Here are some of the fundamental ingredients we recommend you to use:
Use personalized recommendations
Add a selection of related products based on last user's order;
Use banners with discounts and special offers.
While a high Open Rate on transactional emails is typical and expected, an increase in CTR and conversion metrics helps us understand that these emails can be a powerful marketing tool.
Are you getting the most out of this type of newsletter in your online shop? According to Retail Rocket's analysis, on average, transactional emails generate about 6% of all revenue via email, and their KPIs are higher than average in this channel: open rate by 288.84%, CTR by 138.56%, conversion by 272.81%.
Case 1. Personal recommendations in transactional letters of an online pet shop
In order to increase the number of orders and the customer LTV, the online pet shop includes, in transactional emails, personalized product recommendations that might interest the user.
For online shops with products of regular demand, this is one of the ways to remind about the store's assortment and motivate repeat purchases. For example, you may want to include a selection of products that a user frequently buys or fits their interests within an order confirmation email, as this online pet shop does: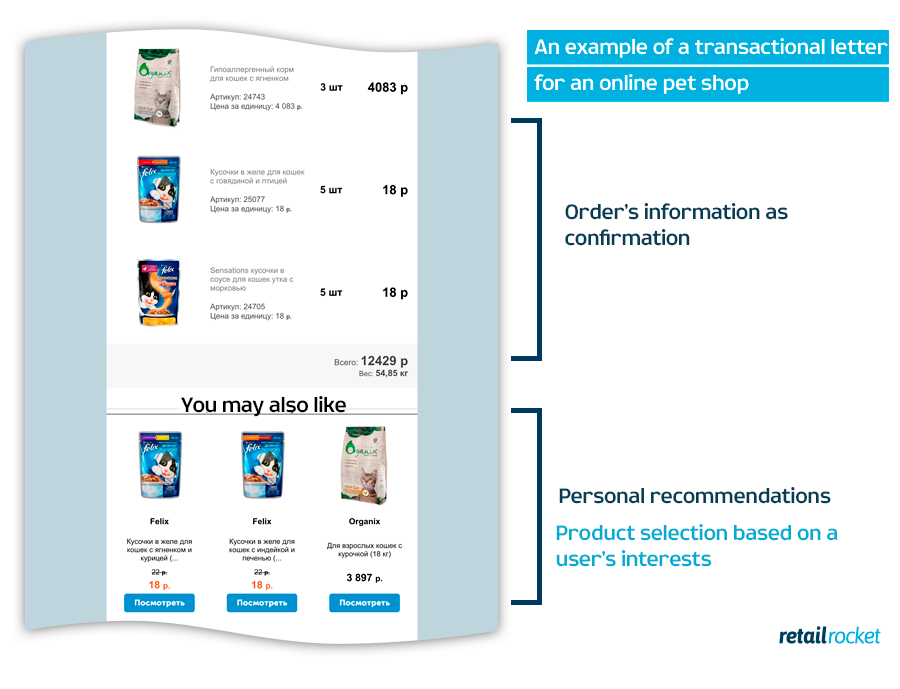 Find below the KPIs resulted for transactional emails:
| | | | |
| --- | --- | --- | --- |
| | Open Rate | CTR | Conversion |
| Transactional Emails Average KPIs | 54,10% | 14,83% | 27,26% |
Case 2. Personal recommendations and special offers in transactional letters of a baby online shop
The online shop for children's products includes personalized recommendations and banners with discounts or special offers for customers in transactional letters of purchase confirmation to increase loyalty and conversion.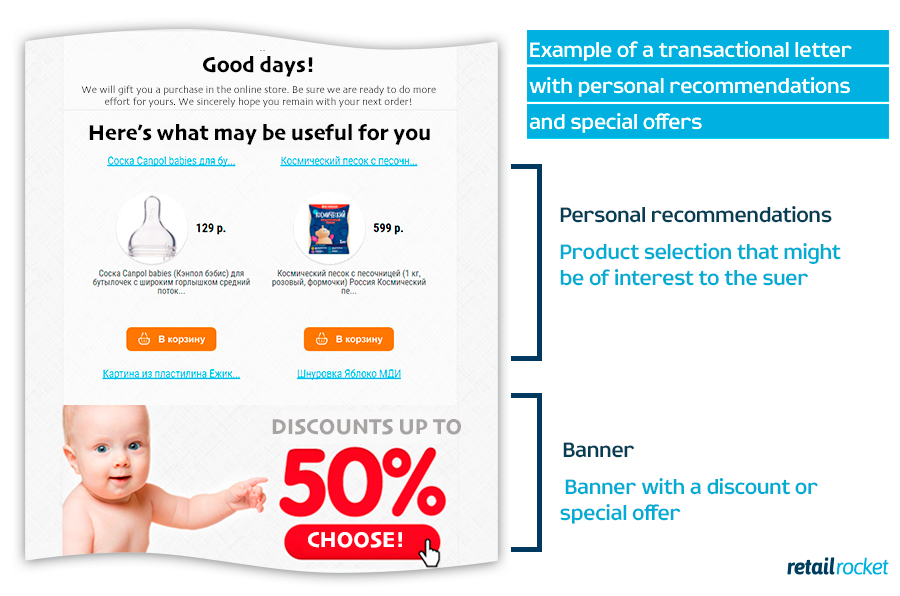 Let's see the average results obtained from the transactional emails:
| | | | |
| --- | --- | --- | --- |
| | Open Rate | CTR | Conversion |
| Transactional emails Average KPIs | 33.53% | 14.49% | 28.86% |
Case 3. Recommendations for related products in transactional letters of an electronics online shop
Once a user places an order, a sure-fire essential practice is to offer related products. That is what this electronics shop does by adding, for example, accessory recommendations as a complement to the purchase of a smartphone.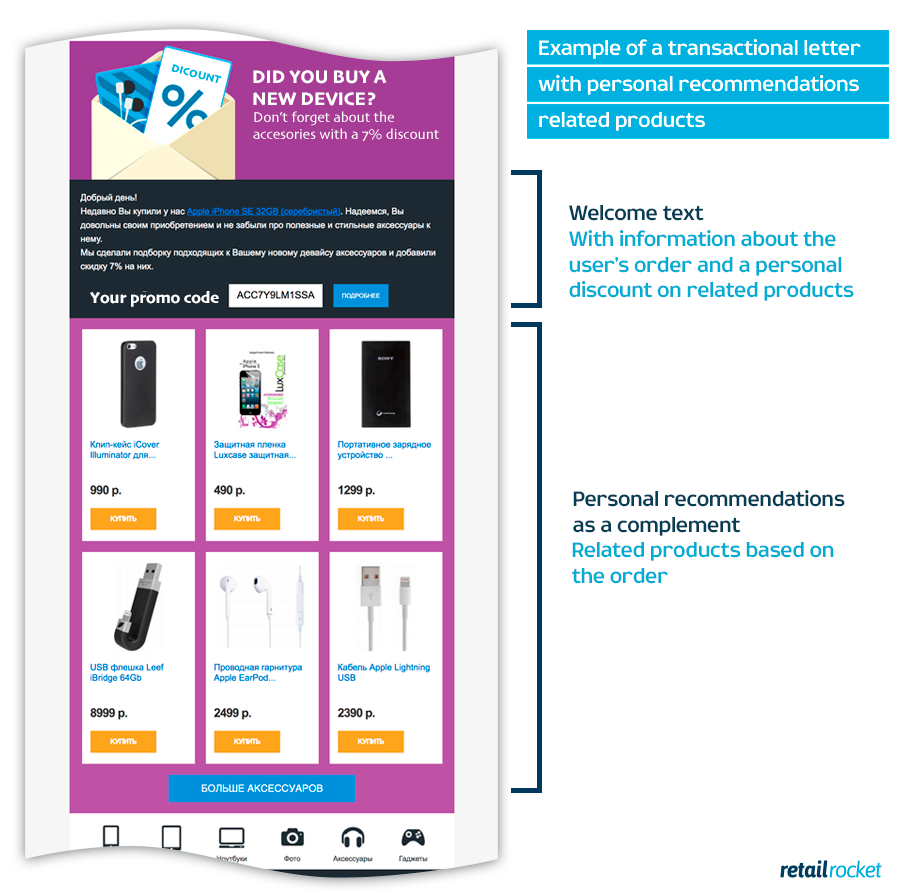 Here are the obtained KPI's:
| | | | |
| --- | --- | --- | --- |
| | Open Rate | CTR | Conversion |
| Transactional Emails Average KPIs | 46.48% | 42.09% | 3.0% |
Case 4. Information on bonus points and the use of an urgency trigger in transactional letters of a computer online store
One of the ways to use transactional letters is to inform users about their bonus account. The computer components and electronics online store sends its subscribers information about the expiration date of bonus points and shows a personalized selection of products that might interest them. That will highly increase the likelihood of purchasing by using interest-based AI.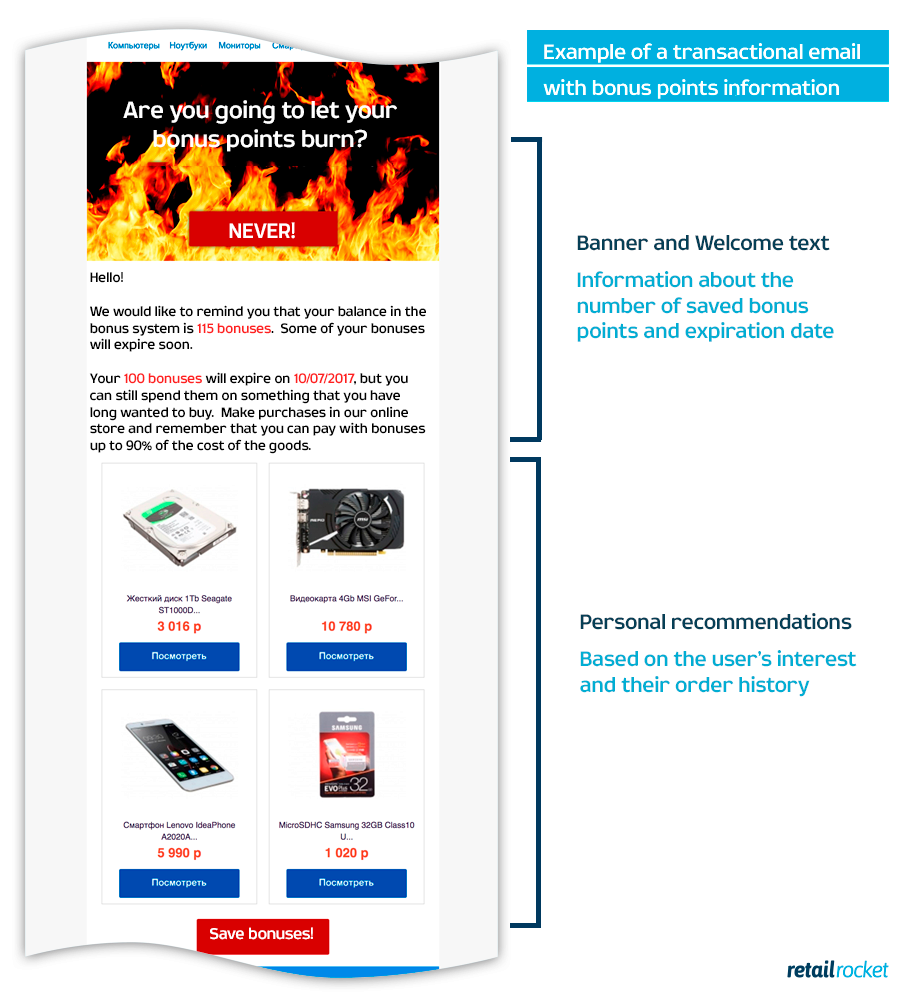 KPI's of transactional emails:
| | | | |
| --- | --- | --- | --- |
| | Open Rate | CTR | Conversion |
| Transactional emails Average KPIs | 27.07% | 13.65% | 7.02% |
Additional features of transactional emails
Cancellation email
An order cancellation, either by the customer or due to internal causes of the online shop, is not a reason to forget about a potential buyer. Even an email informing about it can be more effective if product recommendations using artificial intelligence are included.
As soon as the CRM system receives a signal about the cancellation of a user's order, an email may automatically be sent confirming it and include a selection of alternative products that might interest the buyer.
Emailings on operations with a bonus account
Another common use of these emails is to inform about a change in the status of bonus points.
Any reminder to the user about the online shop may lead to a purchase. Therefore, even emails about changes in the bonus account should be more commercial and engaging. We recommend including products that fit the user's needs and interests and for whose purchase can be used the saved points
Once again, this post displays the power of newsletters to increase your business sales. The email channel offers a multitude of scenarios and opportunities for interaction with the user. It allows you to maintain fluid and long-term communication with customers, increasing loyalty, retention, and recurring sales.