Next Loyalty 2022, let's walk together towards loyalty: 4-tips to make your customers happy with a personalised offer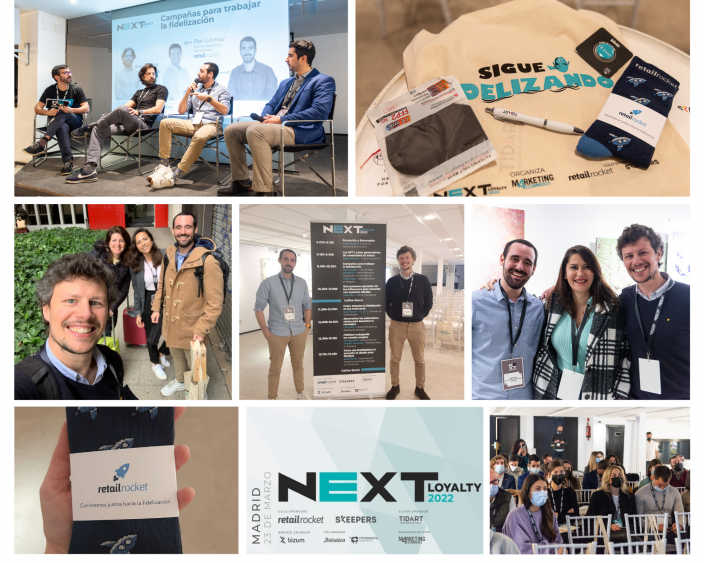 At Retail Rocket, we are experts in customer loyalty and retention. Therefore we could not miss a meeting whose leitmotiv is the latest trends in loyalty for e-commerce. And there we were in Madrid last Wednesday, as Gold Sponsor of the Next Loyalty 2022, an event successfully organized once again by Marketing4ecommerce.
We can't start a new week without sharing with you our experience. And since Marketing4ecommerce has already talked about how the meeting went, in this post we will share the Retail Rocket's approach and the 4 tips we shared as the key points during the event.
Come aboard and join us on this tour of Retail Rocket's top tips for building customer loyalty with AI personalisation. Only by storing and processing data correctly will you be able to hyper-personalise the entire Customer Journey based on user behaviour in real-time.
In a day of networking and conferences, we analysed and discussed the latest tools in the e-commerce sector in Spain. Pol Gómez, CRM & Marketing Automation Consultant at Retail Rocket, spoke about the power of big data to build customer loyalty at the panel "Campaigns to build and increase loyalty". Together with Carlos Mollina, CEO of Tidart and Yeray Fraga, Lead Sales Iberia at Skeepers, the panelists shared an interesting approach on the latest technologies to build customer loyalty.
The speakers' common key point revolved around the importance and power of data to put the user at the centre of the strategy to offer a tailor-made experience.
Pol Gómez said: "We must consider all digital channels, all customer touchpoints. And with all this data, the algorithm will allow us to understand how the customer is behaving to create a unique strategy for each segment."
Couldn't make it to the event? No worries, here are some tips we gather for you with the key points mentioned by our specialist during the panel! Apply them in your online store and automate your marketing tasks to launch your customer loyalty campaigns easily and successfully.
4-tips to make your customers happy with a personalised offer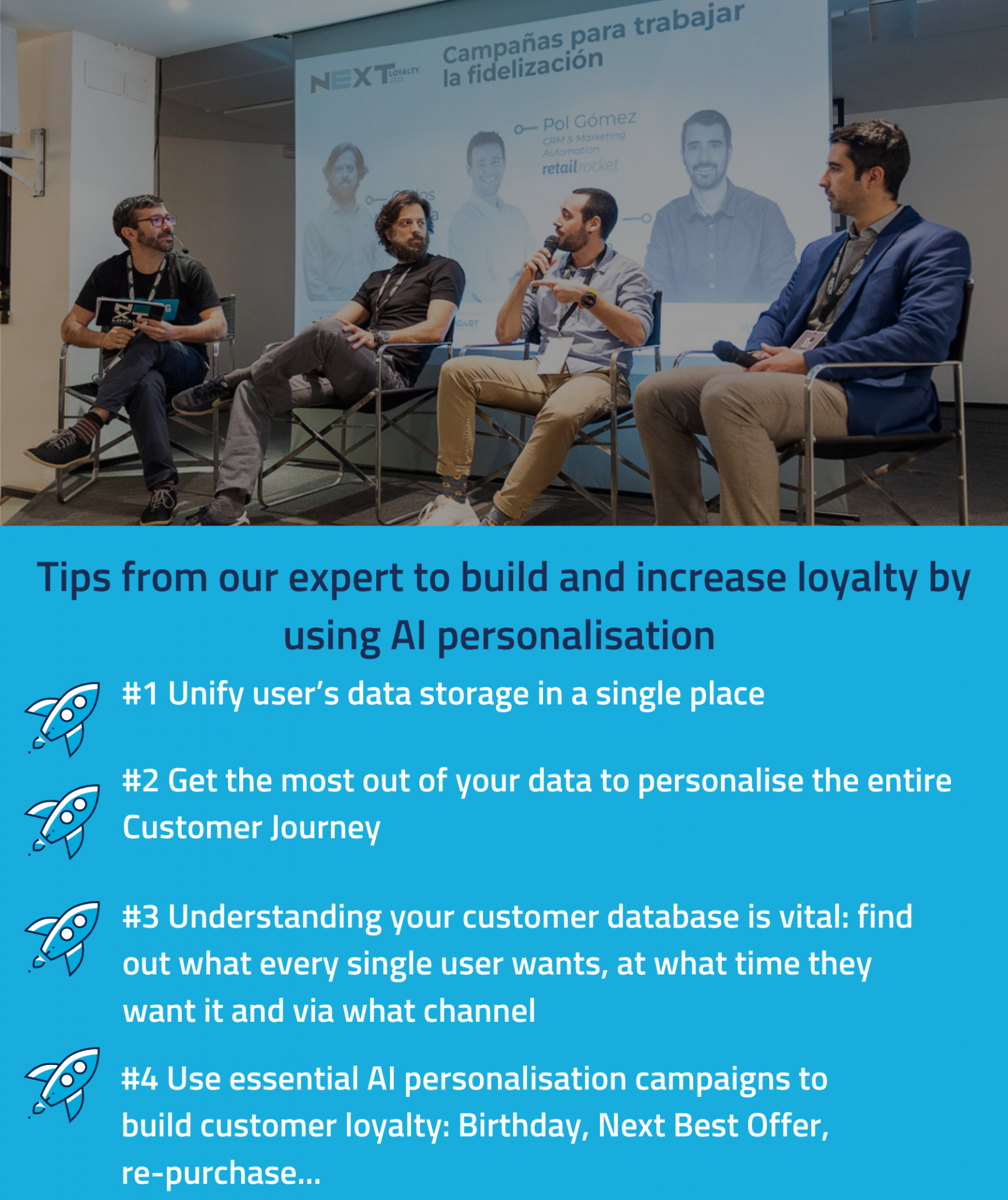 #1 Unify user's data storage in a single place
Combine customer data from online and offline sources in a single Data Warehouse and quickly create segments for your marketing actions in a multichannel strategy. According to Pol, "a unified data warehouse is the starting point for offering a unique shopping experience because e-commerce shops can collect all they need to know about their clients in just one place and therefore get the most out of all that data'.
The Retention Management Platform has four modules integrated into a single all-in-one platform that allows you to know how many loyal customers you have, identify them and segment them according to their loyalty. Thus, you can design your multichannel communication strategy for each segment and automate your campaigns to show a relevant offer to every single user at the best time and channel.
#2 Get the most out of your data to personalise the entire Customer Journey
Retail Rocket's technology goes far beyond mere product personalization on the website.
Pol clarified that "web personalization was just the beginning, but as that requires the storage and processing of a large amount of data, we saw that we could also use it to launch and automate post-purchase campaigns with email marketing, push notifications…With all this data, the algorithm allows us to understand how the customer base is behaving and segment them to create a CRM strategy and hypothesis."
#3 Understanding your customer database is vital: find out what every single user wants, at what time they want it and via what channel
Regarding the question posed by the panel's moderator, Rubén Bastón, "Which Retail Rocket campaigns are the most successful?" our answer will always be that it is specific to each e-commerce's particularities. Therefore, understanding each online store's database is key to optimising the AI personalisation.
"Having a large amount of user information in a single system will allow: first, to make a strategic plan to identify how to impact each segment and user; and second, what actions and campaigns to automate to achieve it" (Pol Gómez).
#4 Use essential AI personalisation campaigns to build customer loyalty
An example? Pol suggests that "there are campaigns that sounds very easy but works extremely well such as the birthday special offer or treats, Next Best Offer or re-purchase reminders".
Birthday campaign
"With birthday campaigns, for example, a VIP customer will not receive the same offer as one who has just bought for the first time. A new customer will receive a discount to motivate the second purchase. While loyal users will enjoy early access, private sale or a special personalized offer will be sent to become an ambassador of your brand".
Next Best Offer and re-purchase scenarios
Both campaigns consist of algorithms that, based on data, can anticipate the next purchase with a unique offer.
In the case of Next Best Offer, AI will detect those products "A" that initiate a purchase sequence and have statistical significance. Once product A has been identified, AI will determine the time it takes until product B is purchased. That will allow you to anticipate the customer's future demand with personalised communications.
In the case of re-purchase, when a customer buys the same product with a specific frequency, the algorithm calculates how long it will take to purchase the same product and anticipate the demand with a unique offer.
Start using the power of data today to enjoy the benefits for both your business and customers.
Use the AI technology capabilities to automate your marketing tasks and optimise your business's strategy and results while making your customers happy by facilitating the Customer Journey with a unique offer.
Want to learn more and receive personalised advice? Book your 30-minute session with a Retail Rocket's consultant, and let's walk together towards loyalty.