Las Tijeras Mágicas: how to achieve 19% revenue uplift with Retail Rocket technology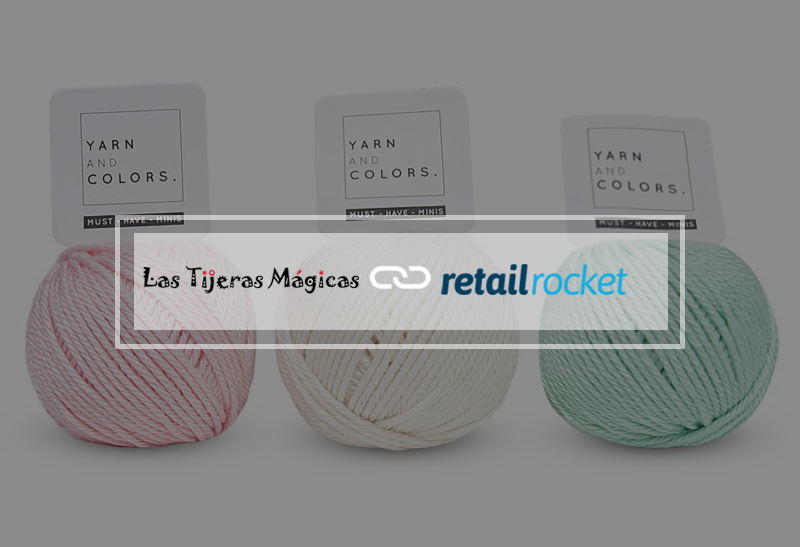 LAS TIJERAS MÁGICAS is an online shop for yarn, patchwork, and craft. The online shop has a wide variety of top brands products. 
The company, one of the most important online retailers in its sector in Spain, achieved excellent results due to a very good online strategy. Nevertheless, an increasing competition moved the brand to contact Retail Rocket in order to go one step further and personalize the online store. The main aim is to build customer loyalty and achieve continuous growth.
Las Tijeras Mágicas goals
Retaining an existing customer is more profitable and much easier than acquiring a new one. This is the reason why the retailer, object of this case study, came to our team with very clear goals: to generate recurrent business from current clients and continue increasing their online sales.
In order to create customer loyalty, it is essential to keep buyers satisfied. However, the success of a webshop will not only be determined by the satisfaction of its customers but also it will depend to a large extent on the type of relationship with them.
And because no two customers are alike, and neither are their interests, creating a unique experience is key to offer what each user is looking for. Moreover, it is in this stage of real-time personalization where the technology and strategy of Retail Rocket come into play to achieve the proposed goals.  
Case study on the impact of personalized recommendations blocks on web and trigger-based emails. 
Retail Rocket technology, based on self-learning algorithms, analyzes user behaviour in real-time. It customizes content so that each client sees what they are looking for, offering a truly personalized shopping experience. 
For this purpose, the recommendation content blocks were introduced on the following pages:
Home page

Category page

Product page

Cart page

Exit intent bar
And these below are the results of the implemented recommendation blocks and their impact in each section
Personalization of the Home page
It is on the main page where the user journey begins, where at a glance a visitor decides whether to leave or continue. And as the first impression counts, it is also in this stage where Retail Rocket's work begins, building the sales funnel.  
According to Philip Kotler's model of the five levels in a typical purchasing process, it is on this page where users begin the information search to meet their needs. 
When visitors first enter, they are shown a recommendation block with "Bestsellers in web" based on products that other users have searched previously. Once the information about the user's behaviour is collected, personal recommendations related to their interests are automatically shown in real-time.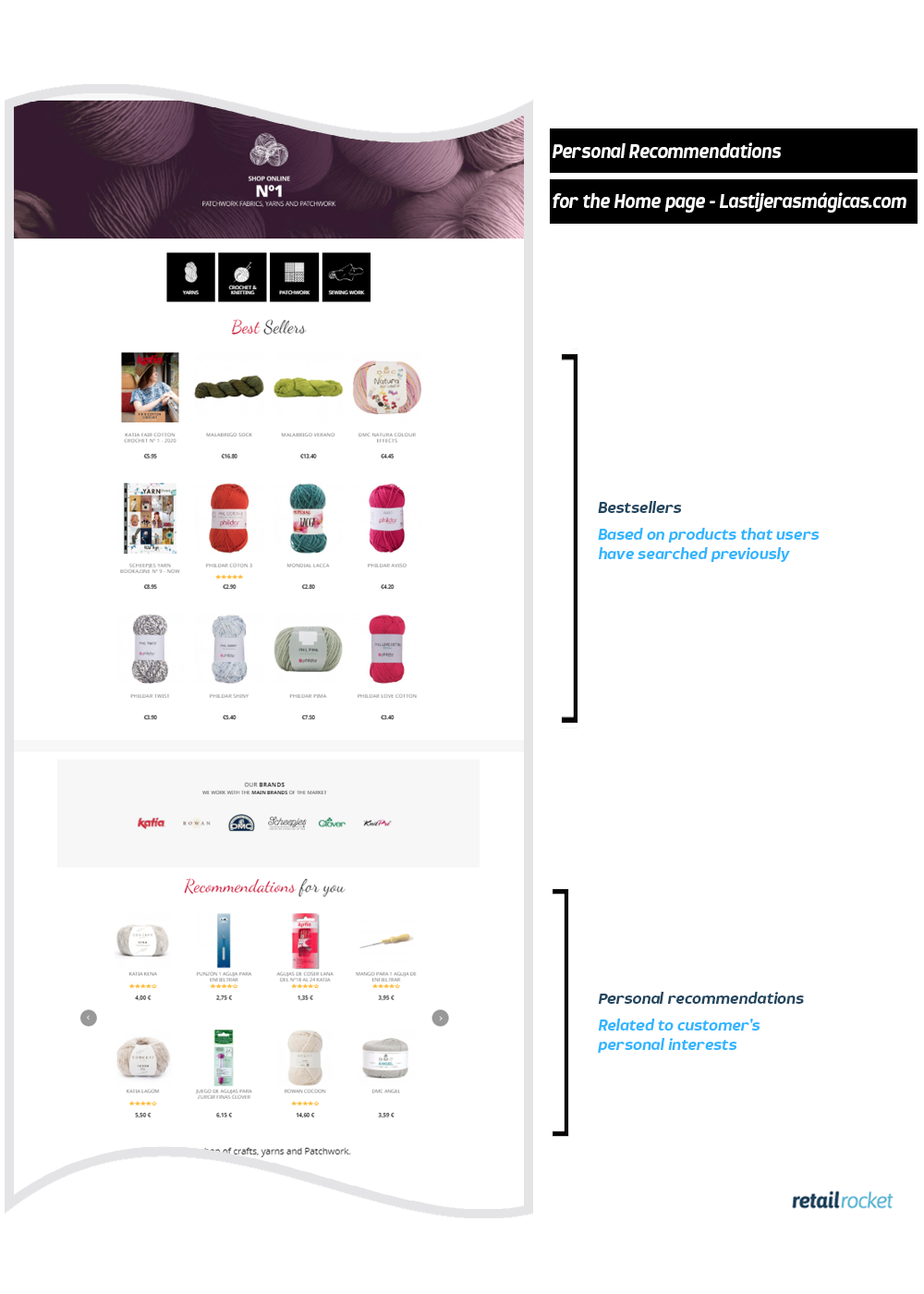 Recommendation on the Category page
On this page, the most popular products in the category are shown, as well as the most likely to be purchased by the visitor. These products are automatically updated in real-time based on the user's behaviour. The goal is once again to prevent visitors from leaving the website and make them pass to the next level of "product review".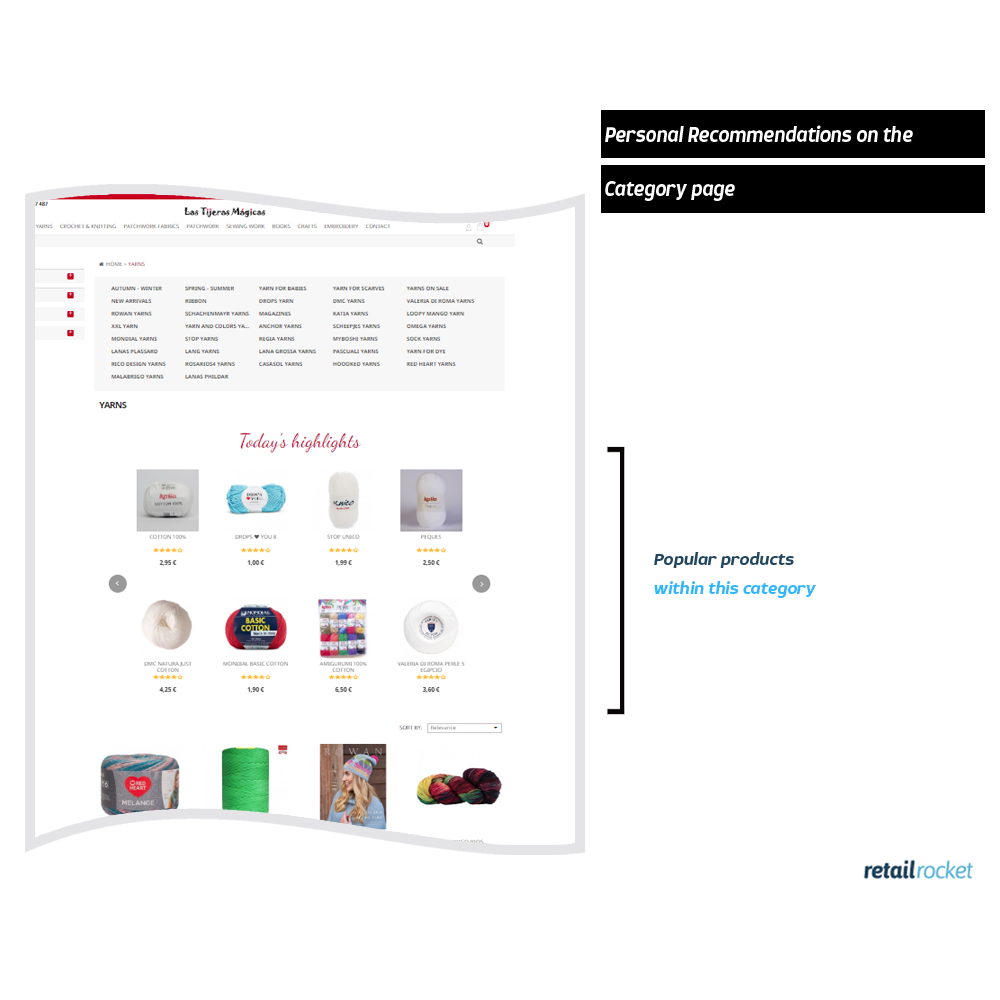 Recommendations on the Product page 
The fact of having more detailed customers' behaviour information in this stage allows to include recommendations with a higher level of personalization based on products that have been previously seen. 
At this level, the aim is that customers finally find what they exactly need. This is the reason why similar products to the one that the user is looking at are shown. Thus, the evaluation of different alternatives will lead a user to make a purchase decision.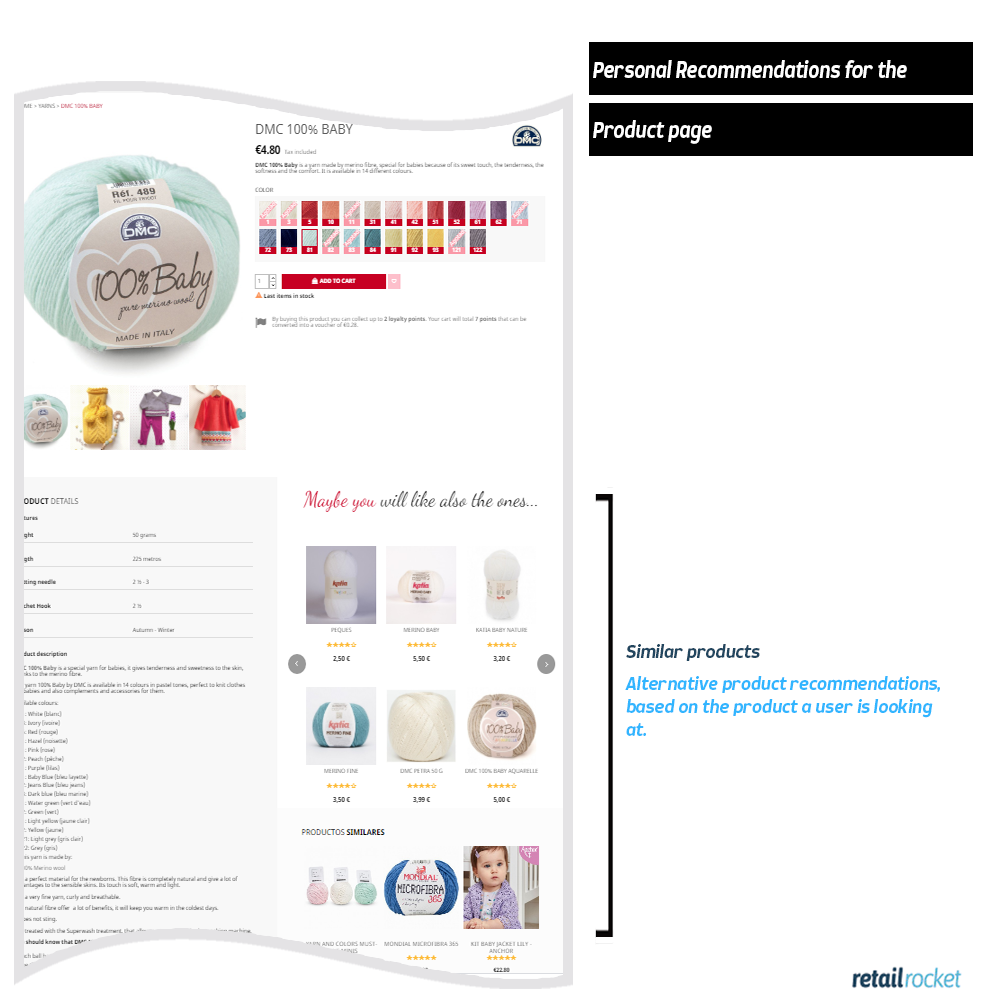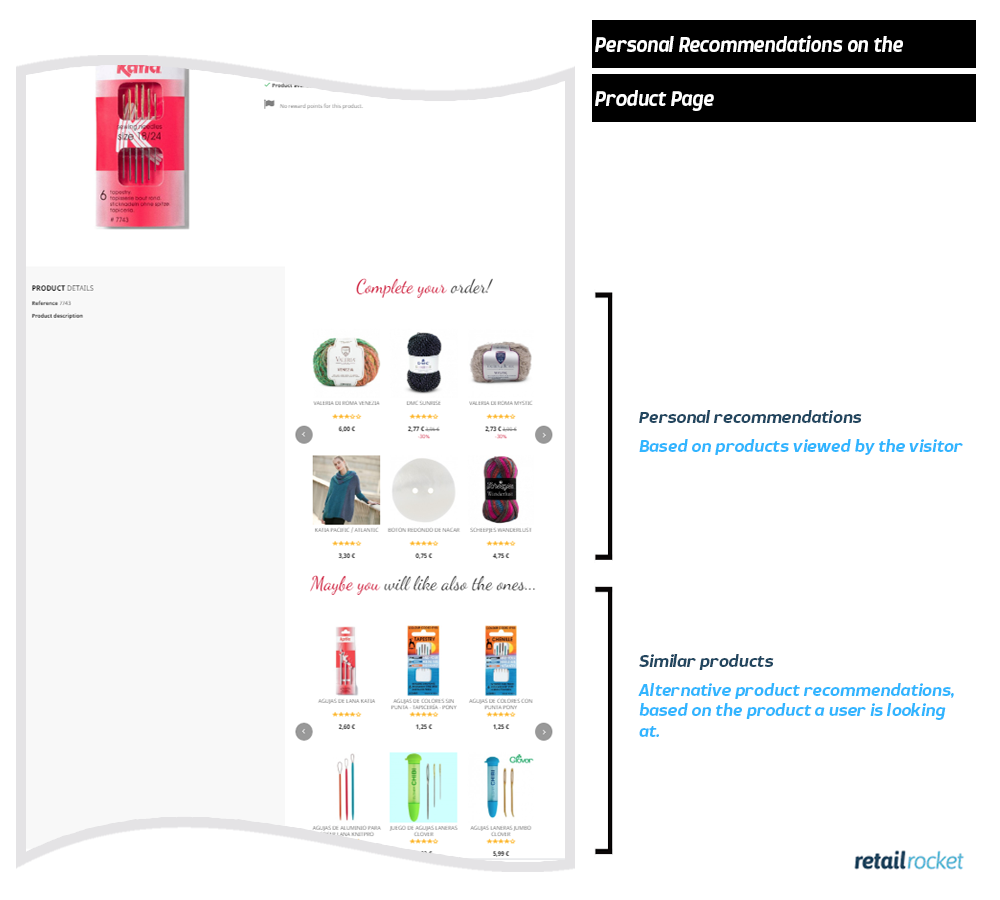 Recommendations on the Cart page
Once the user has reached this stage, the main goal is to increase the number of products per transaction. It is for this reason that there are related recommendations shown on the checkout page.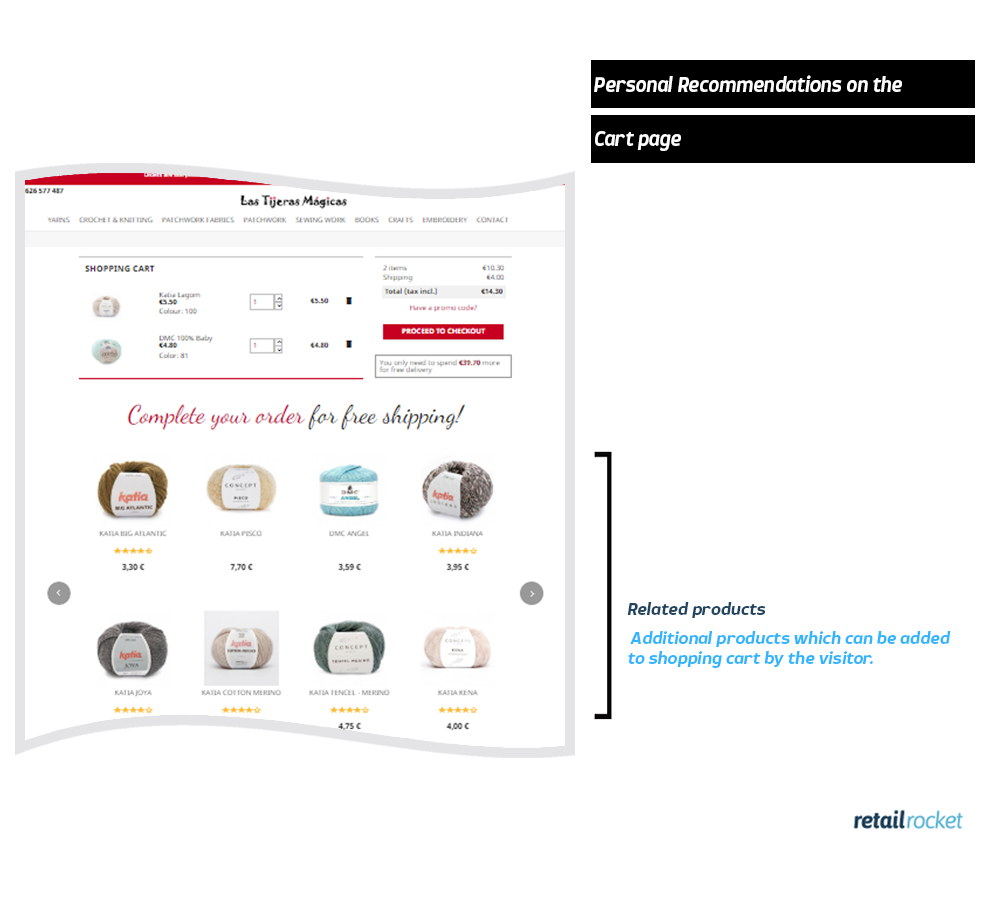 Smart-form in exit-intent bar
When a non-registered user has viewed at least one product and tries to exit the online store, a smart form will be shown on the header. This Exit-Intent bar will show the viewed products and a CTA button. This call to action is used to get the user's email address in order to continue sending personal recommendations via email marketing to recover visitors.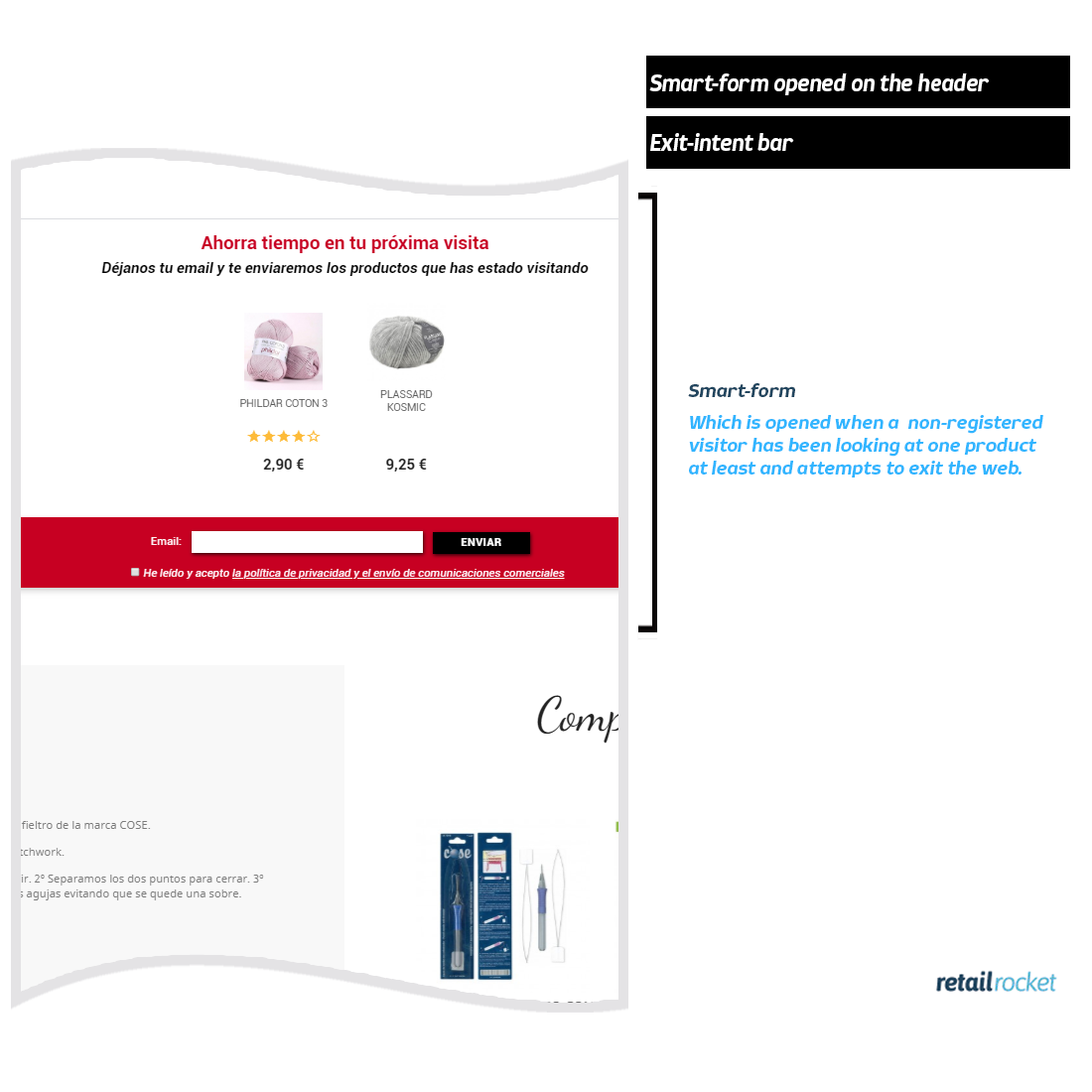 Automated trigger-based emails
In addition to the recommendation blocks on the web exposed above, Retail Rocket team has carried out personalized email marketing actions in order to increase the conversion rate of the online shop. 
Here below you can see an email template sent to a user who abandoned a shopping cart: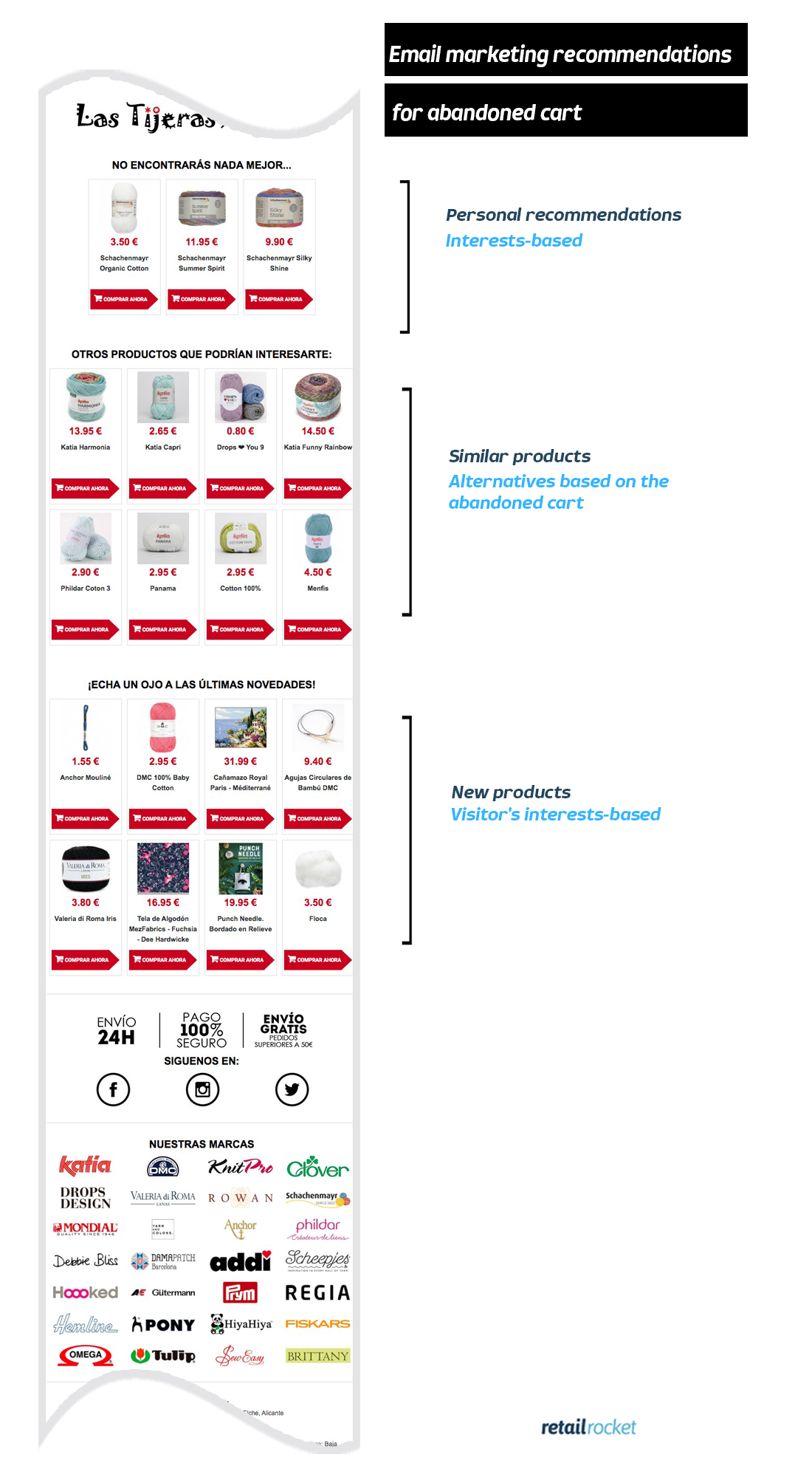 Results
Impact of recommendations per block
According to the achieved results, the effect of the recommendation blocks increases right before the final purchase decision. It is at this stage when the user is more receptive to evaluate different alternatives, especially among the most popular choices of the same category. 
Effect of recommendations in figures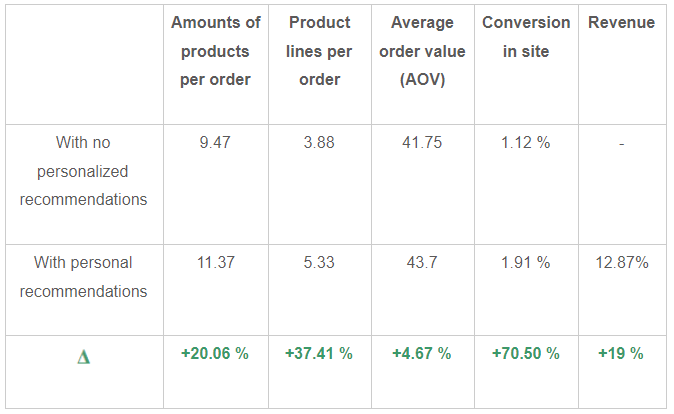 Effectiveness of recommendations in personalized emails

Conclusions
The implementation of Retail Rocket has increased online shop revenue by 19%.

Using personal recommendation increases conversion on the web by 70.50%.

The average amount of products per order also increases by 20 %. 

The average order value, when using personal recommendations, is 4.7 % higher on the web and 3.5% higher on email marketing. 
Las Tijeras Mágicas testimonials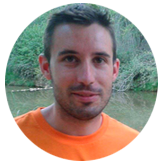 Thanks to Retail Rocket we have achieved a significant order increase. Moreover, with the implementation of personalized product recommendation blocks on web and on trigger-based emails, we are now able to offer a much better personalized experience to our clients in our online store. 
Saúl, e-commerce manager