Email marketing trends and tips to increase revenues in 2020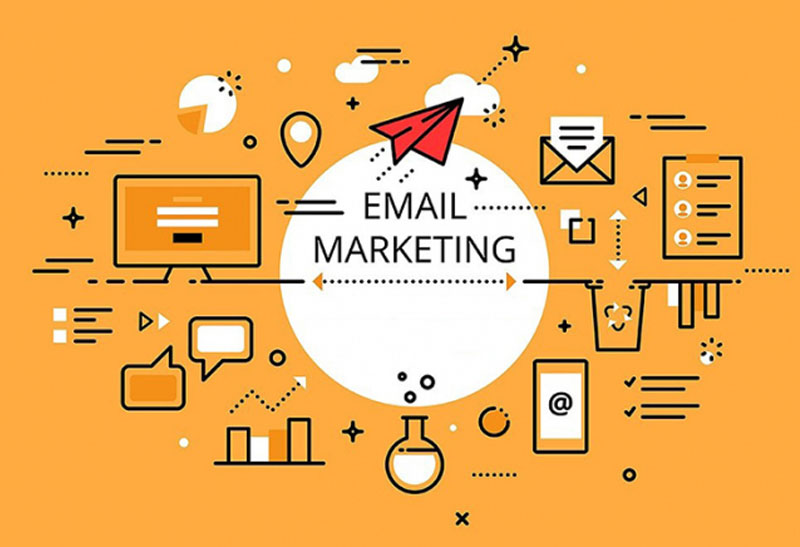 Nowadays email communications keep setting trends in e-commerce, they provide online stores with up to 30% of their revenue. Julia Elyasberg, email marketing manager for Retail Rocket, tells us how email marketing should be done in order to achieve optimal results with personalized campaigns.
Introduction
Compared to 1971, when the first email went to its recipient, today's email marketing has changed beyond recognition. Not only the structure of consumption and people's expectations become utterly different, but technology allows brands to accurately see the customer's portrait in order to satisfy their demand as much as possible. 
All this does not mean at all that now it is easier for Ecommerce email marketers (but also in other sectors) to achieve the planned goals. More interesting and dynamic it is, but not easier. Do you remember what the Queen said in Lewis Carroll's book: "Here we must run as fast as we can, just to stay in place. And if you wish to go anywhere you must run twice as fast as that"? Today it does not concern so much marketing as technology in general.
The huge amount of information that surrounds us is simply not perceived by our brains. Brand touchpoints, any bit of interaction or communication made between a brand and its customers can reach several tens per day and turn into "white noise". Therefore, we really want to share with you those marketing trends that you should keep in mind in 2020 and start applying from now on. Otherwise, you should realize that your competitors have already overtaken you.  
How long do you think email marketing will be relevant in e-commerce?
If you focus on the late Millennials, who are now about 18 years old (they will very soon become your main target), we might think that email marketing is going to lose relevance. But far from that and according to Litmus, 70% of respondents think that email communications will be relevant for a long time to come. And it is said that "Millennials & Data Will Shape Email's Future"
Let's turn to the relevant average figures related to communication channels.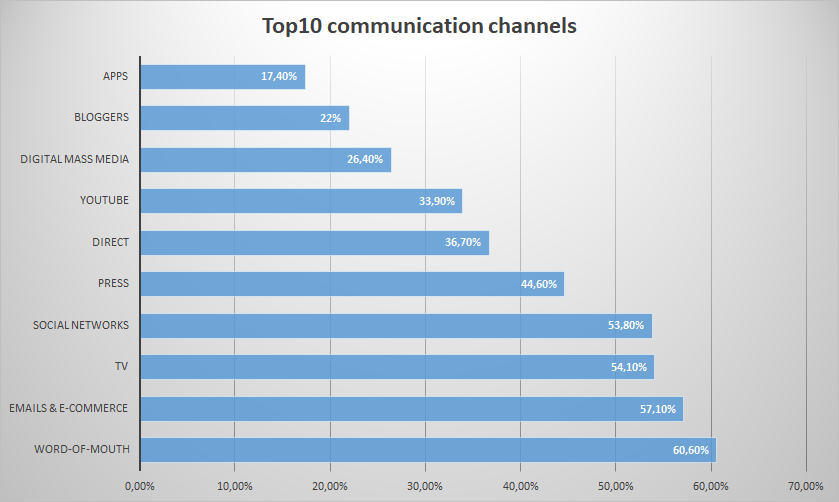 Retail Rocket tips
In order to make all your email marketing efforts to be worthwhile, it is essential to use an integrated approach and properly allocate resources:
Find the points in the interaction with your subscribers that might result in revenue growth, by: analyzing current indicators, evaluating technologies that can help you with it, and adding new communication channels to newsletters.

Design an action plan for the next coming months and divide it into different stages

Use A/B/N testing to compare how good your different hypotheses work.

Follow the dynamics, summarize them, and draw your own conclusions.

Repeat all over again.
The important role of email marketing in an omnichannel strategy
The boundaries between marketing channels are quickly blurring, and the omnichannel for business is no longer news. However, customers have not been waiting for your company news for a long time. They are not interested, and moreover buyers clearly understand their own needs and have the ability to find by themselves what they need to keep satisfied. They have, by now, learned when final discounts dates are and know all the life hacks to get the best deal.
According to Think with Google, an average customer needs 2.8 touchpoints with a product before finalizing a purchase. This is applicable not only to online stores but also to purchases in physical stores. The number of interactions with a point of sale changes depending on the value of the goods. For example, the purchasing process in the fashion sector is faster than when buying a TV. In addition, it is difficult to say what exactly influenced the purchasing decision. Perhaps an email, a Facebook retargeting, indoor navigation in a shopping mall, a friend's recommendation, or maybe an SMS from your bank like: "Hurray, your salary is in the bank, you cannot wait to spend it!"?
Email marketing is just one of all possible direct marketing channels. In a channel mix plan development, the combination of different channels of communication should be as organic as possible, only thus, the business will achieve additional results. Furthermore, your subscribers should be able to go, with just one click, from a newsletter to a website or social network, and then return to the newsletter. Meanwhile, the website should keep the client's history with all their actions. In addition, it is very important to know your regular customers to understand how best to interact not only with them but also with those who are more similar to them. 
Creating roadmaps and Customer Journey Maps, followed by a marketing strategy based on the information you obtain, is great! Find out what your customers want, aiming to decide which technology and channel are the best to meet their needs.
Retail Rocket tips
To guarantee that all your marketing actions, including email marketing, are as organic as possible, be sure to take the tips below into account:
Create or update your customer's profile and identify the communication channels they are interested in. 

Combine all user data in one source to segment subscribers according to all accumulated parameters.

Use predictive analytics and create consumption chains.

Use your Yandex and Google knowledge, and Facebook audiences to interact with customers through multiple channels.
Now it is not just about delivering the right message to the right person. Now e-commerce stores need to work in several dimensions to send the right message to the right person at the right time and format.
Predictive technologies allow you to precisely personalize the email content, which can significantly impact on the clickability and improve the metrics of your email marketing. A short time ago, Retail Rocket conducted an experiment with Mamsy, in which two different versions of the same message were sent to two segments of users. One email with a standard placement of banners and another one optimized based on heatmaps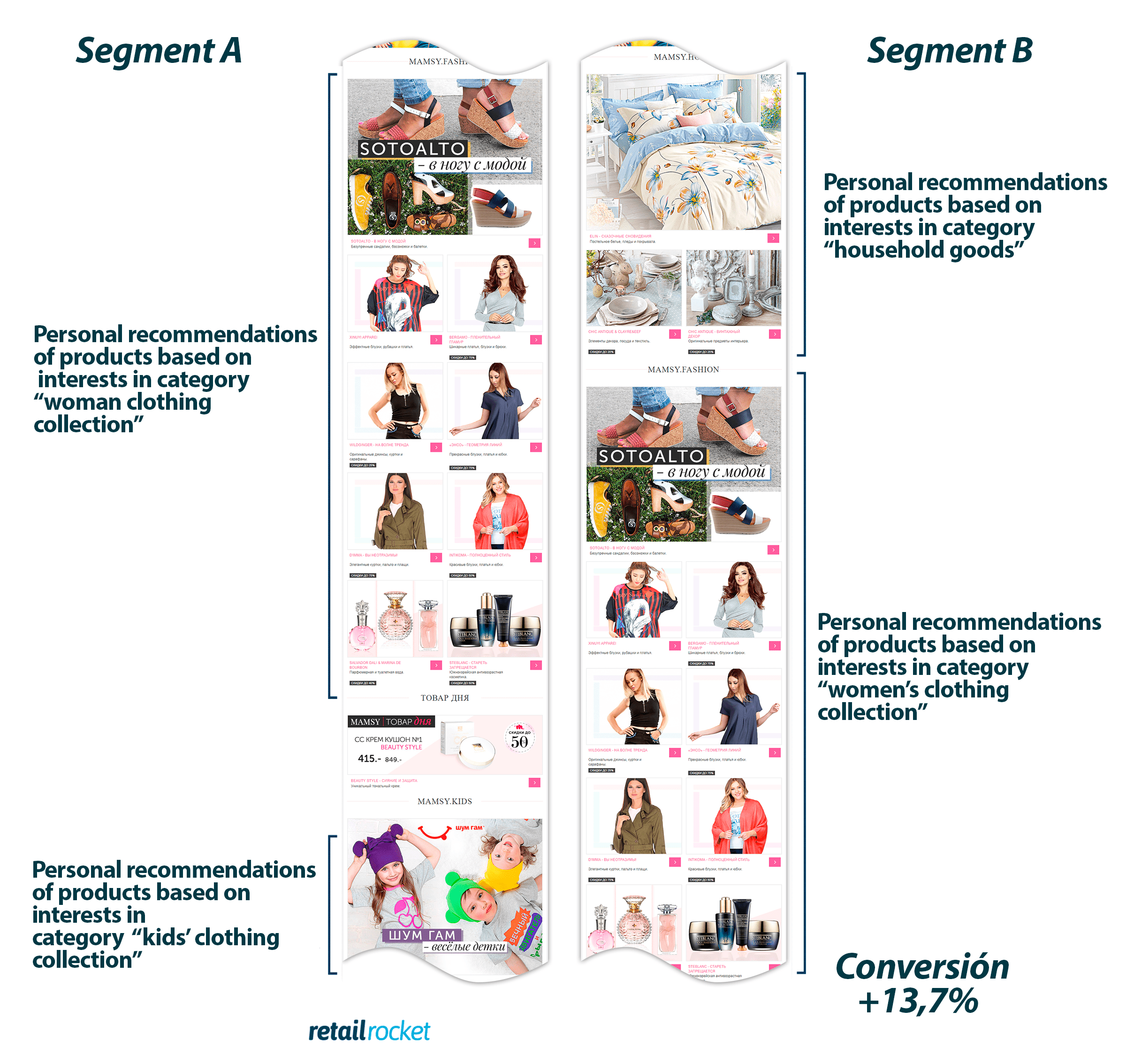 Personalize it!
Let's face it. Personalizing email marketing in e-commerce is already a must-have and it is not some new idea or trend. Thanks to Big Data and existing technology in the market, you can easily create a unique newsletter for each subscriber.
Even now,  you can segment your subscriber base by a huge number of criteria, from birthdays to real-time user behavior. It turns out that if two people sit at the same table, visit the same site in one day and time, but watch and buy different goods, the content in the users' newsletters (or even the newsletters) will get completely different.
If you store some of your customer data in a CRM, part in the site CMS and some in a third-party marketing platform, then the information about the same subscriber may radically differ. Not to mention the fact that you may not know anything about a user at all. Obviously, in this way, you will miss a single thread of their history and in consequence, the opportunity to interest each of your clients with the best-personalized offer for them.
And here below, you have some important tips to consider when building personal communications:
In order to learn as much about your subscriber as possible, remember not only to implement call-to-action elements that encourage them to visit the site but also a form with questions. Ask the subscribers what their names are, how old their children are, if they have a cat or a dog, etc.

Use your knowledge about a user's behavior on the site and based on their interest in a particular category: then, send them a selection of the most relevant products, promotions, and other offers in a personalized newsletter.

Create bundles of several products which you recommend purchasing together. This is especially true in the fashion segment when a blouse immediately needs a skirt and shoes to complete the outfit. Or, implement newsletter's recommendations based on their purchase history, with higher marginality related products, for example, a case and a phone charger.

If you realize that some users are not interacting with mailings, use a different channel of communication with them, such as push notifications or text messages.
Retail Rocket tips
Here are just a few of the ways to personalize email marketing:
Gather the entire subscriber database in one source. Yes, it has already been said, but it is really important! Keeping diverse parts of the database in separate places and collecting different data is like living in parallel universes.

Analyze all the types of data collected to plan how you can better use it to personalize each variety of mailing.

Use the dynamic time to send emails. That is, set up sending an email to each user at the time when they most often check it. Thus, your newsletter will be the first in their inboxes and consequently improving your email open rate.

Add dynamic content. Show the subscriber an interesting promotion to them, highlighting their size of shoes or clothes in stock and showing the price with their personal discount, etc. In this way, you will increase the purchasing interest and the orders in your online shop.
Let's show you more about the creation of automatic product recommendation blocks. Retail Rocket actively uses this implementation for many online stores, but perhaps one of the most interesting cases to highlight is the adult store "ОнОна". Using a unique algorithm that collects related products in "blocks" and our real-time branded personalization based on interests, the store managed to achieve a 22.7% increase in the average order value.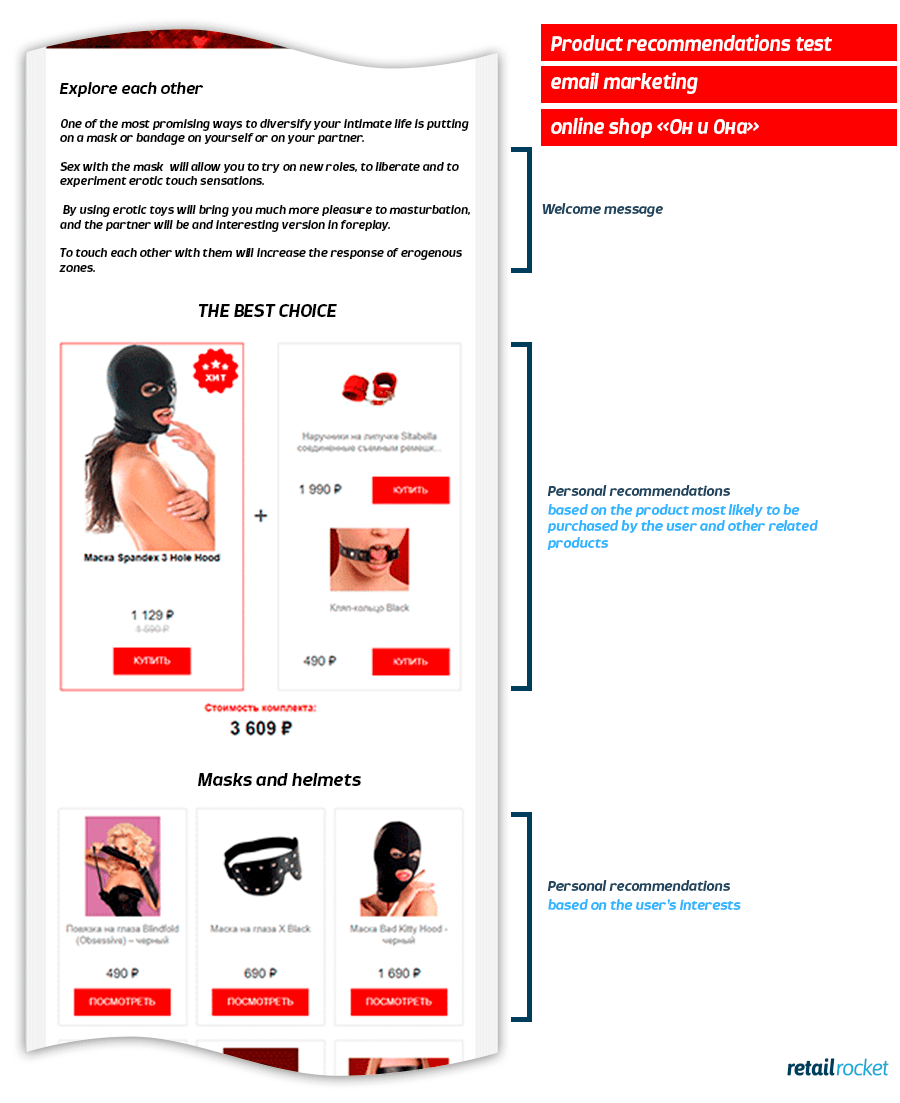 Тechnology and big data – the main driver of e-сommerce email marketing
According to Litmus, about 66% of the survey respondents believe email content will soon be determined by the capabilities of artificial intelligence. All advanced email marketers are already using situational content management to deliver the most relevant message to each subscriber. Predicting subscribers' most likely next actions based on their past behavior ensures more accurate segmentation.
As technology progresses, emails become more interactive. AMP (Accelerated Mobile Pages) is already available for email marketing, which allows customers to purchase goods and services through email. This technology also involves updating the data of a newsletter in real-time, simplifying the interaction (for example, now the customer can add products to their "wishlist" without visiting the site). Accordingly, all this increases the conversion and revenue per email sent. Besides, you receive additional data that you can use for further communications.
Retail Rocket tips
Among the main features of Big Data in retail and e-commerce, a few tips to use in email marketing are shown below:
Predicting customer demand and creating

predictive

consumption chains.

Analyzing loyalty programs and building the best one for a specific audience.

Pricing, including the dynamic one.

Automatic personalization of communication with users.

Behavioral, RFM, and other types of segmentation.

Engaging and retaining a customer

through

a Data-Driven Marketing strategy according to the customer's gathered information.
We advise you to not to be afraid of new technologies and actively implement them. Surely, you already have a large and sufficient amount of data about purchases and the interests of users to predict new orders. For example, at Retail Rocket, we actively use the Next Best Offer scenario, predicting the next most likely purchase based on consumption chains.
Based on the analysis of many users, different consumption chains are formed, and each new customer gets into such chains after one or more orders. Thus, we can assume which products will be interesting to a person and after which period of time. For example, here is below the real consumption chain of a children's goods store: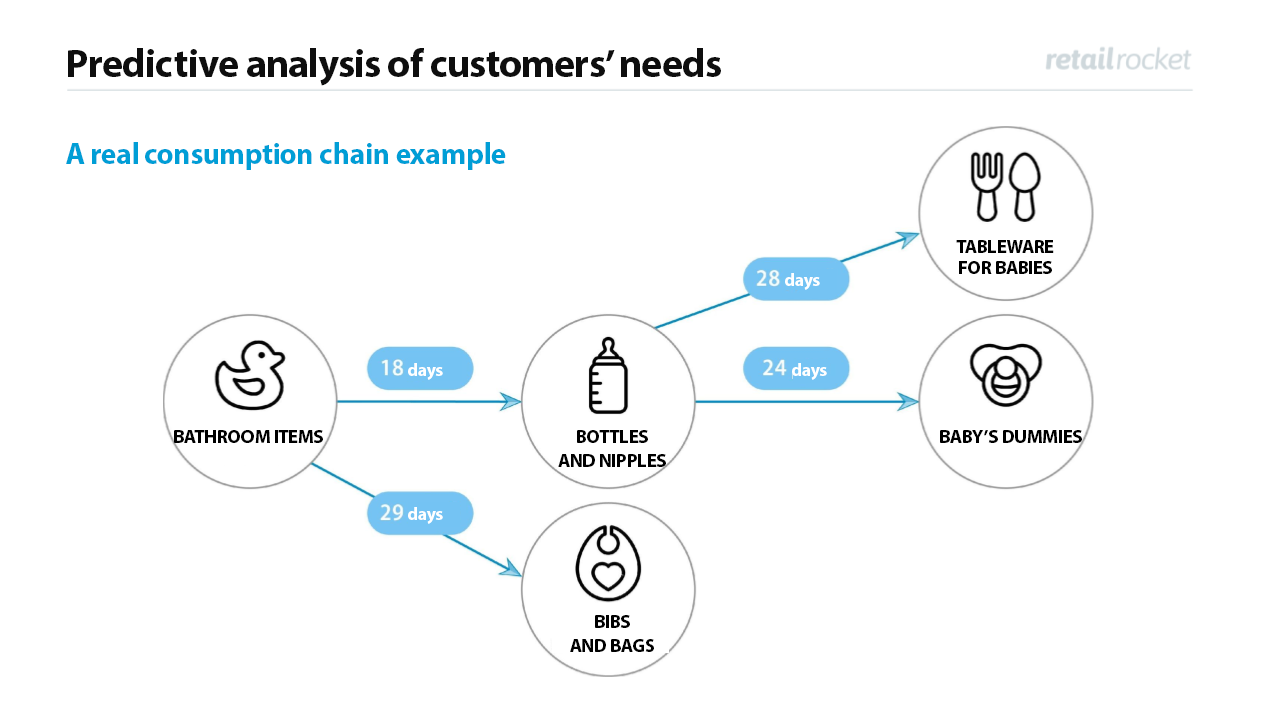 Тhe future of e-commerce and email marketing
We were going to talk about email marketing, and it turned out about communication with customers, approaches to personalization, efficient use of technology, and working with data. And all this because when you really want to understand a question, you often realize that it cannot be done by dealing with a single matter.
When you connect and apply everything we have talked about, your business will never be the same again. Not only in regards to email marketing content but also to subscribers' interaction. In addition, your customers will easily respond to your messages no matter where and when they see (or hear) them, either at home on their tablet, either on a treadmill from a push notification in the Apple Watch, or driving their cars.
The balance between business goals, your customers' real needs, and the current technologies is key to develop your strategy.  So you will find your Best Practices. Use all types of data from all kinds of sources and make sure to speak the same language as your customers and the interaction will be reciprocal.
Which email marketing technologies are the best ones according to you?