The benefits of Cross-Selling and tips on how to use this sales technique in your online store to increase your revenue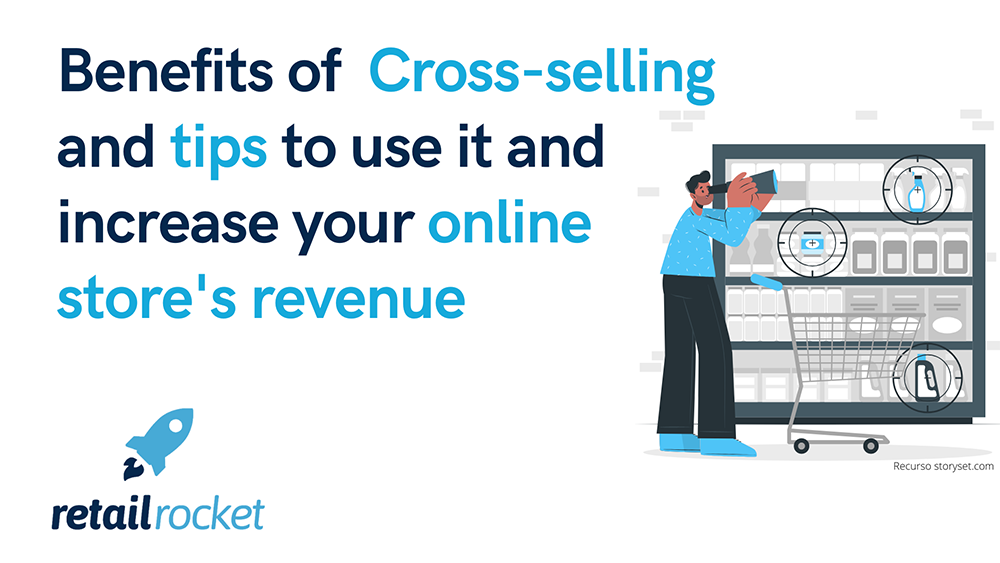 Attracting new customers is much more expensive and requires more effort than retaining existing customers. Likewise, getting new visitors to land on your website is not an easy task in the face of the high competition and offers on the Internet. Therefore, one of the main challenges facing e-retailers today is getting visitors to stay browsing the catalog; secondly, to encourage them to complete the sales funnel and, thirdly, to build loyalty and retain customers.
It is well-known the power of Artificial Intelligence in e-commerce to facilitate the customer's journey in the online store and whose implementation allows every user to show a personalized offer based on their behavior and interests in real-time. However, in this post, we will focus on how, by using Cross-selling, you can get the most out of those users who visit your website. Let's see more about this powerful sales technique to increase the average order value and your online shop's revenue.
What is Cross-selling?
Cross-selling is a sales strategy by offering customers or potential buyers complementary products that provide additional functionality to a product already purchased or intended to be bought.
It is important not to confuse this concept with a very similar one, Upselling. Although the objective is the same, to increase the average ticket per order, while Cross-selling does it by offering additional products to add to the cart, Upselling shows more expensive alternatives to buy.
That is not about offering everything and anything. Just as there is always a plan behind a good marketing action, basing this practice on a strategy will be crucial for it to be truly effective.
Next, we will see how Artificial Intelligence will become the main ally to achieve maximum effectiveness. Thanks to that, the related products shown will also fit every user's interests and personal needs, so they will be more likely to be purchased.
It is a powerful technique that, when used correctly, will bring significant benefits to both your customers and your business.
The main benefits of Cross-selling in e-commerce
Increase in revenue: displaying related products to add to the cart will increase the average order value and, therefore, your business's revenue. Given the efforts needed to generate traffic to an online shop, get the most out of those visitors who reach your website while facilitating the purchase process by showing products of their interest.
Cost optimization: encouraging customers to add more than one product per order will reduce management costs. It is more cost-effective for one customer to purchase several products than for different users to buy a single one. To process an order with several products is less costly, as is getting a customer to purchase several products compared to attracting new visitors from scratch.
Improvement of customer shopping experience. Showing other products to users will motivate them to interact with your website, providing you with more information about their interests in real-time and letting you know your customers well. By storing this data in a single source, thanks to AI technology, will allow you to show every user what they are looking for based on their interests, increasing their satisfaction and retention and thus also your online store's revenue.
To build customer loyalty: anticipating customer needs and displaying products that are frequently purchased together next to the item they are viewing or have added to their cart will provide value to your brand and increase customer satisfaction. The easier the purchase process is, the happier your online store's visitors are.
We already know the main advantages of cross-selling, but how can you use it in your online store? Here are some tips and best practices for applying this technique in your business and enjoying its potential to boost your sales.
Tips for optimizing cross-selling efficiency
1. The best moment to use Cross-selling
Offering Cross-selling too often or inappropriately can frustrate users when making a purchase decision, negatively affecting the image of the website. To achieve the best results with this method, the when to do it is as important as the how to do it.
Generally, the best time for using cross-selling is on the product card page and during the checkout process. Showing related items when a user has not yet opted for any product can be counterproductive and divert the shopper's attention, leading them to abandon the store in many cases.
Cross-selling on the Product card Page
When a customer lands on the product page means that there is a real interest in buying. At this stage, where the user is analyzing the features, is an excellent opportunity to suggest related products. In addition, having information about the user's behavior, thanks to AI, will allow these products to match every user's interests, increasing the likelihood of being added to the cart.
Kliper, besides related recommendations, displays first a block with similar products so that the user can review alternative options before making a decision. In this way, the online store obtained an increase in sales with products from the recommendation blocks.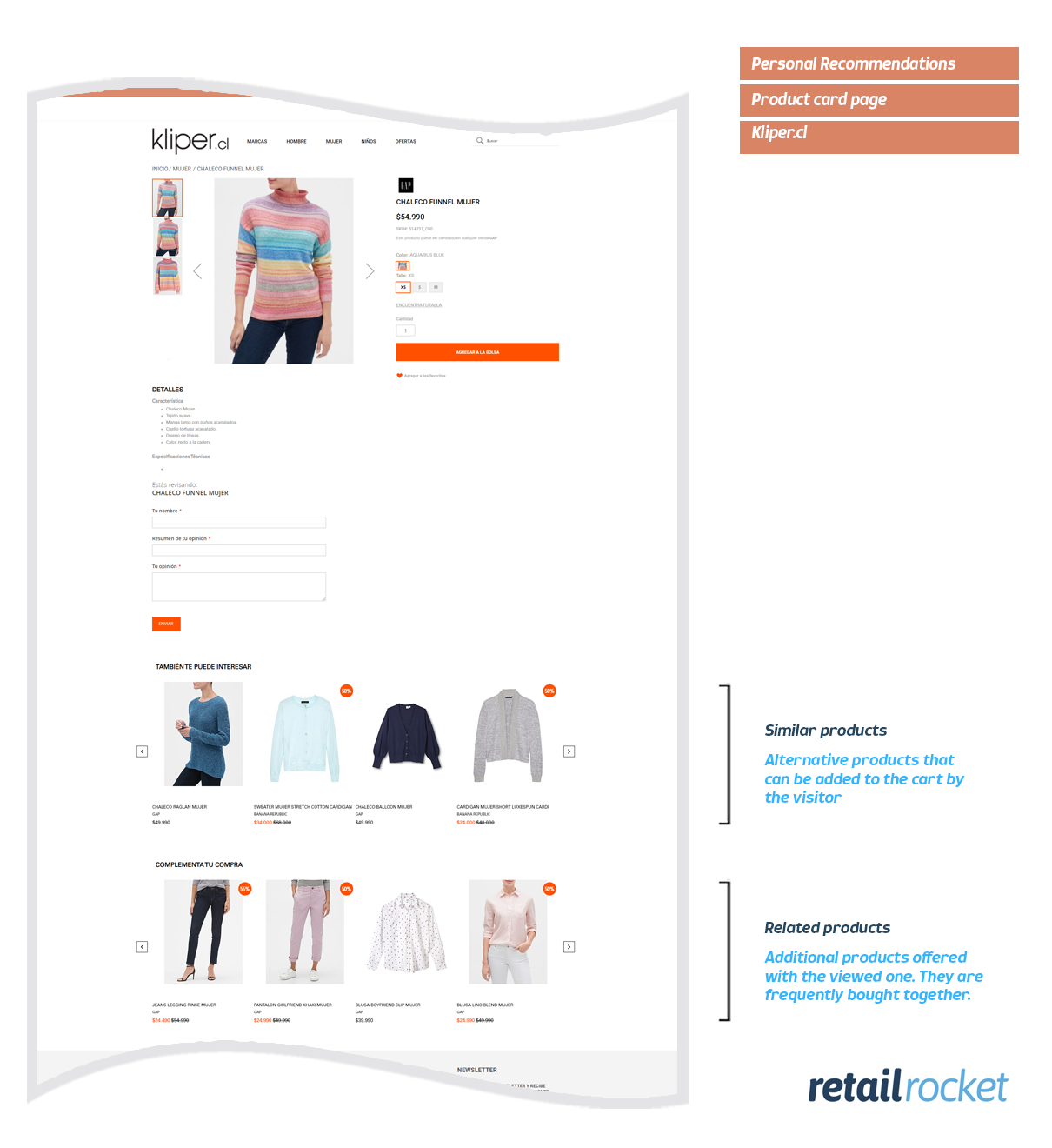 Cross-selling on the Checkout page
We recommend never giving up trying to increase the average order value to the end. And the cart page is the last opportunity on the website to offer complementary products that add value to the order.
Cross-selling is not a practice only limited to e-commerce; indeed, it is widespread to see this sales technique in physical stores where low-priced goods such as socks, bracelets, or hair accessories in fashion stores, or batteries, candies, chewing gum, drinks, chocolate bars, etc. in supermarkets are displayed at checkout counters or around the row. However, unlike physical stores where these shown products are the same for everyone, using Artificial Intelligence in e-commerce will allow you to personalize cross-selling to the maximum, thus optimizing its effectiveness.
In fashion stores, offering garments to complement an outfit is a perfect option. The online store Kliper offers personal product recommendations that complement the one being purchased or viewed and fit the user's interests shown and stored in real-time when interacting on the site.
2. Offering a personal approach in all the channels
In e-commerce, Artificial Intelligence offers countless possibilities for personalization. Use it in all the channels to show a unique offer for each customer based on their behavior in real-time.
Email marketing allows you to use the Cross-selling technique once the order has been finished by activating the post-purchase scenario. In addition, through this powerful channel, the level of personalization increases as you have more information about your customers and let you address them directly and individually.
Due home online shop automates its email marketing campaigns for different scenarios, being the post-purchase one of them very useful to show those customers who have already bought related products that might be of interest to them based on their order.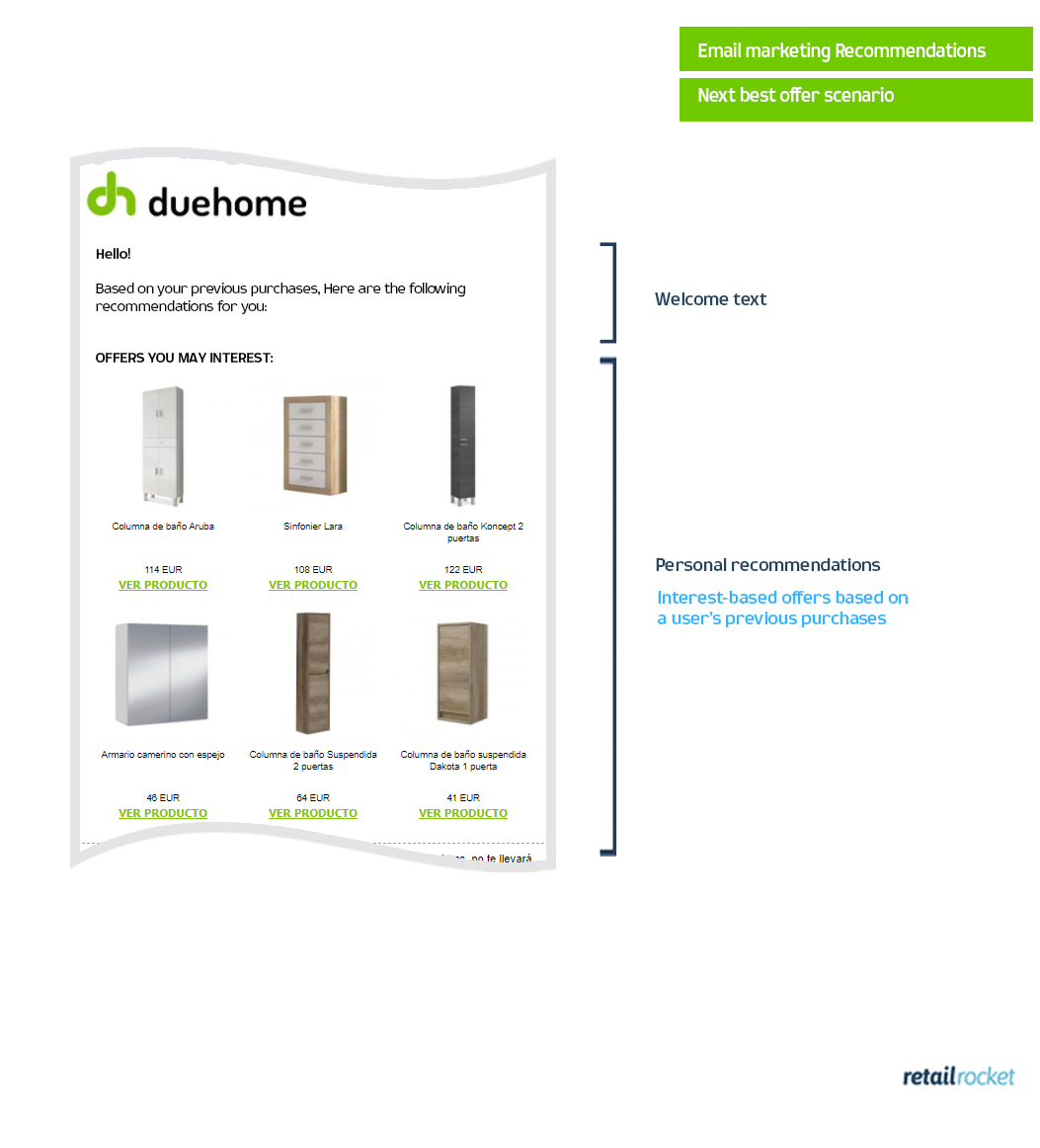 3. Offering incentives to customers
Attract attention and motivate visitors to buy more products with incentives, always ensuring they cost less than what you can get with this related product cross-selling technique. We recommend offering, for example, free shipping for orders over a certain amount or special prices for products purchased together. That is known as "Product Bundling," a technique of grouping related products in the same pack with a reduction in the total price or eliminating shipping costs to motivate customers to purchase the set.
According to the principles of psychology, Cross-selling product bundling is a very effective technique because it is a perceived value that often leads customers to spend a little more to get it.
Due home online store displays three recommendation blocks on the product page, a first one with similar products based on the item a user is viewing, a second one with related products, and the third one with packages of products usually purchased together.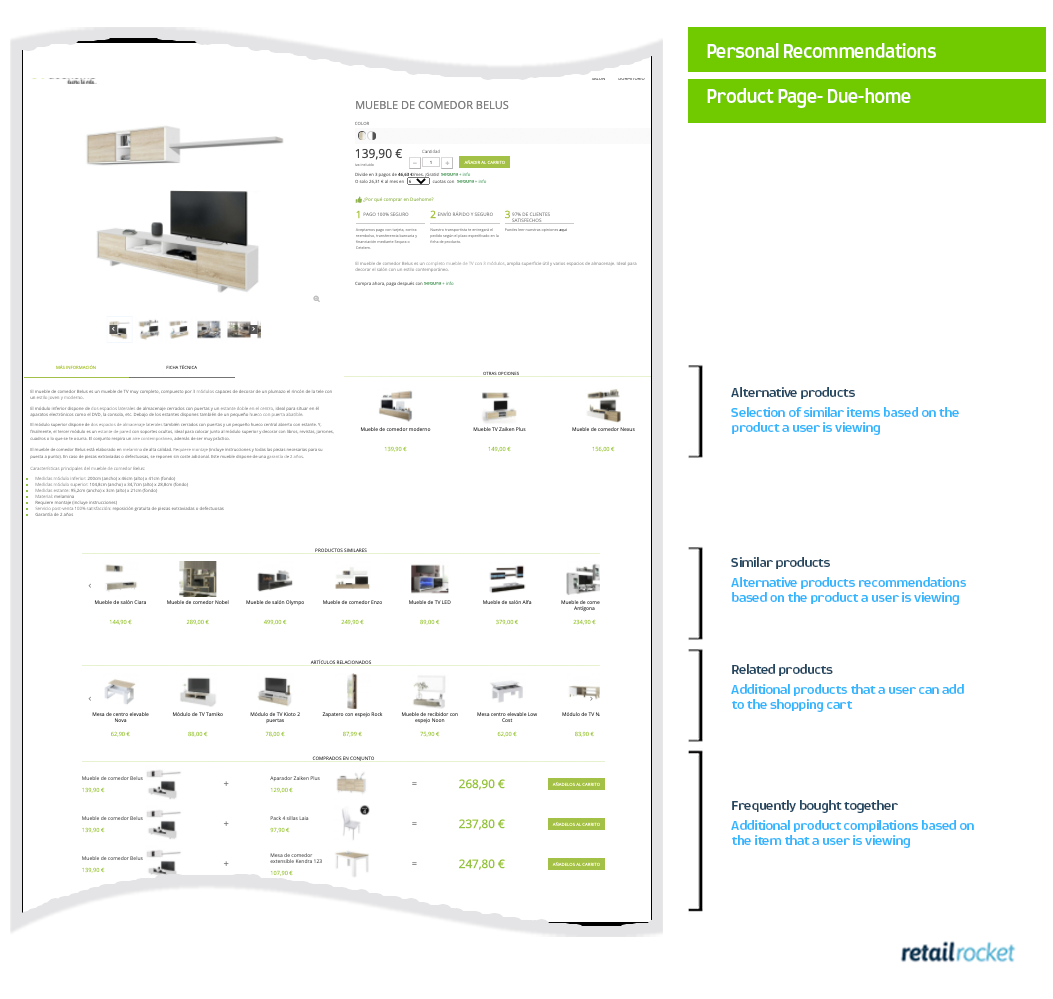 4. Showing other customers' reviews
Since there are behavioral patterns, showing users bestsellers, products frequently purchased together by other customers and their reviews will help the visitor be confident in adding more products to the cart and finalizing the order.
The key is to show the value of buying several products in a bundle without the need to be pushy. Doing it well will lead the customer to decide to spend more on their order with greater conviction in their choice.
Conclusions
Are you still not using this very effective technique? Design your Cross-selling strategy and choose the actions that best fit your business. And if you are not using Big Data technology yet, our recommendation is to start by integrating Artificial Intelligence in your online store to get the most out of your marketing plan and cross-selling strategy. Only then will you be able to offer a personal approach to achieve a significant increase in customer satisfaction, key metrics, and revenue.