TOM TAILOR twice higher conversion by using Retail Rocket's recommendations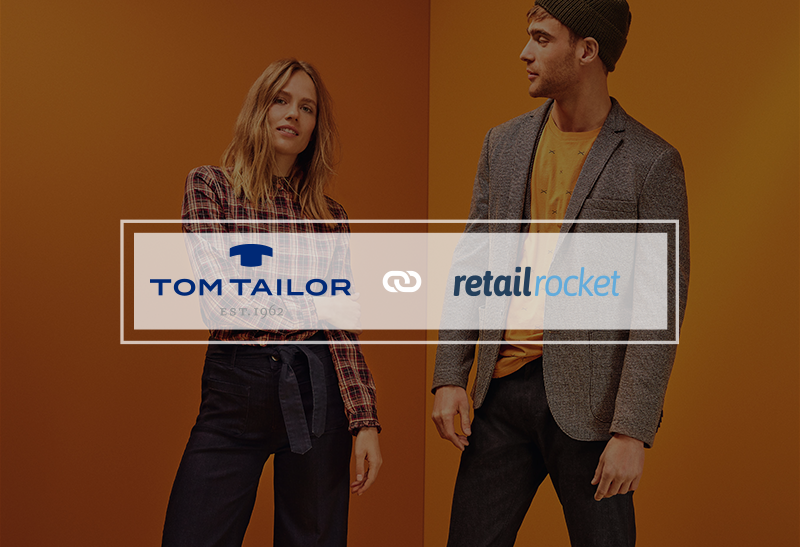 What is the ideal shopping experience for a modern customer? Many people lack the time and motivation to spend the whole weekend in shopping malls. And online stores of well-known  and beloved brands come to the rescue.
In collaboration with TOM TAILOR, we personalized all customer journey stages and thus speeded up the customer's purchase process. This is the experience we are sharing with you in this case study. 
TOM TAILOR goals
TOM TAILOR is a German casual clothing brand with a 50-years history. The online store monthly traffic exceeds 225 thousand users, according to Similar Web.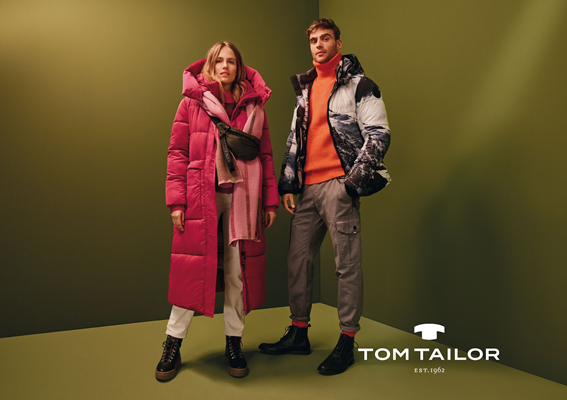 Comfort and positive mindset are core messages of the brand. TOM TAILOR clothing fits great for business, city walks, sports and even for a countryside weekend.
TOM TAILOR approached  Retail Rocket in order to make their online service as convenient and functional as the brand positioned itself. We both faced various challenges, as follows:
Shortening the customer journey to speed up the purchase;

Implementing product recommendations taking into account real-time user interests;

Increasing key website metrics.
Retail Rocket solution
To achieve TOM TAILOR goals, our team came up with an on-site implementation for product recommendations, covering all customer journey stages. Therefore, we placed recommendations widgets on the following pages:
Home page

Category page

Search page

Product page

Checkout page

404 page
Personal product recommendations are generated while collecting and treating user behaviour and interests. Each detail is thoroughly processed, so Retail Rocket learns about users' needs before they actually realize what they exactly want. This brings additional revenue to the online store on a regular basis.
We will, here below, examine the purpose of recommendations widgets for each page, their placement and product range configured by recommendations algorithms. 
Home page personalization
The more the home page engages the user, the more the user is likely to keep on surfing the website and thus to finish the purchase. So the key focus for this customer journey stage is to win the client over and over again. TOM TAILOR relies on information banners, Instagram UGC content, USP and two recommendation blocks placed on the home page. A great onboarding combo!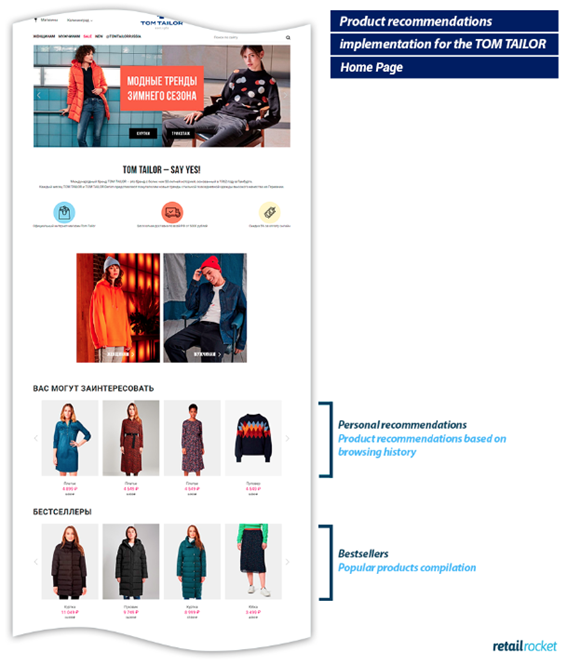 Category page personalization
The typical customer uses the header menu to move from products to products he is interested in. Usually, the first category listing page will be scrolled down until the end of it. The potential customer will thoroughly examine the product assortment and will form his opinion about the online store product range.
Our specialists did implement a recommendations block into the page footer to provide a positive user experience: if some users liked the recommended products, the newcomer should also like them.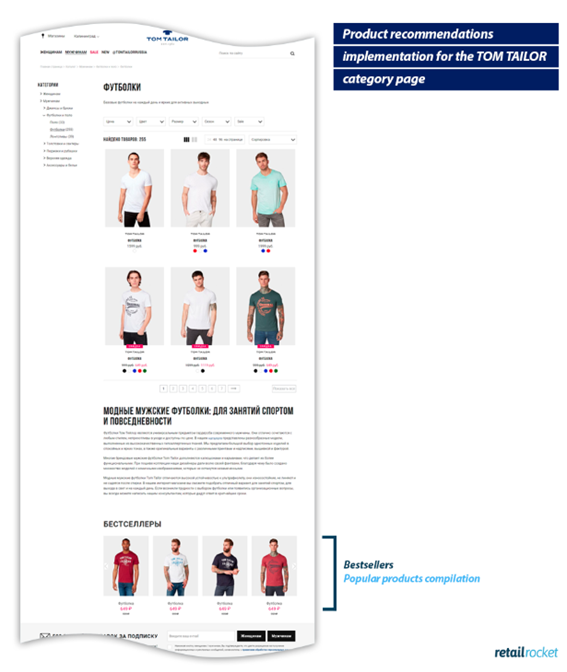 Search page personalization
A customer might choose another way to find the product he seeks, for example, he could use the online store internal search engine. This user segment is not common but it is also important to engage them: such customers really know what they want and come with higher purchase motivations than any average users. 
Retail Rocket specialists decided to not to implement basic search recommendations to be shown for a user's queries. TOM TAILOR product assortment for some categories is not wide enough, so search recommendations could just duplicate products already viewed by users. Therefore, we decided to add personal product recommendations for those cases when no relevant items could be found for a particular search query: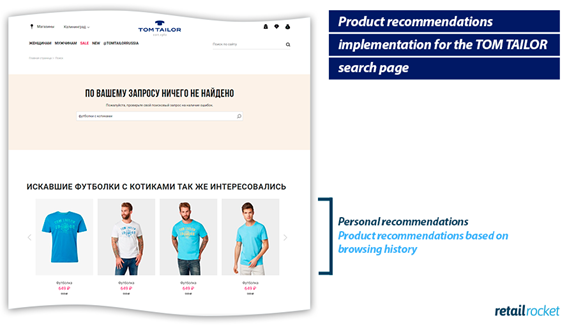 Product page personalization
Relevant and fine-tuned product recommendations on the product page brings a user to the next customer journey stage with a couple of additional items in the shopping cart. To achieve it, we placed two recommendations widgets: one for similar and one for related products.
After that, we executed an A/B-test to configure the most efficient recommendation blocks placement. Surprisingly enough, sometimes we just had to replace widgets with each other to make key metrics significantly increase.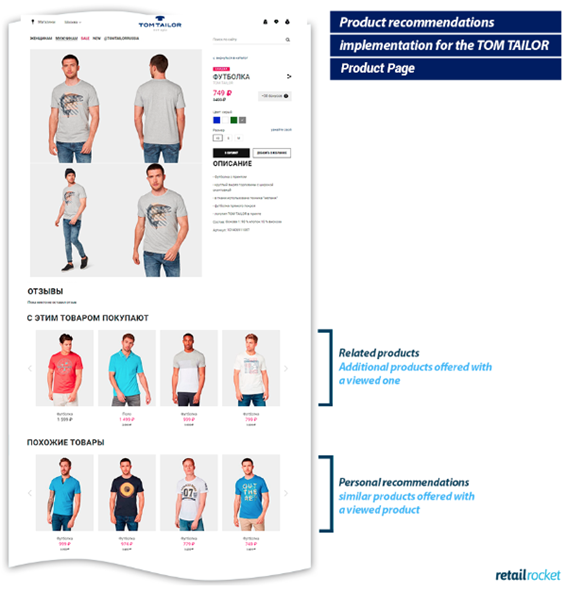 Checkout page personalization
Adding to cart is the favourite customer journey stage, both for customers and retailers. Simplicity and convenience should be the focus when configuring the checkout page. The easier the purchase process is, the more customers shall finalize  their orders.
Retail Rocket front-end developers have essentially improved the checkout functionality. It enabled one-click adding to cart right from recommendations widgets both on mobile and desktop website versions. It significantly shortened the customer journey and increased the number of finished orders.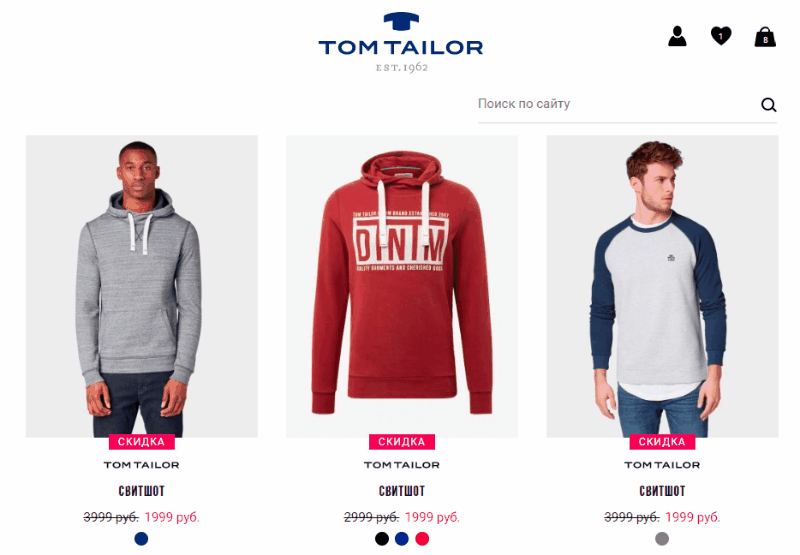 Empty cart page recommendations were also implemented. Sounds surprising? We inspected TOM TAILOR traffic and found out that some users entered the empty cart page from time to time. To convert these actions and engage these users, we placed personal product recommendations widget on this page, so now it brings additional revenue to the online store on a regular basis.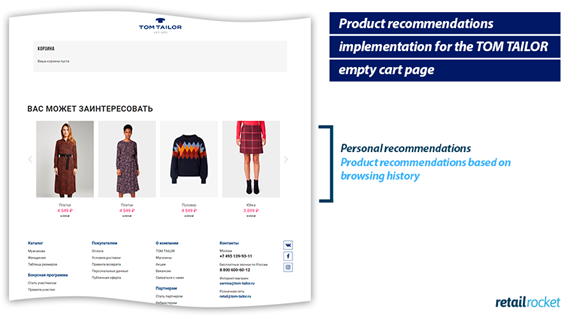 Bonus: 404 page personalization
404 page personalization: trifle nice. Sometimes a user enters a website through a broken link, for example if a certain product he added to wishlist was removed from sale. Empty 404 page could be a trigger for leaving the website. Retail Rocket recommendations fixed this issue by showing product recommendations, making users stay on the website and continue shopping on the product page.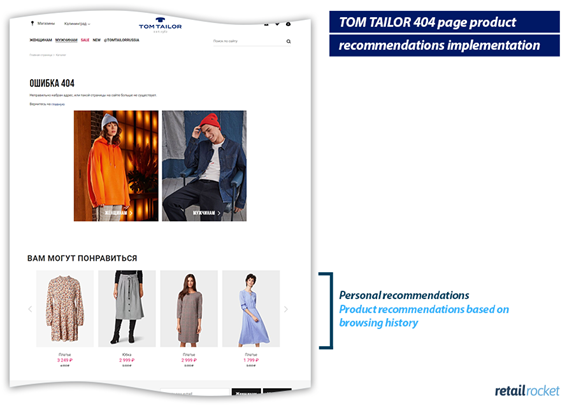 Results 
The collaboration with Retail Rocket brings TOM TAILOR online store additional monthly revenue and orders.
18% of orders contain items recommended through Retail Rocket widgets, while conversion rate of recommendations blocks is twice higher than overall website conversion rate. Also, the average amount of SKUs per order has increased by 25%.
TOM TAILOR & Retail Rocket testimonials

«Unlike some companies, the Retail Rocket team really follows its mission and provides high ROI. It was a pleasure to work with Retail Rocket specialists as they quickly met our needs and ventured the non-standard solutions. Today on-site product recommendations system performs greatly. We also use the Retail Rocket mass-mailing platform contributing our revenue».
Ekaterina Chebakova, TOM TAILOR marketing manager

«TOM TAILOR is my precious project. Our team strived to reflect brand philosophy through recommendations and website interaction tune, providing customers with great online shopping experience».
Dmitri, Retail Rocket customer success manager