What causes online shopping returns and how to avoid them through personalization [eBook]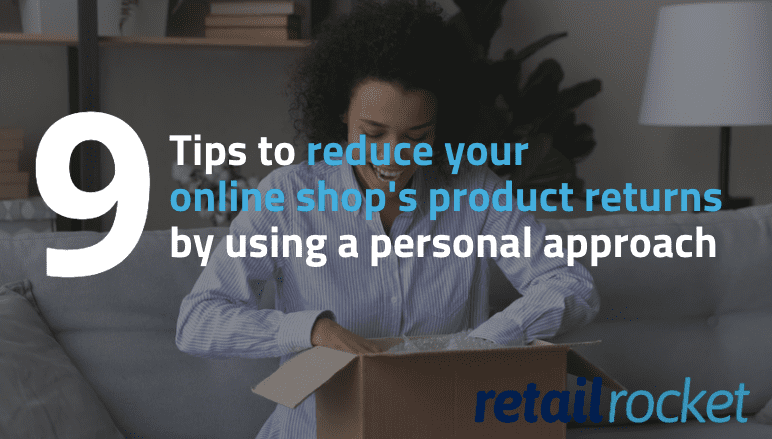 The proliferation of e-commerce over the past two years has generated an ecosystem of increased competition in the market. While the boom in online shopping has increased sales for many companies, it has also created the need to maximize profits against the competition.
Many e-commerces have recently tried to sell by leveraging impulse purchases, with the intent of pushing more and more clients to the checkout. However, this approach reaps some victims on its way, first and foremost the UX or the overall customer satisfaction. When buying is an unplanned decision, the rate of remorse increases, the number of returns rises, and the direct consequence is that – after a peak in "impulsive" sales – online retailers find themselves picking up broken pieces of lost customers who will be difficult to engage again in the future.
Why e-commerce have product returns and what is the impact they produce
To minimize the returns following an online purchase, it is imperative to take into account two fundamental aspects: what motivates these returns and what is the impact they can cause.
The reasons that can lead customers to return a product they purchased online are different, from buying an item in the wrong size to regretting having bought something that in reality they just didn't need. Some returns are motivated by a poor shopping experience, such as in the case of defective products or delayed deliveries (just think of Christmas purchases delivered after December 26, for example).
We also need to take into account that some buyers simply return because they have found the same product at a more favorable price in the meantime. Finally, some return the products with fraudulent reasons, as in the case of "wardrobing"
Regardless of the reason for the return, it is estimated that 1 in 4 consumers return between 5% and 15% of their purchases. This behavior affects companies at different levels, starting with the environmental and economic ones, since the return procedures involve a new process of transporting and packaging the products. In addition, the new shipment may end up with a loss or damage. Finally, returns also generate an emotional impact on buyers, who are left empty-handed and disappointed that they have not received what they wanted.
How to minimize product returns
Now that we have better understood the reasons that push to return a product and the economic, environmental and brand reputation costs that each return brings with it, the question remains: how can we minimize the percentage of returns? In response to this, we have published an ebook with "9 Tips for Reducing Your Online Store Product Returns Using Personalization". In this guide, we explore the causes and effects of product returns in the e-commerce industry. And, at the same time, we offer a series of tips and practical advices on how to deal with this problem by using a personalized approach.
In the guide we present solutions with different formats and levels of customization, including artificial intelligence tools, thus offering a knowledge base to be able to optimize the management of the customer experience in these particular cases. The digital guide also explains with some practical examples how to achieve an increase in sales and profits by creating a customer loyalty strategy.
This free guide offers those who deal with e-commerce new ideas to optimize their business through 9 steps that are easily applicable to any type of online store.