Retail Rocket and Webimpacto announce strategic partnership to deploy next-generation marketing strategies for e-commerce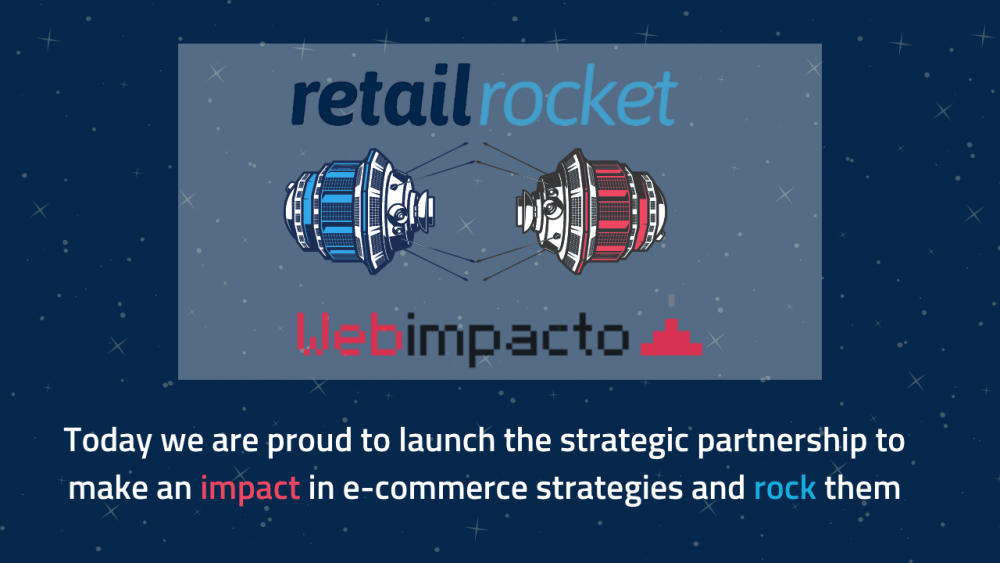 Barcelona, 4th of April 2022 – Retail Rocket, the all-in-1 Retention Management Platform, and Webimpacto, the leading e-commerce agency in Spain and Latin America, decided to partner up to offer the most comprehensive digital offer to e-commerce owners and marketers.
The integration of the services will allow e-commerce professionals to rely on more than 10 years of first-hand experience in the online industry, from strategic consultancy to effective tools to increase web-shop performances and boost clients retention.
Ramon de L'Hotellerie, Branch Director Europe at Retail Rocket said: "We strongly believe that the combo Retail Rocket & Webimpacto is one of a kind. Both companies share the same DNA: we are focused 24/7 on finding the best solutions for our customers and we don't get peace of mind until we see the results we do expect. Our Retention Management Platform has been created with the idea of bringing disruption and innovation to the e-commerce industry, and we share with Webimpacto the very same ambition: to become the very best in what we do. We strongly believe that – thanks to this partnership – we won't only give first-class consultancy and tools to our customers, but also keep pushing each other to do better and better".
David Rodríguez Ureña, CEO and co-founder of Webimpacto commented: "Our main objective is to combine our expertise as an eCommerce agency with Retail Rocket's expertise as an eCommerce solutions platform. In this way, we can join forces, boost the growth of online businesses and face an increasingly competitive market, adapting to an increasingly demanding user profile. In Webimpacto, we are committed to the right technology to work on loyalty, retention and LTV, using key users' segmentation as levers for the growth and success of our clients".
About Retail Rocket
Retail Rocket helps clients to transform new buyers into regular customers and to work on their retention by growing LTV and repeat sales. The platform has 4 modules: Data Warehouse, AI Personalization Engine, Customer Intelligence Platform, and Campaign Management System. All modules are AI-based: the artificial intelligence launches product recommendations online, in apps, newsletters and push notifications collects and analyses big data, segments users by interests and other aspects. A sophisticated mathematical algorithm identifies and selects a unique and accurate offer for every single user in the best time and channel based on their interests and behaviour in real-time.
About Webimpacto
Webimpacto was founded in 2009 by David Rodríguez Ureña after identifying the lack in the market of an agency with a high level of quality, service, specialisation and exclusive focus on eCommerce. A few years later, Webimpacto became the technology partner of reference eCommerce both in Spain and internationally, guiding and accompanying online businesses in their growth and expansion. Today Webimpacto has offices in Barcelona, Toledo and Pécs (Hungary) with more than 100 eCommerce experts specialising in different areas: Technology Development, Design & UX, SEO, Digital Marketing, Marketplaces Management, Strategic Consulting and Project Management, Customer Service Systems Consulting and Creation of SaaS APPs with App4less. Thanks to this, Webimpacto helps online businesses from a global point of view and based on a 360 strategy to develop and boost their growth.