Retail Rocket launches its new Triggered Web Push Notifications to increase the efficiency of your Cross-channel strategy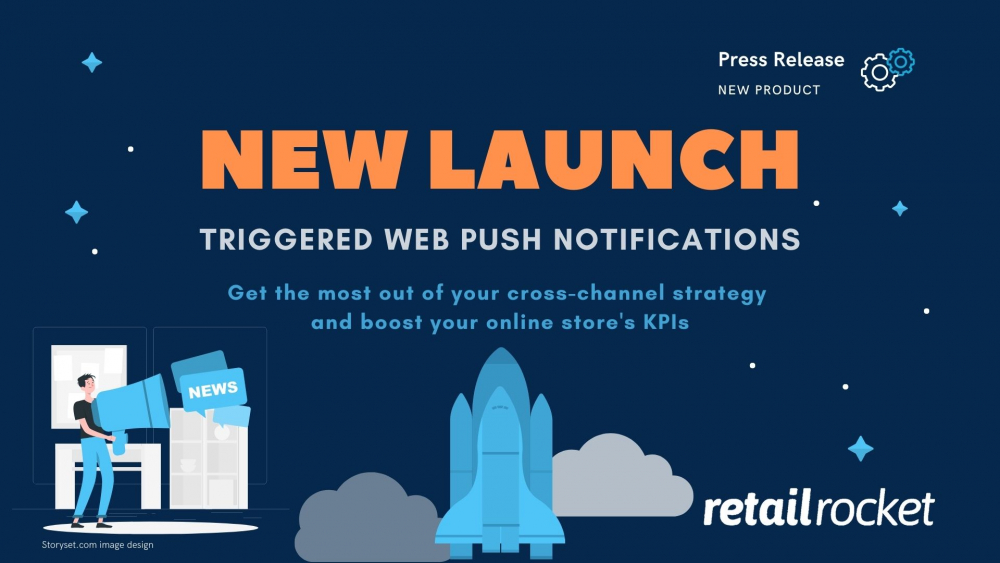 The Retail Rocket team has done it again! An amazing new product: Triggered web push notifications, a new AI-based feature included in our all-in-one Customer Retention platform.
The integration of this turnkey solution will provide, as triggered emails, a greater audience reach of campaigns and additional Customer Engagement by sending relevant messages with the best content at the right time.
The effectiveness of web push notifications was proved in previous case studies showing the results obtained by some Retail Rocket's clients using these notifications to increase the audience reach of customer communication in a cross-channel strategy. This launch will mean incorporating a new feature to the platform that will boost the power of web push notifications. The degree of personalization will therefore be much higher since these notifications will be in real-time sent based on every single user's behavior, dramatically improving the key metrics.
The same as trigger-based emails work, the activation of these notifications will also depend on users' interaction on the site. In other words, either by action or inaction, after a certain amount of time, emails and web push notifications will automatically be sent based on different scenarios:
Abandoned shopping cart;
Abandoned browse;
Abandoned category;
Price drop alert for products in an abandoned cart;
Price drop alert for viewed products while browsing;
Alert for not available products' restocking;
Post-purchase scenario;
Reactivation of sleeping customers etc.,
Activating these scenarios and many others will allow you to attract visitors' attention to get them coming back to your website, generating repeated sales and eventually increasing revenues. Besides, you will also be able to segment your audience based on a wide variety of parameters to easily and quickly obtain excellent results with automated messages.
Triggered web push notifications Main benefits
These below are the main benefits of this new solution:
Churn rate reduction by motivating the user to buy in your online store with a personal approach based on their behavior and interests.
Increase in Customer Retention and recurring sales generation by using the communication channel that works best for every customer.
This feature will provide you with recurring revenue after a single easy set-up based on Artificial Intelligence.
New solution's capabilities
Optimization of customer communication: Synchronizing the configuration of Triggered Web push' scenarios with those of triggered emails that generate the highest conversion rate will further increase the effectiveness of this communication channel.
With a very user-friendly UI, you can personalize and run all the scenarios yourself in just five minutes, selecting the best settings for your business and using predefined template layouts to send automated messages.
Simple format of the statistical data will allow you to easily track and analyze the KPIs in each channel to make the best decisions that will increase the effectiveness of your campaigns.
Synchronizing triggered web push and emails campaigns will optimize customer communication and allow you to interact with those users non-subscribed to the email channel to retain them based on their behavior.
With this new feature we have added to the web push channel, which allows understanding the Customer Journey Map of the customers, the system will automatically know when to send a message to every customer and motivate them to advance in the sales funnel.Request a free demo to experience the performance and effectiveness of this cross-channel behavioral trigger-based system and get the most out of your marketing campaigns by launching web push notifications.