Personalised campaigns: beyond segmentation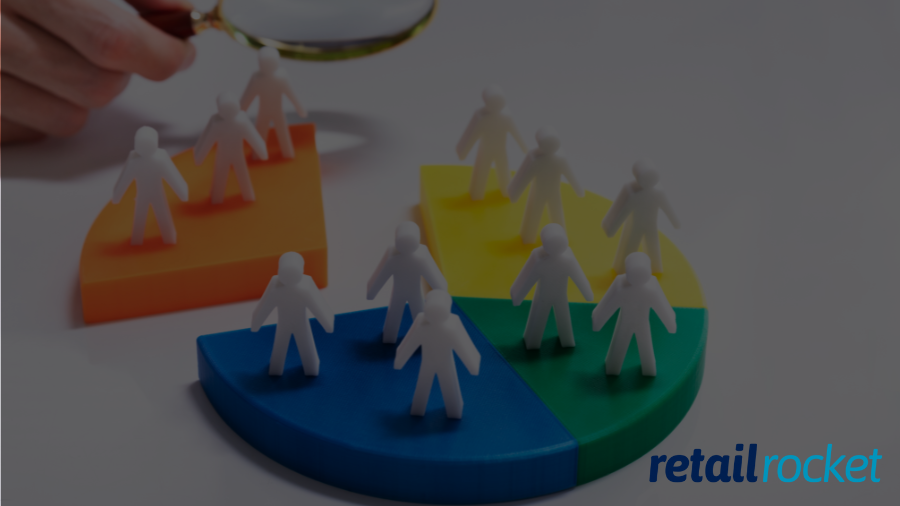 The e-commerce sector continues to grow. According to a study by Statista, the number of online shoppers will increase by 25% in Spain by 2025, reaching 37 million users. Therefore, the growth in online shopping also impacts the increase in the number of returns by users. According to a study by IMRG, one in four online consumers returns between 5% and 15% of their purchases. In women's clothing, the figure reaches 23%.
The economic impact of these returns is significant due to the costs of logistics, production or depreciation, among others. Moreover, according to market data, 3 out of every 10 products are lost during this process.
Online retailers in the US expect 761 billion worth of goods to be returned to physical shops. This figure increases significantly if the retailer also offers free shipping and returns.
​​Let's see how it's possible to reduce the number of returns with personalisation, but not before mentioning the capabilities of this solution based on AI.
Segmentation vs. personalisation
In e-commerce, there are those who use the terms segmentation and personalisation interchangeably as well as those who believe that they are two incompatible and opposite concepts. The reality is that neither of these beliefs is right. There are differences between both methods, and at the same time, they can be perfectly complementary.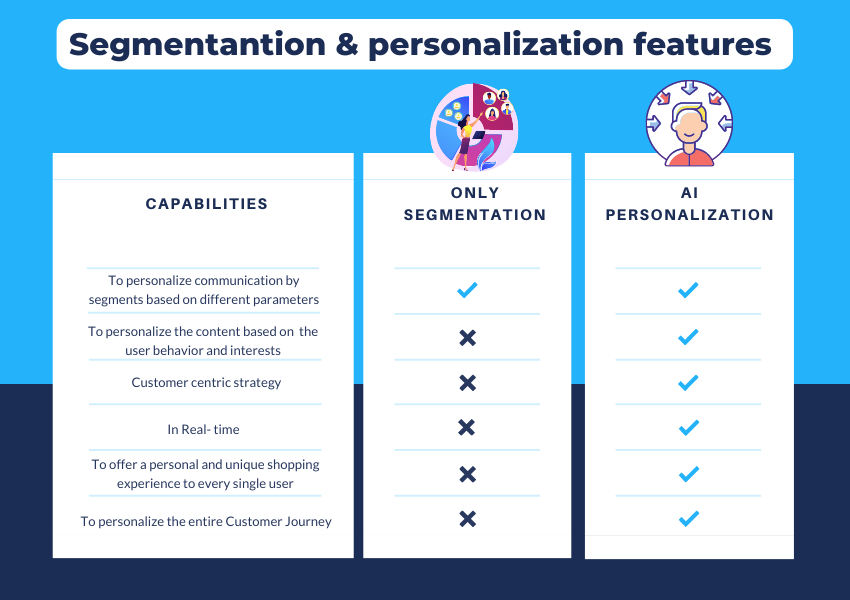 In other words, segmentation consists of identifying and creating groups of customers with similar characteristics according to different parameters: behavioural, geographic, demographic, etc.
AI personalisation, on the other hand, goes one step further and identifies a specific user and their needs in real-time. So that you will be able to focus both the messages and the product offer at each moment and channel throughout the entire online shop customer journey. In addition, personalisation allows you to anticipate customer intent and create personalised experiences around it to increase the likelihood of purchase and the KPIs significantly.
The ideal formula is combining both. An example would be to start with segmentation and personalise as more user information is stored.
Personalise to reduce returns
Beyond segmentation, personalisation is essential to customer satisfaction in online shopping. Showing a potential buyer a personalised offer with a special sale will help them make a decision not just based on the discount but on meeting their needs in real-time. This practice will help e-commerce significantly reduce the number of returns.
The shopping channel is also essential, as personalisation, rather than segmentation, will make the difference in suggesting where to inform about promotions and predicting the right time to contact the customer. This type of identification will show the personalised offer in the right channel based on the behaviour of each customer: website, email, push or SMS.
The behaviour of the same user can be different depending on the type of device used, so it is essential to personalise the offer also for mobile and desktop versions. During the last few years, different reports on consumer habits show an increase in the use of mobile devices, although the final purchase is actually made through the desktop version.
How to achieve this personalisation? A retention management platform can help online shops by using Artificial Intelligence to do it automatically based on all the information they can store from any user.
Should we go for personalisation?
With AI, online shops will be able to improve the user experience by offering products that their customers need. It also helps to predict the next purchase and prevents the same information from being sent through different channels.
Personalisation can also help e-commerces to get more positive reviews. According to Boston University, good product reviews are seen by users as a guarantee of quality. In addition, products with medium and high ratings are sold more and returned less than the rest.
Thanks to personalisation, an online shop can motivate a buyer to share a positive recommendation or review. It is possible to design and automate an email to be sent a few days after the purchase in exchange for a personalised incentive such as a discount or a promotional code to purchase products from their favourite brand.
Personalisation based on AI enables a step beyond simple segmentation. With real-time personalisation of the entire customer journey in the online shop, you can significantly reduce the returns of an online shop and also has other benefits such as:
Helping customers make the best buying decision by showing them the products that best match their interests.
Increase sales and revenue.
Build customer loyalty and retain customers
Increase LTV (lifetime value) and recurring sales.
At Retail Rocket, we work with Artificial Intelligence, which allows us to create personalised emails that are tailored to the customers we want to impact. Our custom-made solution, based on the interests of every single customer, predicts which offer will attract them most, and it will be sent at the best time and channel.
If you want to reduce your returns by using personalised campaigns, download this free guide!